About the Orchid Four Poster bed:
The Orchid is shown with our new Cube Bedside Drawer Tables, stylish bedside tables with slim line drawer and tall storage shelf space.
If you like four posters you may like to take a look at the Oasis Four Poster and the Kutch Indian Four Poster beds.
If you need a new mattress, we have an excellent selection of Memory foam and Latex mattresses which are ideal to use with this bed.
Straightforward self assembly. Link here to see the simple self assembly instructions.
Orchid Four Poster – Dimensions:
overall length: 2.09m for a 2.00m long mattress; 1.99m for a 1.90m long mattress
overall width: 9cm wider than nominal size, e.g. an Orchid bed that accommodates a 1.50 x 2.00m mattress is 1.59m wide
height to top of bed slats: 42cm
height to top of headboard: 196cm
approx assembly time: 40 minutes
Made in Sheffield, Built to Last.
NEWS: We have changed our wood lacquer finish from 'clear' to 'natural'. Our previous clear lacquer finish has a soft sheen and added a degree of warmth to the natural tone of the timber. This would continue over time resulting in a warm cast to each wood. Our new 'natural' lacquer finish has been named for it's clarity, it allows you to appreciate the myriad colours and subtle variations in tone of natural timber. It retains a subtle, soft sheen which protects  the timber from grease marks and some stains, but the timber retains a very natural, authentic hue. It is still possible to order your furniture with the original 'clear' finish – please request this when ordering.
To find out more please take a look at our blog – New Lacquer Finish.
Summary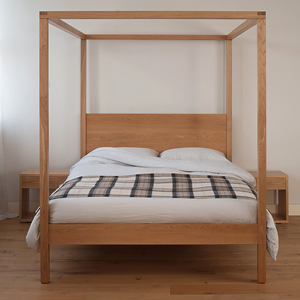 \'Furniture>Beds & Accessories\'
Brand Name
Product Name
Orchid Four Poster Wooden Bed
Price
Product Availability