The detail image on the right shows the Zanskar classic wooden bed with a footboard, made to order for a customer in Brighton. We're always happy to quote for specials like this, just tell us what you'd like. Also shown is a 2-drawer and a 3-drawer bedside table, also in oak.
Customer feedback: 'Having carried out quite a lot of research before buying, we were confident that a bed from the Natural Bed Company would be a great investment. From the moment we unwrapped the very carefully wrapped components, we knew we had made the right choice. The finished bed is absolutely beautiful; the cherry wood has a particularly wonderfully patterned grain, which changes colour with the light. And of course, it is very comfortable as well as being beautiful. Not only that but it is absolutely unique and even adjusted according to the particular mattress we bought. We really do feel that we paid a very reasonable price for such quality and attention to detail. Nikki, Norwich, 2012.'
If you would like to purchase the cosy felt slippers shown in the photograph above, take a look at our slippers page, where you can see a range of styles and colours.
Where does the name 'Zanskar' come from? Zanskar is a wild, remote mountainous region in northern India with an ancient Tibetan Buddhist culture. Natural Bed Company's owner, Peter Bennion, and his wife, spent a month there in summer 2012 trekking with a guide, a cook and some horses. They trekked in the area four years ago on a route from Lamayuru to Padum but this time they took a more remote and longer trail from Zangla to Kanji. 'Luckily we had good weather; two years ago, in 2010, Ladakh had unprecedented floods just after we arrived and we spent the first week digging mud out of homes and the local hospital' .
NEWS: We have changed our wood lacquer finish from 'clear' to 'natural'. Our previous clear lacquer finish has a soft sheen and added a degree of warmth to the natural tone of the timber. This would continue over time resulting in a warm cast to each wood. Our new 'natural' lacquer finish has been named for it's clarity, it allows you to appreciate the myriad colours and subtle variations in tone of natural timber. It retains a subtle, soft sheen which protects  the timber from grease marks and some stains, but the timber retains a very natural, authentic hue. It is still possible to order your furniture with the original 'clear' finish – please request this when ordering.
To find out more please take a look at our blog – New Lacquer Finish.
Summary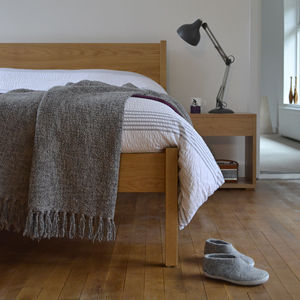 \'Furniture>Beds & Accessories\'
Brand Name
Product Name
Zanskar Classic Wooden Bed
Price
Product Availability