About the Oregon contemporary platform bed:
Customer feedback: "Hello, I just wanted to thank you for the fantastic customer service and product. It arrived today as scheduled, was incredibly easy to get up the new narrow staircase to the loft, was easy to assemble and looks perfect in the space we have. In short, everything you said in your brochure and on your website was true. Many thanks for making our life a little easier. Kindest regards, Liz S"
All our wooden beds are fitted with sprung beech slats for extra comfort and to increase the life of your mattress.
The Oregon platform bed is photographed with the delightfully simple cotton Icat Duvet Cover, part of our Indian bedding collection – see our Duvet Covers and Bedspreads pages for the rest of the collection. You can also see Indian antiques, statues, beds and bedding at our sister site Bringing It All Back Home.
NEWS: We have changed our wood lacquer finish from 'clear' to 'natural'. Our previous clear lacquer finish has a soft sheen and added a degree of warmth to the natural tone of the timber. This would continue over time resulting in a warm cast to each wood. Our new 'natural' lacquer finish has been named for it's clarity, it allows you to appreciate the myriad colours and subtle variations in tone of natural timber. It retains a subtle, soft sheen which protects  the timber from grease marks and some stains, but the timber retains a very natural, authentic hue. It is still possible to order your furniture with the original 'clear' finish – please request this when ordering.
To find out more please take a look at our blog – New Lacquer Finish.
If you need a new mattress, we have an excellent selection of Memory foam and Latex mattresses which are ideal to use with this bed.
Prices include delivery to most UK mainland addresses. Email us for Worldwide shipping rates.
Self assembly is straightforward, no tools are required, but it is easier with two people. Link here to see the assembly instructions.
Summary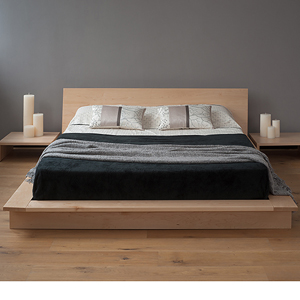 \'Furniture>Beds & Accessories\'
Brand Name
Product Name
Price
Product Availability