Product Description
All our Indian style beds are fitted with sprung beech slats for extra comfort and to increase the life of your mattress.
Several items in these photos can be bought on our new website Bringing It All Back Home. The Indian bedding can be found in our collections of Indian duvet covers and bedspreads, along with many other eastern inspired designs. If you are looking for ideas for creating a bedroom inspired by Indian style just take a look at our pinterest board: exotic beds and bedroom furniture.
This bed is supplied with non-slip matting to keep your mattress in place. Delivered ready for straightforward self assembly.
NEWS: We have changed our wood lacquer finish from 'clear' to 'natural'. Our previous clear lacquer finish has a soft sheen and added a degree of warmth to the natural tone of the timber. This would continue over time resulting in a warm cast to each wood. Our new 'natural' lacquer finish has been named for it's clarity, it allows you to appreciate the myriad colours and subtle variations in tone of natural timber. It retains a subtle, soft sheen which protects  the timber from grease marks and some stains, but the timber retains a very natural, authentic hue. It is still possible to order your furniture with the original 'clear' finish – please request this when ordering.
To find out more please take a look at our blog – New Lacquer Finish.
Made in Sheffield, Built to Last.
Summary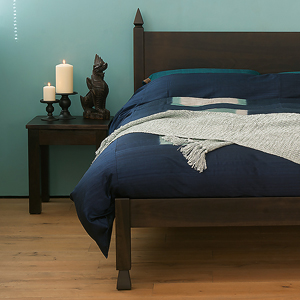 \'Furniture>Beds & Accessories\'
Brand Name
Product Name
Samarkand Indian Style Wooden Bed
Price
Product Availability