Product Description
All our wooden beds are fitted with sprung beech slats for extra comfort and to increase the life of your mattress. This low loft bed is also supplied with non-slip matting to keep your mattress in place.
The Ki is photographed here with the our Linen Bedding in soft warm grey, and is show with wool throws from the Bronte collection – take a look at our bedding collection to order. Bronte throws, like our Ki loft beds, are made in the UK.
If you're looking for organic bed linen take a look at our range in Organic cotton on the natural cotton bedding page, and if you need a new mattress we have an excellent selection of memory foam and Latex mattresses which are ideal to use with this bed.
Prices include delivery to most UK mainland addresses. Email us for Worldwide shipping rates.
Easy self assembly. Link here to see the simple self assembly instructions.
To find out more about ordering a bed from us please take a look at our blog.
NEWS: We have changed our wood lacquer finish from 'clear' to 'natural'. Our previous clear lacquer finish has a soft sheen and added a degree of warmth to the natural tone of the timber. This would continue over time resulting in a warm cast to each wood. Our new 'natural' lacquer finish has been named for it's clarity, it allows you to appreciate the myriad colours and subtle variations in tone of natural timber. It retains a subtle, soft sheen which protects  the timber from grease marks and some stains, but the timber retains a very natural, authentic hue. It is still possible to order your furniture with the original 'clear' finish – please request this when ordering.
To find out more please take a look at our blog – New Lacquer Finish.
Made in Sheffield, keeping local skills alive.
Summary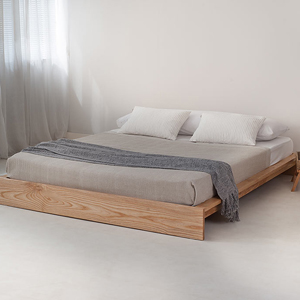 \'Furniture>Beds & Accessories\'
Brand Name
Product Name
Price
Product Availability