For advice on how to look after your futon sofa bed please take a look at our blog here you will find information about our futons and how best to care for them.
We recommend a 7 layer futon for occasional use as a mattress with our sofa-bed bases. If you want to use a futon mattress to sleep on every night we recommend a bed base with beech sprung slats.
If you weigh over 80Kg we recommend you use two 4 layer futons – or one of our other types of mattress.
As we make our futons, we can make them in special shapes and sizes, so please get in touch if you need a special size futon so that we can provide you with a quotation.
To see samples of the timbers available please take a look at our timbers page.
Summary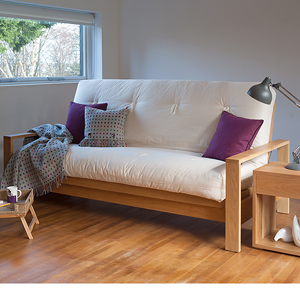 \'Furniture>Beds & Accessories\'
Brand Name
Product Name
Cuba Luxury Futon Sofa Bed
Price
Product Availability