For advice on how to look after your futon sofa bed please take a look at our blog here you will find information about our futons and how best to care for them.
We recommend a 7 layer futon for occasional use as a mattress with our sofa-bed bases. If you want to use a futon mattress to sleep on every night we recommend a bed base with beech sprung slats.
If you weigh over 80Kg we recommend you use two 4 layer futons – or one of our other types of mattress.
As we make our futons, we can make them in special shapes and sizes, so please get in touch if you need a special size futon so that we can provide you with a quotation.
To see samples of the timbers available please take a look at our timbers page.
NEWS: We have changed our wood lacquer finish from 'clear' to 'natural'. Our previous clear lacquer finish has a soft sheen and added a degree of warmth to the natural tone of the timber. This would continue over time resulting in a warm cast to each wood. Our new 'natural' lacquer finish has been named for it's clarity, it allows you to appreciate the myriad colours and subtle variations in tone of natural timber. It retains a subtle, soft sheen which protects the timber from grease marks and some stains, but the timber retains a very natural, authentic hue. It is still possible to order your furniture with the original 'clear' finish – please request this when ordering.
To find out more please take a look at our blog – New Lacquer Finish.
Summary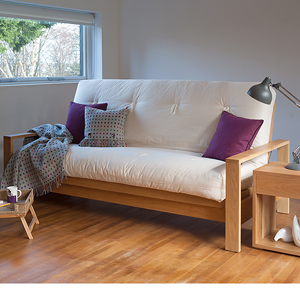 \'Furniture>Beds & Accessories\'
Brand Name
Product Name
Cuba Luxury Futon Sofa Bed
Price
Product Availability