Oak has been our most popular hardwood for as long as anyone here at Natural Bed Company can remember, and when you look at any of our contemporary wooden beds pictured in this timber it's easy to see why. From the modern, minimalist styling of the Malabar and Kyoto to the elegant Cochin and Camden beds, oak compliments each design perfectly.
About the oak wood we use:
We use American white oak for our range of hand-made wooden beds It offers a mid tone, consistent colour with a pronounced, eye-catching grain. It is especially striking on bed bases with tall headboards which show off the different features of this timber – swirling grain patterns mix with tighter lined sections to create a pleasing contrast. Oak has a cooler antique gold hue which deepens to a rich, warm golden tone over time.
The timber used for our wooden bed bases comes only from sustainable sources. Our oak is bought from managed forests in North America. This ensures that new trees are planted to replace those used and that the natural cycle of planting, growth and harvest continues.
Our most popular modern oak wooden beds:
Oak is our bestselling timber over a wide range of designs but we have found it to be a particularly popular choice for customers purchasing our Camden, Oasis and Kyoto bed bases. Each oak bed has its own distinct look and design – mid-century classic style, modern simplicity and Japanese inspired platform respectively.
The warmth and variety of solid oak works well with both minimal designs and our more elaborate beds. Take a look at the four poster collection in oak shown above. The grain doesn't overpower the various design elements. No matter how modern the design – in solid oak – the bed will have a timeless quality you can be sure to love for years to come.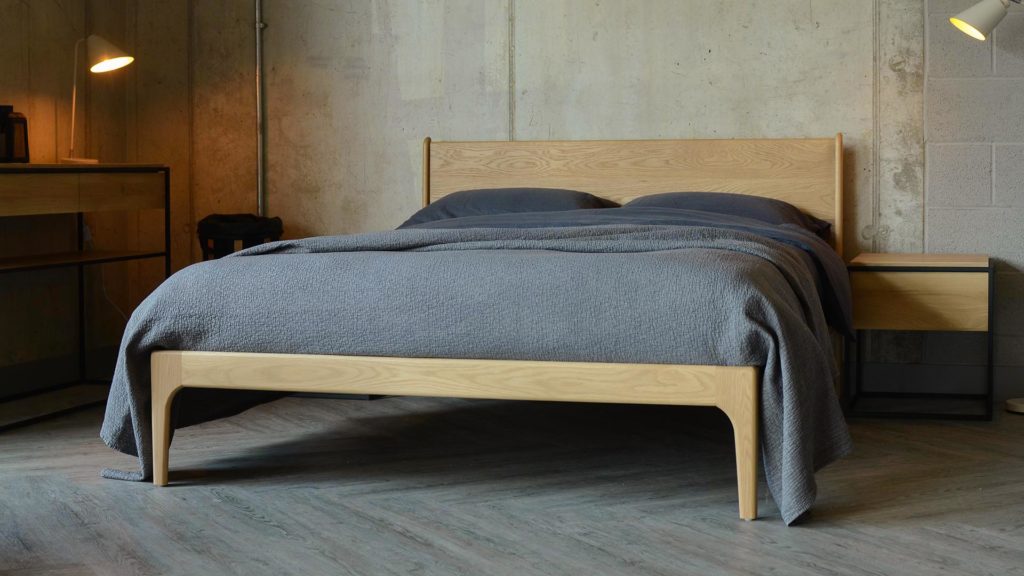 With such a wide range of designs being so popular in one timber, we have sourced a variety of complimentary furniture, from compact bedside tables to large 6 drawer chests all in natural oak.
Oak bedroom furniture to suit:
In our Black Lotus range of oak furniture you will find modern cube bedsides and chests available with two, three and five drawers depending on your storage needs, and end-of-bed drawer units and benches. If you're looking for something a bit more traditional, the shaker range in oak is well worth a look.
Our Cube Modern Bedside Drawer Tables are hand-made in our Sheffield workshop just like our beds and provide the perfect storage solution to pair with your oak bed. On offer in three different heights; Low (W 50 x D 35 x H 33cm) – ideal for the Kyoto, Original (W 50 x D 35 x H 50cm) – a great choice for the Malabar, and Tall (W 50 x D 35 x H 60cm) – perfect for a bed with a high under-bed clearance such as our Cochin base.
As oak is such a versatile and popular wood, we didn't want to limit our customers to one particular style of wooden bedroom furniture – this is why we decided to offer a range of pieces from Ethnicraft too. As with our own Black Lotus collection, you can choose from a selection of bedside tables and in addition Ethnicraft offer oak consoles, desks, cupboards and storage units. The Blackbird, Whitebird and Monolit ranges add metal frames to oak bodied furniture, creating an eye-catching contrast to the timber.
As you can see, if you choose an oak bed you have a huge variety of options when it comes to adding complimentary pieces of furniture. You could update your entire bedroom scheme using just our Black Lotus range!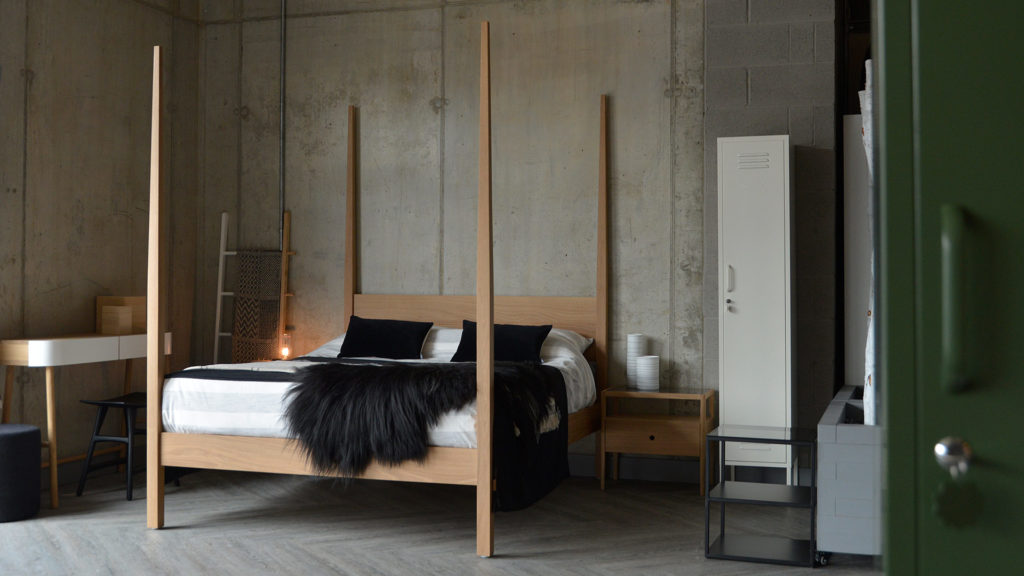 We have several beds on display in oak at our Sheffield showroom including our newest design – the Hatfield Tall Post Bed – and bestsellers such as the Kyoto, Carnaby and Malabar. We are open Monday-Saturday 10am-5:30pm and would love for you to visit. If you can't make it to Sheffield but would still like to take a look at the timber to see if it would work in your home, just fill in our timber sample request form and we will post out a small sample, first class free of charge.