Our beds are fitted with sprung beech slats which add to the comfort and increase the lifespan of a mattress. The slats are curved like a row of gentle hills and, when you lay on the mattress, they flatten to adjust to your profile. Most of the flattening takes place under your hips and shoulders, it gives a gentle support that is a special benefit to anyone with tenderness in those areas. Sprung slats are very successful at giving good support to your back. They are easily fitted to your bed base with plastic end caps provided.
When you get off the bed the slats spring back to their original shape.
Sprung slats do some of the work of the mattress and so can help to increase its lifespan. We've used sprung beech slats on our beds for over 20 years with great feedback from our customers. Once or twice a year we'll have a customer who prefers a harder base – that's not a problem. We can simply fit fixed pine slats instead.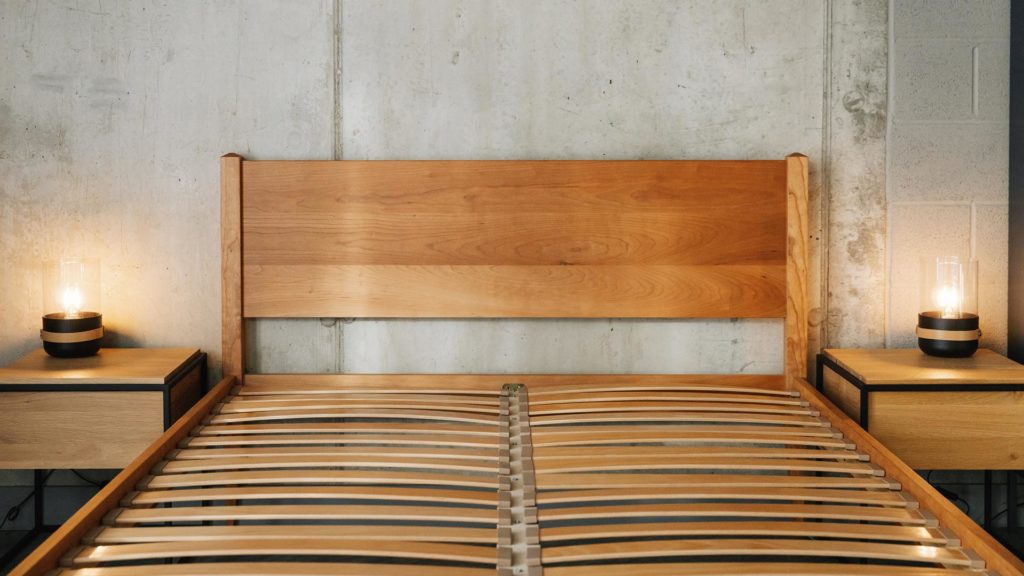 Read more on our blogs:
Want to know more about Sprung Beech Slats and Will Sprung Slats increase the life of my Mattress?
One of the hidden benefits of a Natural Bed Company bed – we use sprung beech slats on all our bed bases. Single beds have one set of slats that span the width of the frame. Larger bed sizes have a centre rail which means that each side of the bed has its own set of slats giving independent suspension. This ensures you won't roll together… or disturb your partner when you get out of bed.
90cm and 180cm wide beds have a special double slat system which allows you to vary the flexibility and firmness of the slats.
Sprung beech slats cannot be used in a damp environment – they will lose their shape – so you should ensure there is plenty of ventilation and the mattress is kept aired. Consider fixed pine slats if you have an en-suite bathroom.
Click here to download our guide to Sprung Beech Slats PDF
There may be occasions where fixed pine slats are required e.g. for bases over 180cm wide, or you prefer a very firm bed. Please contact us for prices.