Product Description
About the Kobe low bed:
The Kobe Bed is also available with a headboard – please take a look at the Kobe Japanese Bed with Headboard page to view and order this model.
There are three great models in this family of low beds, all the same style but at different heights. The tallest is the Kyoto bed, a similar style to the Kobe but higher; the Kyoto is tall enough to accommodate under-bed drawers. The third related low bed is the Kumo which sits between the Kobe and the Kyoto: it's higher than the Kobe, but lower than the Kyoto.
All our wooden beds are fitted with sprung beech slats for extra comfort and to increase the life of your mattress.
Link here to see the simple self assembly instructions. This bed is supplied with non-slip matting to keep your mattress in place.
NEWS: We have changed our wood lacquer finish from 'clear' to 'natural'. Our previous clear lacquer finish has a soft sheen and added a degree of warmth to the natural tone of the timber. This would continue over time resulting in a warm cast to each wood. Our new 'natural' lacquer finish has been named for it's clarity, it allows you to appreciate the myriad colours and subtle variations in tone of natural timber. It retains a subtle, soft sheen which protects  the timber from grease marks and some stains, but the timber retains a very natural, authentic hue. It is still possible to order your furniture with the original 'clear' finish – please request this when ordering
To find out more please take a look at our blog – New Lacquer Finish.
Made in Sheffield, keeping local skills alive.
Summary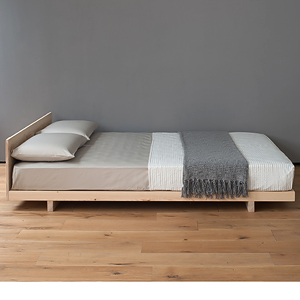 \'Furniture>Beds & Accessories\'
Brand Name
Product Name
Price
Product Availability