If you have a large bedroom there is nothing more impressive than a four poster bed. The latest addition to our 4 poster collection is the Hatfield Tall Post Bed. The Hatfield is an elegant, contemporary four poster bed with four extra tall posts and no canopy. The tall posts taper gently, the tall headboard panel gives plenty of space for a stack of pillows. The Hatfield is available in a range of sizes and hardwood timbers: beech, ash, cherry, maple, oak or walnut.
The Hatfield four poster suits a range if different bedroom looks and bedding styles. We've dressed the bed in a blend of pink and grey for a modern, feminine look while the modern monochrome bedding and oak and white bedroom furniture shows the bed in a contemporary, Scandinavian inspired interior. The Hatfield would be at home in a range of spaces.
The Hatfield has a compact footprint but requires a high ceiling height:
Dimensions:
overall length: 209cm for a 200cm long mattress; 199cm for a 190cm long mattress
overall width: 9cm wider than nominal size, e.g. a Hatfield bed that accommodates a 150cm x 200cm mattress is 159cm wide
height to top of bed slats: 42cm
under-bed clearance: 28.5cm
height to top of the posts: 213cm
height to the top of the headboard panel: 101cm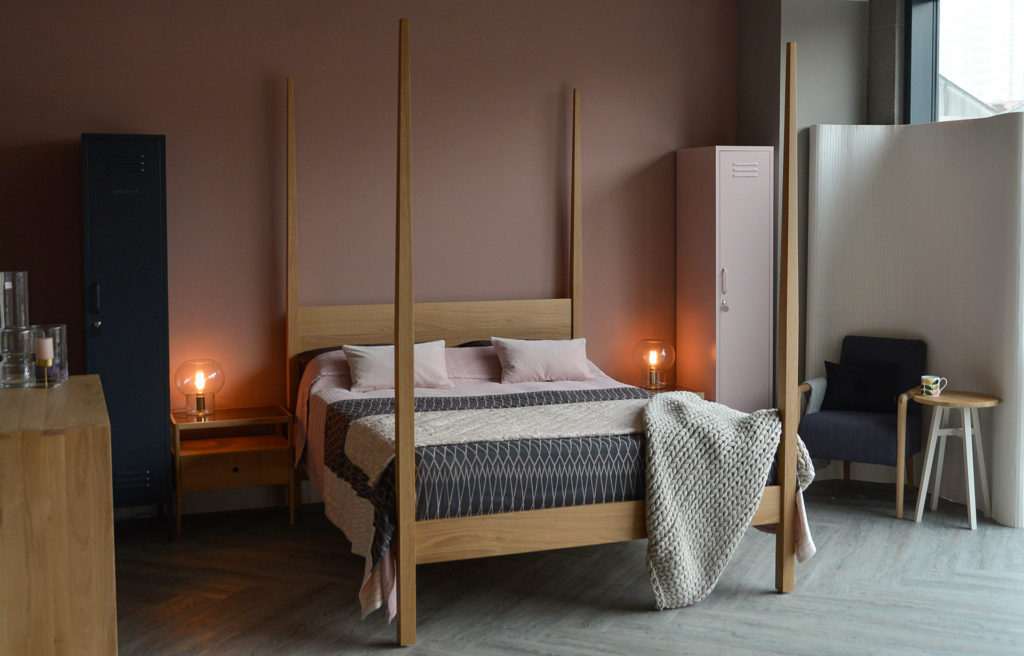 The Hatfield is the latest addition of our collection of four poster beds which includes The Orchid, Highland, Oasis, Cube and Raj beds. The Orchid is a modern take on a classic 4 poster with slender posts and a canopy around all sides, the Highland is the same but with an upholstered headboard panel. The Cube is a contemporary 4 poster with a very low base, and upper canopy over tall posts.
The Oasis is an beautiful and unusal take on the 4 poster – it has tall posts with canopy to the bed head and, slightly lower posts, to foot of the bed – without traditional connecting side posts. The Raj is the most traditional looking ouf our 4 poster beds – inspired by classic Colonial style beds but simplified with elegant lines and proportions.
Take a look at our Four Poster Bed Collection to find out more, for inspiring bedroom looks incorporation 4 poster bed take a look at our Pinterest board: Four Poster Beds.