In this post we will take an in-depth look at our four-poster collection of luxury wooden beds. We have a four-poster to suit almost any interior design style – from ultra modern, to New York Loft look, to a more classic style.
The Orchid Wooden 4 Poster
The Orchid is a stunning, luxury, solid wood four poster. It has a classic shape, but with a modern 'clean' and unfussy design which means it suits a wide range of bedroom looks.
The choice of timber and the bedding used to dress the bed can change the look quite dramatically. This bed therefore is an adaptable design – see the images below for examples: the maple Orchid with 'Scandinavian Noir' styling has a very differnt look to the 'classic' walnut bedroom scheme or the more 'country cottage' styled oak Orchid.
The Black Orchid is a luxury, solid oak four poster bed with an almost matte black lacquer finish. This is a great choice if you want a dramatic or moody bedroom scheme. Deep, inky colours look great with the Black Orchid (try our slate grey linen!), as do modern monochome schemes with fresh white or grey bedding. It is a favourite on our Black Bedrooms Pinterest board.
The Highland 4 Poster with an Upholstered Headboard
The Highland is the same elegant design as the Orchid Wooden 4 Poster, but with an upholstered headboard panel replacing the Orchid's solid wood headboard. With a padded headboard panel for comfort, the headboard can be upholstered in a range of fabrics (you can even specify your own fabric if you prefer). A solid wooden bed frame available in any of our hardwood timbers: ash, oak, maple, cherry, beech or walnut – the variety of combinations offers a wide range of looks.
The Highland is a great choice for a master bedroom, as it has that luxury boutique hotel look that is sure to impress. We have combined solid cherry wood with a neutral fabric (Amatheon Linen) for a classic, sophisticated style. The walnut and Amantheon Ebony is an edgier choice – perfect for a more dramatic colour scheme and bolder bedding choice.
The Cube Modern 4 Post Bed
Looking for a modern luxury wooden bed? Then look no further than the Cube four poster! The Cube has a low platform base with a tall headboard, sky-high posts and a canopy over which you can drape a long length of fabric for extra privacy. The Cube is perfect for a loft style master bedroom – it has a contemporary yet relaxed style suited to this look.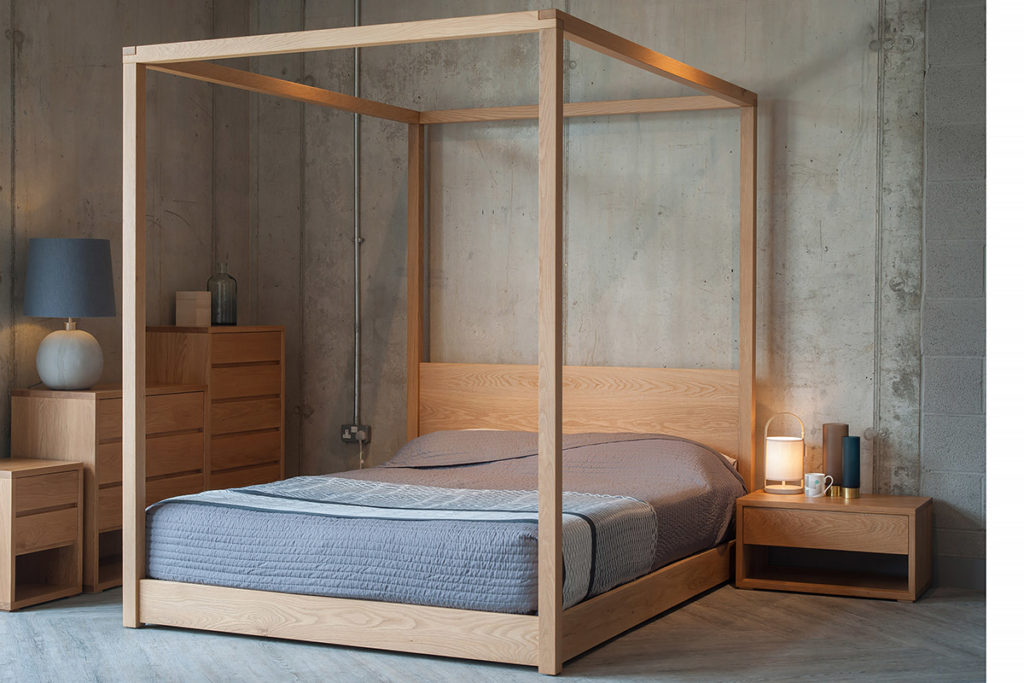 The Black Lotus Cube collection of furniture (available in oak or walnut) looks great with this bed. We particularly recommend the low bedside drawer units from this range to pair with the Cube 4 poster. As you can see from the image above – the top of the table is a similar height to the top of a standard mattress on this bed which is pleasing to the eye. These bedside units also have a complementary rectilinear design.
The Raj Classic Carved Four Poster
The Raj is another luxury, solid wood bed but with carved details to the legs and finials which gives it a very different feel to our other 4 posters. Combining clean lines with more exotic, India inspired detailing – the Raj makes a wonderful centrepiece to a bedroom. This is a bed design generally ordered in a deeper colour timber. Solid walnut, cherry wood or oak with a black lacquer have been popular choices.
The Raj can take a variety of bedding styles, as you can see from the images above, everything from simple, beige organic bedding to luxury, embroidered bedding in jewel tones looks great on a Raj.
The Oasis Contemporary Luxury Bed
An unusual design – this contemporary 4 poster bed has tall posts to the bed head and, slightly lower posts, to foot of the bed – without traditional connecting side posts. Exclusive to Natural Bed Company the Oasis looks fresh, open and light in comparison to most 4 posters.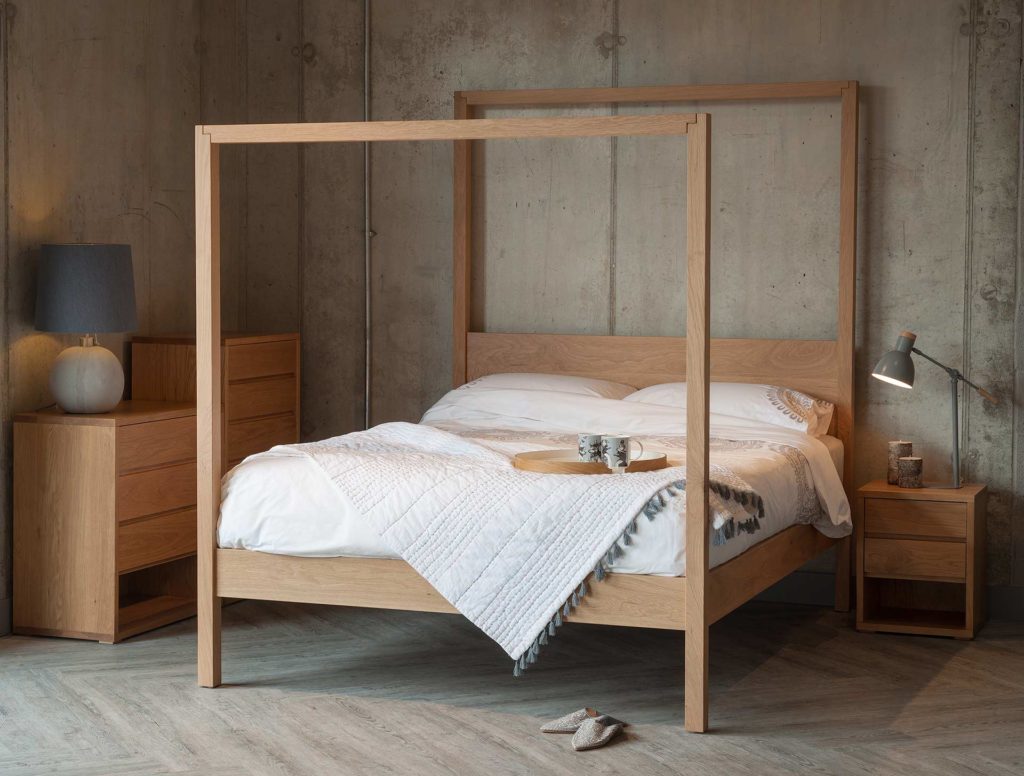 We recommend simple, elegant bedroom furniture to match. The Black Lotus collection is a popular choice, both the Cube range and the Shaker-look range work well with the Oasis. Ethnicraft produce a Nordic range of oak drawer units which also perfectly complements the Oasis bed in oak.
The Hatfield Tall 4 Post Wooden Bed
The Hatfield wooden bed is our most recent four poster design. This model is without the traditional canopy you expect to see when you think of a four poster. The Hatfield instead has elegant, tapering and incredibly tall posts. It's a real show stopper!
Choosing bedding for the Hatfield is so easy as it is a bed that can take a lot of styles. We enjoyed dressing the Hatfield with a modern 'boho' look using the Camino bedspread, a long hair sheepskin throw and the Andas throw and cushions. With the Hatfield you can quickly change your bedroom scheme with a change of throw and cushions.
To find out more about our 4-Poter Bed Collection take a look at our Inspiration page: Four Poster Beds The Ultimate in Luxury.