Ever since we introduced the Hoxton bed to our range in April we've fallen in love with its beautiful chevron headboard design. So, we've decided to add one to the most popular of our four-poster beds, the Orchid 4 Poster. We've decided to call this new bed base the Kelham, after an area of Natural Bed Company's home city of Sheffield and in this blog I'll take a closer look at the timber options available, the dimensions of the bed and which bedside tables and chests to pair with it.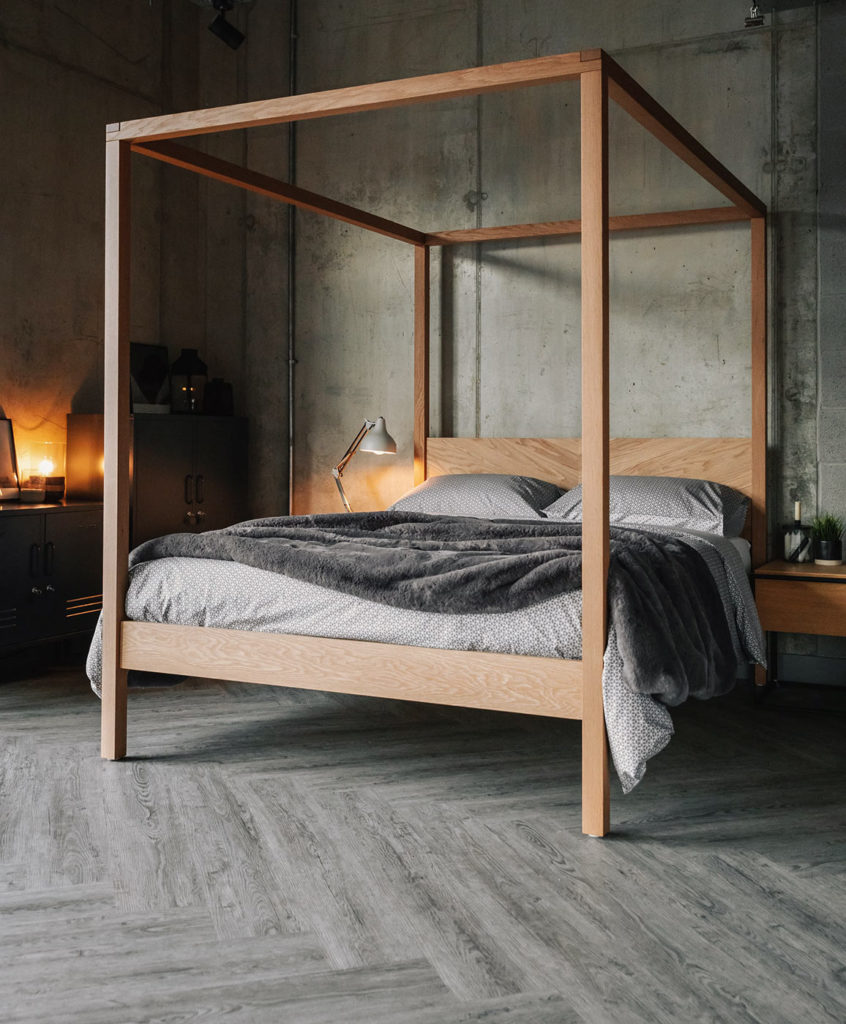 If you're looking for a 4-poster bed then its pretty clear that you're looking for a statement bed, one that becomes the focal point of the room. The addition of the chevron headboard to our existing Orchid design serves to amplify this further.
The pattern, made from many different sections of timber, shows every variation in tone, colour and grain pattern of your chosen hardwood. Timbers with strong grains and clear variations in colour such as ash, cherry and walnut show this effect to the fullest, but any of our hardwood timbers would work well with this design.
Our workshop crafted the showroom model from solid oak and – as you can see – there is enough variation in the grain and tones of the timber to create an eye-catching headboard panel.


As mentioned above, The Kelham 4 poster is based on a successful existing design, the Orchid bed, so it has the same proportions:
overall length: 209cm for a 200cm long mattress; 199cm for a 190cm long mattress
overall width: 9cm wider than nominal size, e.g. an Kelham bed that accommodates a 150 x 200cm mattress is 159cm wide
height to top of bed slats: 42cm
under-bed clearance: 28cm
height to top of the posts: 196cm
With the base of the bed sitting at 42cm from the floor, the Kelham is one of the tallest beds in our range. If you were looking for a bedside table to match your bed then the Tall Cube Table (W50 x D35 x H60cm) or Black Lotus 3 Drawer Shaker bedside (W50 x D38 x H61cm) would be ideal choices. If you were looking to add more storage, the Kelham would work equally well paired with one (or two if you have the space!) of our 3 drawer chests. Part of our Black Lotus range, available in oak or walnut, you can choose from two styles of large 3 drawer chests to match your bedroom design: the Shaker (W77 x D40 x H76cm) or the Cube (W75 x D40 x H76cm).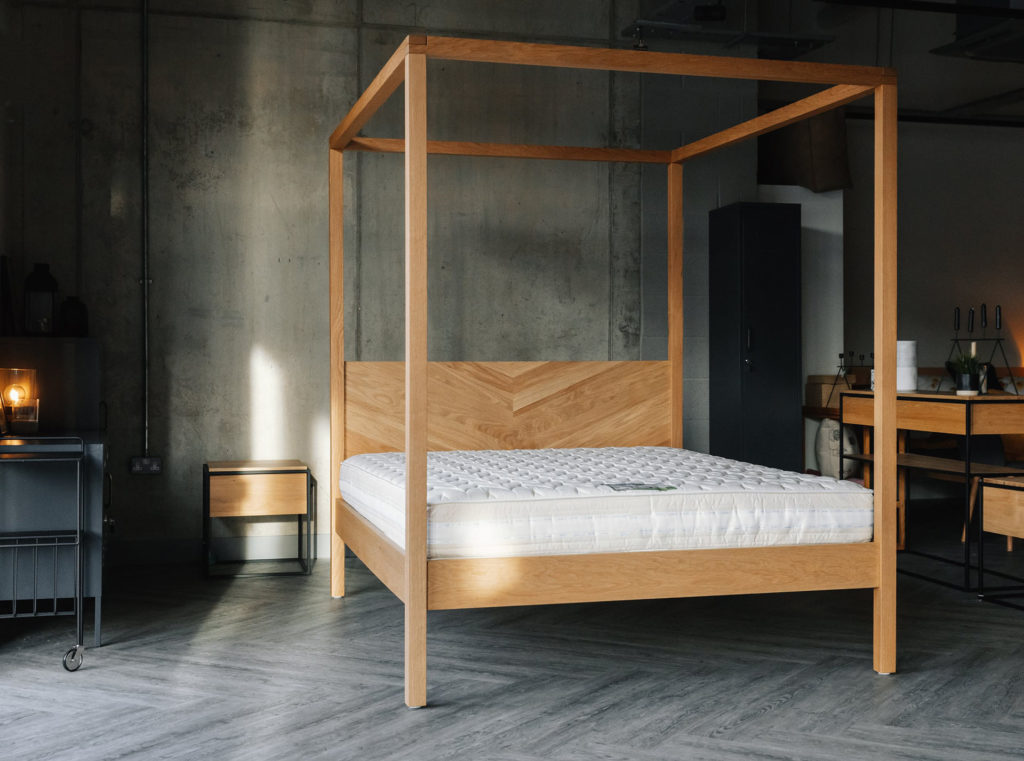 In addition to the oak Kelham, we also have a walnut Hoxton bed on display in our Sheffield showroom if you would like to see how the chevron design looks with two very different timbers.
We are open Monday to Saturday 10am-5:30pm (excluding bank holidays and Christmas holidays).

If you cannot make the trip to Sheffield, but are having trouble deciding on a timber for your Kelham bed, simply get in touch – either via our timber sample request form on our website or over the phone on 0114 272 1984. We can then post out small samples of each of the timbers we offer.