As the nights draw in and the leaves turn golden brown, it is the perfect time to create a cosy haven at home. Here we take a look at our favourite Autumn bedroom looks – from faux fur throws and crumpled linen bedding to the rich autumnal tones of solid walnut, cherry and oak.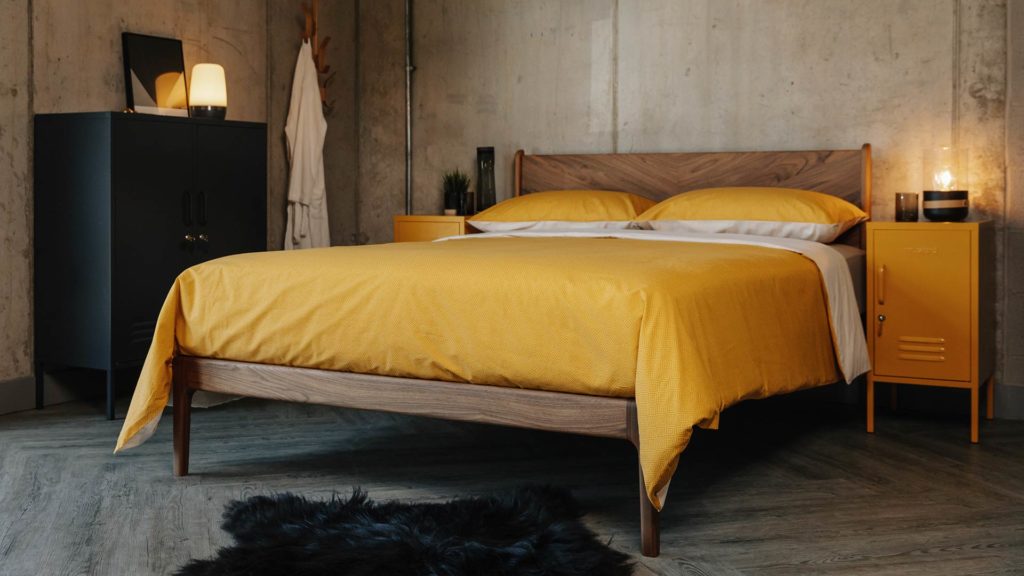 The Hoxton Bed in Walnut with Ochre Bedding
I love this look! A cosy combination of deep yellow accents and solid walnut furniture. The Mustard lockers in yellow and dark grey complete the look.
The Hoxton bed is available in a range of timbers. The beauty of choosing a timber with a vibrant grain, like walnut, means that the chevron detail to the headboard becomes a real show-stopper. The deep chocolate tones of walnut are perfect for a cosy, Autumn interior.
The bedding shown here is in a rich, turmeric yellow and ivory. The modern diamond print in ivory over yellow, is reversed on the other side. We have bedding in a range of yellow shades to suit this look – including citrus yellow, mustard, gold and deep ochre. A fashionable choice, this colour will add warmth and style to any bedroom scheme. Take a look at some of our other options below.
We have added a lambswool throw and contemporary metal lockers to complete this cosy version of a modern Nordic look.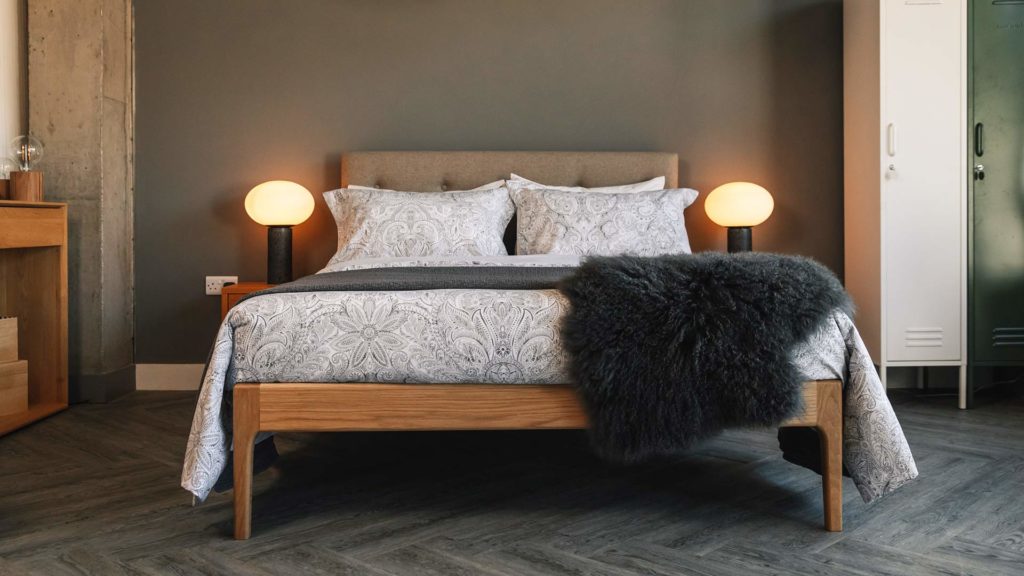 Soft Monochrome Looks
Monchrome is a classic look that can incorporate a wide variety of looks. From a modern black and white colour scheme to a softer, variety of grey shades as shown here. With the right lighting and accessories it is possible to make Monochrome a cosy look.
Here we have used our new Bloomsbury bed. The solid oak legs have a gentle taper, while the tall buttoned headboard adds a soft, comfortable quality to the design. Oak is our most popular timber choice – the warm golden tones look good with a wide variety of designs. We also have lots of storage options in oak if you want a full oak scheme.
The bedding shown here is our new Persia reversible duvet set in ivory and grey. The ornate, floral pattern is an elegant classic. One side is larger and bolder than the reverse, which has a smaller scale floral print in very pale grey on ivory. For a more contemporary monochrome look try our Painted Stripe duvet set or slate grey linen bedding.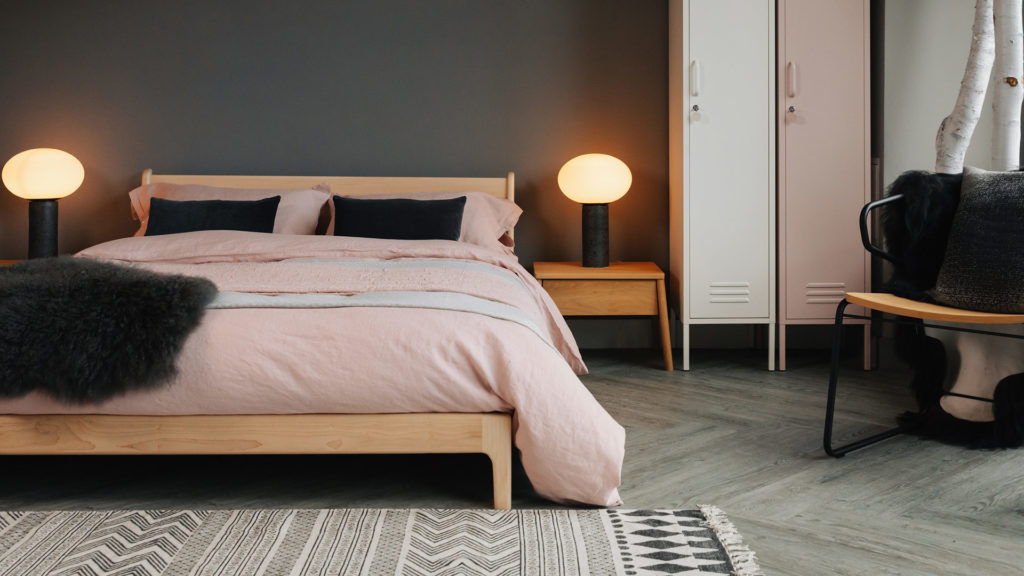 Perfectly Pink
Shades of pink, from a neutral plaster tone to deeper rose tones, are still a popular choice this Autumn. They have almost become a new neutral – a fashionable back-drop to a range of accent colours from grey to green. These pinks are warm and cosy, not the cooler, colder tones of pink that are less suitable for Autumn skies.
Here we have used our new, warm pink linen bedding with monochrome accessories. The black adds a tougher edge to this otherwise feminine look. The choice of linen gives a cosy, relaxed style – linen always looks slightly rumpled in a very welcoming way!
We have used our Pimlico low bed for this look, shown here in solid maple wood. The oak Air bedside tables suit this modern, slightly Boho, look and tie in well with the oak and black metal Gabbia chair. Again metal lockers in complementary shades help to complete the scheme.
See more pink bedroom looks below.