As we're nearing the end of summer, a lot of us turn to our old winter warmers. The coats and scarves come out of hiding and boot season is underway! Extra storage is always a good investment and helps keep your home clutter-free. This time of year, it's a great place to store your summer wardrobe, or make extra space for new winter wear. Take a look at our favourite end of bed storage options to help you make the most of your room.
End of Bed Benches
An end of bed bench is not only a great option for storage, but a practicality in many cases. They're a great space for popping your shoes on, or just as a place to throw your dressing gown or put your book down. They also add a splash of style to the end of your bed, and there are a range of designs you can choose from.
The Ethnicraft Bok benches come in either natural or black-stained oak. Boasting a sleek, modern style with subtle details on the corners, these benches are stylish and functional. We think they look great paired with a funky throw over the bed, and you could add baskets or boxes underneath for extra storage options.
Our Black Lotus Cube benches are perfect for large items that need storing. Got a big, luxurious throw that just won't fit in the wardrobe? Roll it up and pop in this bench's cubby hole for a space-saving trick that looks great. Also fab for storing piles of books, slippers or freshly-folded bedsheets.
Staff Favourite – We couldn't write about end of bed benches without giving the Spindle bench an honourable mention. All of us here at Natural Bed Co agree that this is a lovely, stylish option for your end of bed storage. We love the modern design and soft edges. Tip: it also works great as a shoe bench or as bathroom storage!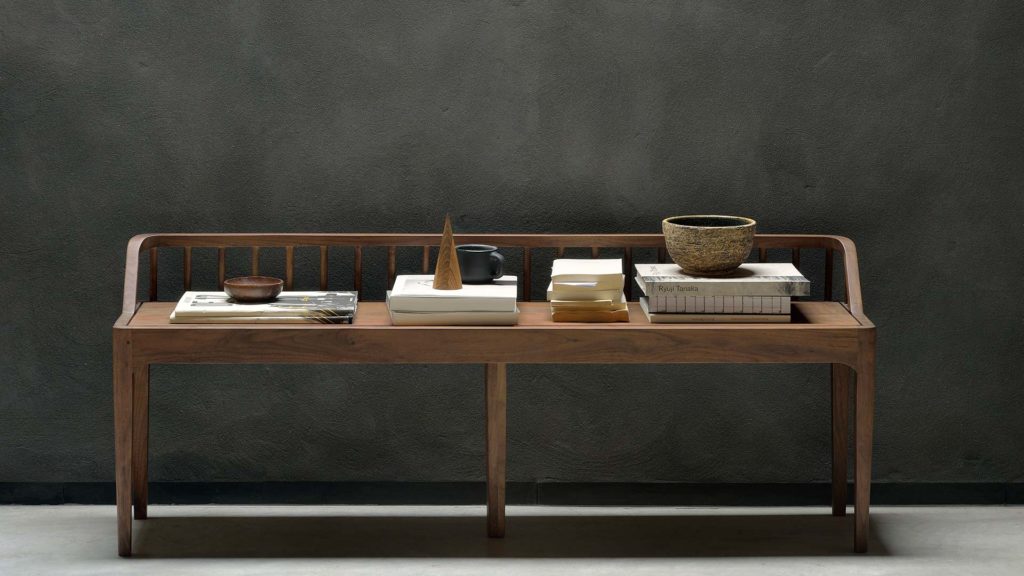 End of Bed Units
Another option for your storage solutions are end of bed units. These are great because they provide additional storage compartments, whilst taking up the same footprint as a bench. If you've got a mix of different sized items to store, these units combine large cubby holes with drawers or cupboards for a whole range of bits and bobs!
Ethnicraft offer two end of bed units that are perfect for keeping your room organised. The Nordic Low Storage unit, made from solid timber like all our furniture, offers a wide open storage space below two large drawers. These make great spaces for storing bedding, pyjamas or your summer wardrobe!
The other Ethnicraft unit we love is the Monolit Low Oak Cupboard. This cupboard can be used anywhere in your home, but the size and shape make it the perfect end of bed unit. Sleek and slimline, detailed with a black metal frame, this is a statement piece that will add a modern touch to any room.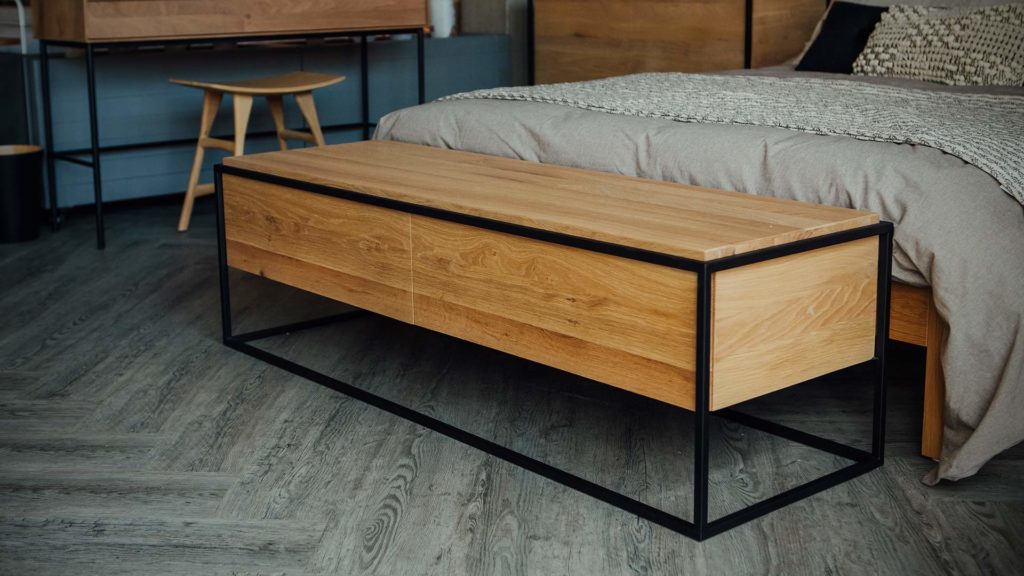 Make it your Own!
The great thing about end of bed storage first and foremost, is the storage. You can keep whatever you like in yours; bedding, slippers… we've even seen some super-cute examples of them used as pet beds! The other thing that's great about them, is they're brilliant places to pop a cute cushion or comfy throw. You can find our full range of blankets and bedding here on our website.