Looking to re-vamp your autumnal bedroom style?
As the nights, and days, are darkening and the temperature drops requiring us to put on the heating. We often feel a loss of energy at this time of year and a desire to snuggle up. It's a good idea to try and make the most of the low grey light and use rich earthy spice colours to add vibrancy, warmth and energy to your autumnal bedroom interior so as not to go into hibernation mode too soon!
Autumnal Bedroom Colours
Great colours for this season are Turmeric or Yellow Ochre, Chilli Pepper or brick red, Cinnamon or warm chestnut, Pine or Fir Green and Slate grey. Look to the leaves falling from the trees for inspiration. These are all cosy inviting tones and will refresh and warm up any Bedroom scheme. Try a painting a feature wall in one of these colours or choose Bedding or home accessories in this colour theme.
As you will see our Cinnamon toned Walnut wood beds in particular look great with strong warm Autumn coloured bedding. The combination works as well with Oak and Cherry wood, and with our upholstered headboard beds.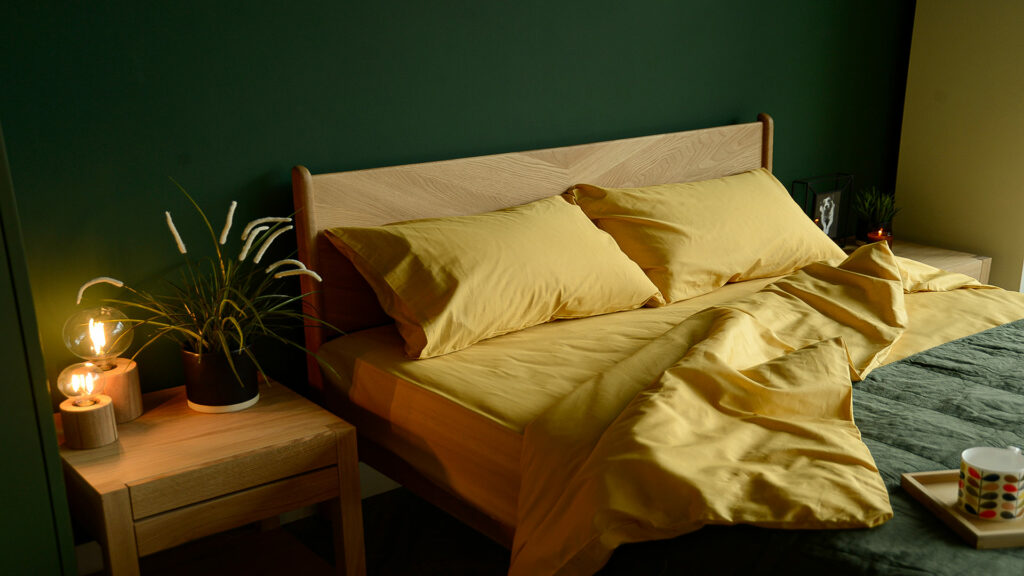 Cosy Elements
As Winter approaches try a higher Tog rated Duvet for extra warmth. You could also add a quilted or cosy bedspread for extra coziness. A faux fur or sheepskin Hot water bottle will keep your toes toasty whilst looking the height of luxury. Ideas such as these may help you to reduce your heating settings in the bedroom helping to save energy. They can also keep the atmosphere from becoming dry and stuffy. A recipe for a better nights sleep!
Keep the cosy look going with soft textures and warm lighting. We use softly draped faux fur throws, quilted velvet bedspreads, or textured soft touch cotton or wool blankets to dress our beds at this time of year. Not only cosy but wonderfully luxurious.
Warm glow bedside lighting adds a feeling of comfort and repose. Clever mini lamps by Gigko can even diffuse your favourite scent, or apparently defy gravity with a floating, rotating, glowing moon. And string lights or candles always create a welcoming glow to your autumnal bedroom.
And don't forget to cosy up your accessories. Colourful felted wool slippers, cosy loungewear and a warmer robe all will help you to embrace the season.