If you've spent a bit of time on our website, you'll probably know that we make all our bed bases to order. Did you know we also make bedside tables to match? If you've fallen in love with a bed from the Camden collection, you might like to take a look at the Camden table. Like the Nevada collection? Maybe the Tibet or Sahara tables would be the best match for you. Read on to find out more about all our options…
The Camden
Beds from our Camden collection are easily recognised by their beautiful, curved legs. Made up of the Camden, Hoxton, Carnaby, Pimlico & Bloomsbury, this is one of our most popular ranges. We think it's the delicate, subtly softened edges of these beds that make them so attractive. Available in any of our hard woods, these shapes allow the grain of any timber to be shown in its full glory.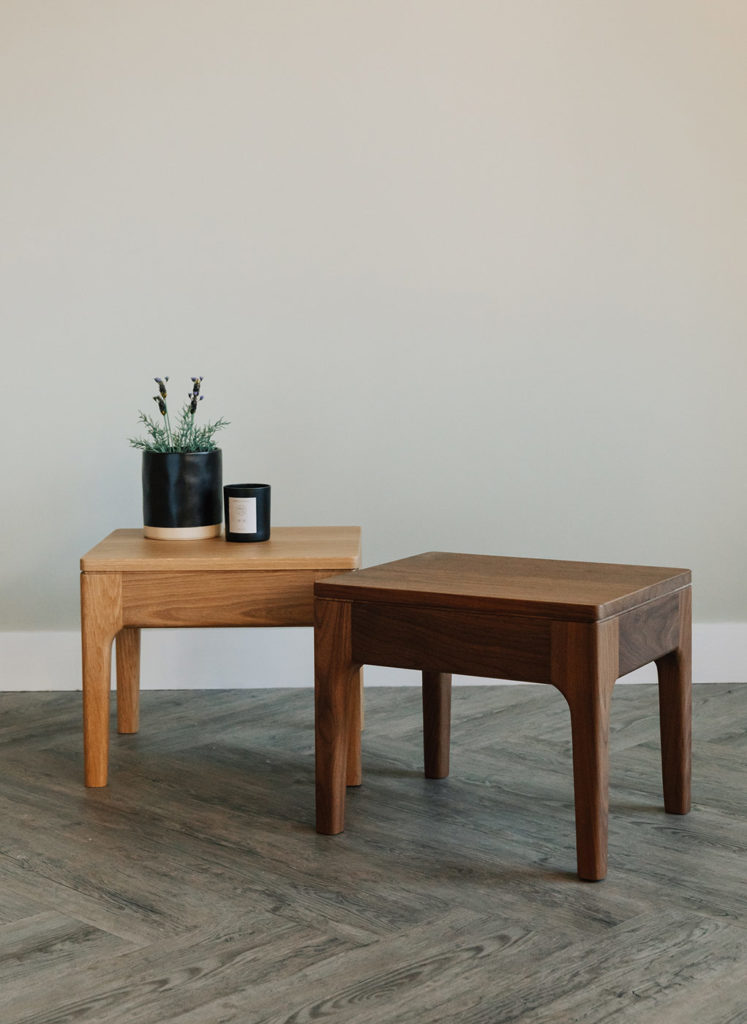 The Camden Table matches this range perfectly. Made using the same legs as the bed bases, this table is a sweet little statement that looks great next to your bed. (It also looks lovely with a book or cup of tea perched upon it!) Pictured above in walnut and oak, shown off below next to our Hoxton bed base.
NEW: prefer a taller table? We have now introduced a taller version of the Camden bedside table – the same soft curves, but with taller, elegant tapering legs.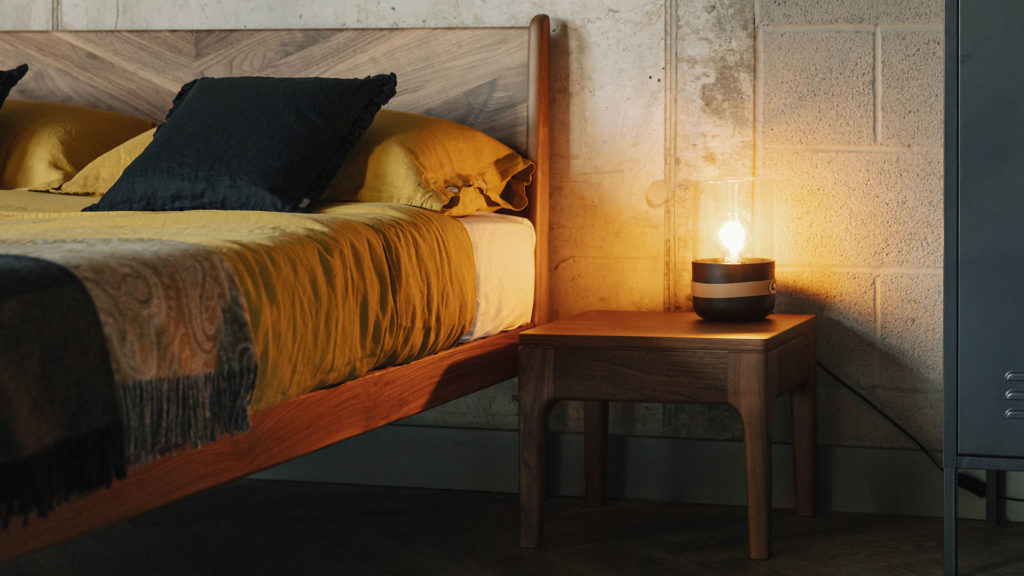 The Cube
Depending on the height of the bed you've ordered, you can get the Cube table to suit you. For example, if you've ordered a low bed like the Iona or Kyoto, the low option would suit you best. If you've gone all in with a Skye bed base or an Orchid, you might need a higher bedside table. The Tall option is your friend.
In general, the Original height suits most of our medium bed base heights. You can find all the dimensions for each option on the product page here.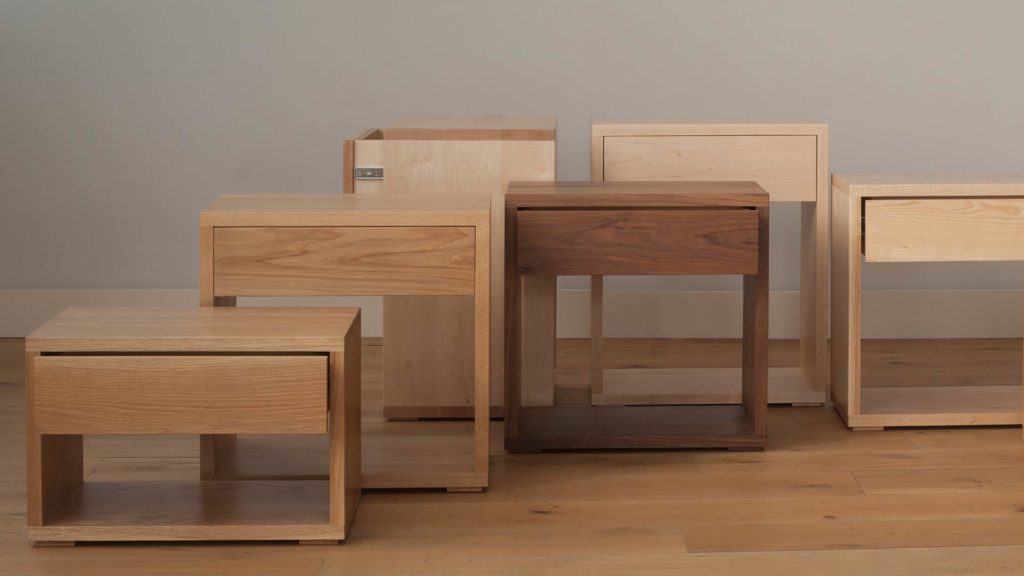 By far our most popular bedside table design, the Cube is super versatile. Easy to pair with any existing space thanks to being available in any of timbers, it is also available in a range of heights. You can opt for Original, Tall or Low height depending on your preference.
Low Bedside Tables
Kyoto Table
Our low beds are ever-increasing in popularity. Our Japanese inspired range of bed bases include the Kyoto, Kulu and Kumo to name a few. The Kyoto table was created with these beds in mind, but can be paired with any of our low bed bases. It's available in any of our timbers and in a shelf or drawer option.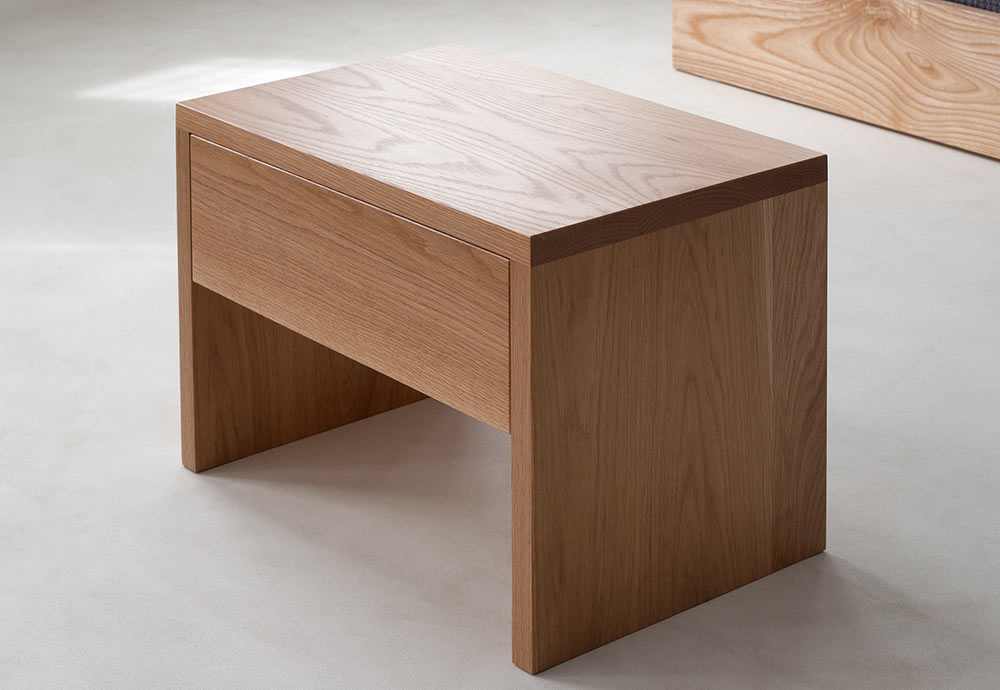 Nevada Table
Other low beds such as the Sonora or Nevada, may benefit from a slightly different style of bedside table. The Nevada bedside table is a super-low version of our original Tibet table (pictured below). This makes it the perfect height to sit alongside these beds, and offers classic, simple flair.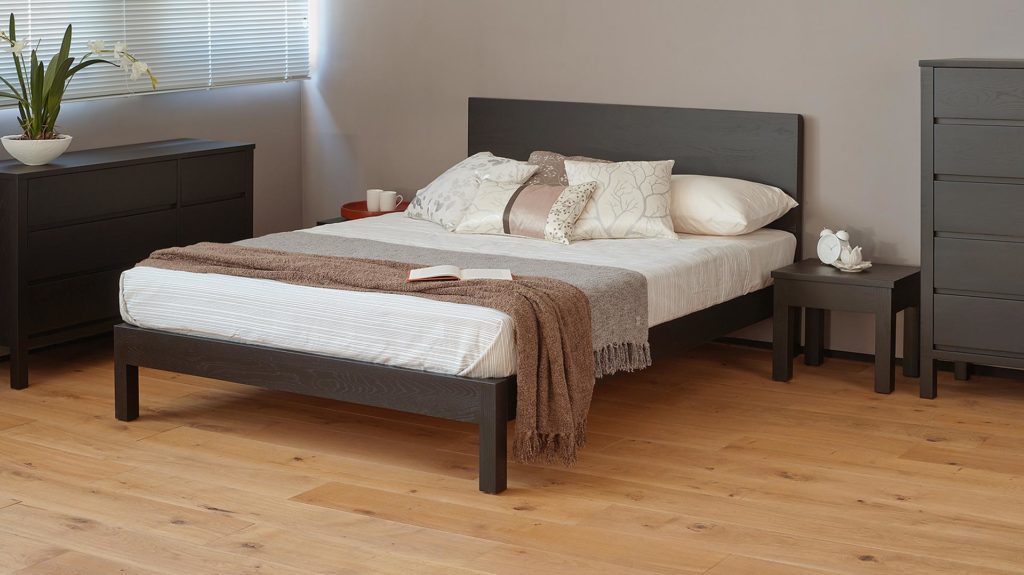 Oregon Table
If the luxurious Oregon bed is your favourite, you may also like to consider a matching Oregon table. The Oregon has a platform base, which could be used to place your book or glass of water at bedtime, but if you need extra space, this table has you covered. Made super thin to match the slim lines of the Oregon, this table matches perfectly in any space.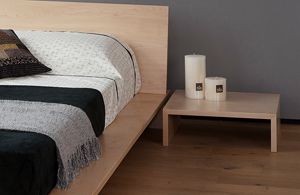 A Bedside Table – Table!
We often have our customers ask which bedside tables we make ourselves and which beds they're intended to pair with. As an easy reference guide, please see the below list:
| | |
| --- | --- |
| Bedside Table | Example bed bases it pairs well with… |
| Camden | Camden, Hoxton, Pimlico, Carnaby, Bloomsbury |
| Kyoto (shelf & drawer options) | Kyoto, Kumo, Kulu, Kobe, Ki, Koo, Oregon |
| Oregon | Oregon |
| Cochin | Cochin, Zanskar, Rajasthan |
| Sahara | Sahara, Malabar, Sol, Ocean |
| Tibet | Tibet, Malabar, Hathersage, Bamford, Skye |
| Nevada | Nevada, Sonora, Oregon, Kyoto |
| Cube | Super versatile; any bed, available in different height options! |
Our bedside tables can also be made to custom dimensions. Please don't hesitate to get in touch if you have any questions about this, or any of the tables in our range.
We hope this blog has given you an insight into our range of bedside tables. These are all available in our full range of timbers, meaning you can have any bed and any bedside in matching timber. The table above is just a guide on how we pair our beds and tables – how you pair yours is entirely up to you – we love seeing your combinations!