We've got lots to introduce you to this month at Natural Bed Co.! Along with our recently discussed new Bedside Table Collection, we're also happy to share our new range of oak bedroom furniture. This new range features a classic, almost rustic, two tone finish. Along with more bedside tables, you'll also find larger items such as chests of drawers and even a stylish new dressing table. Read on for all the details…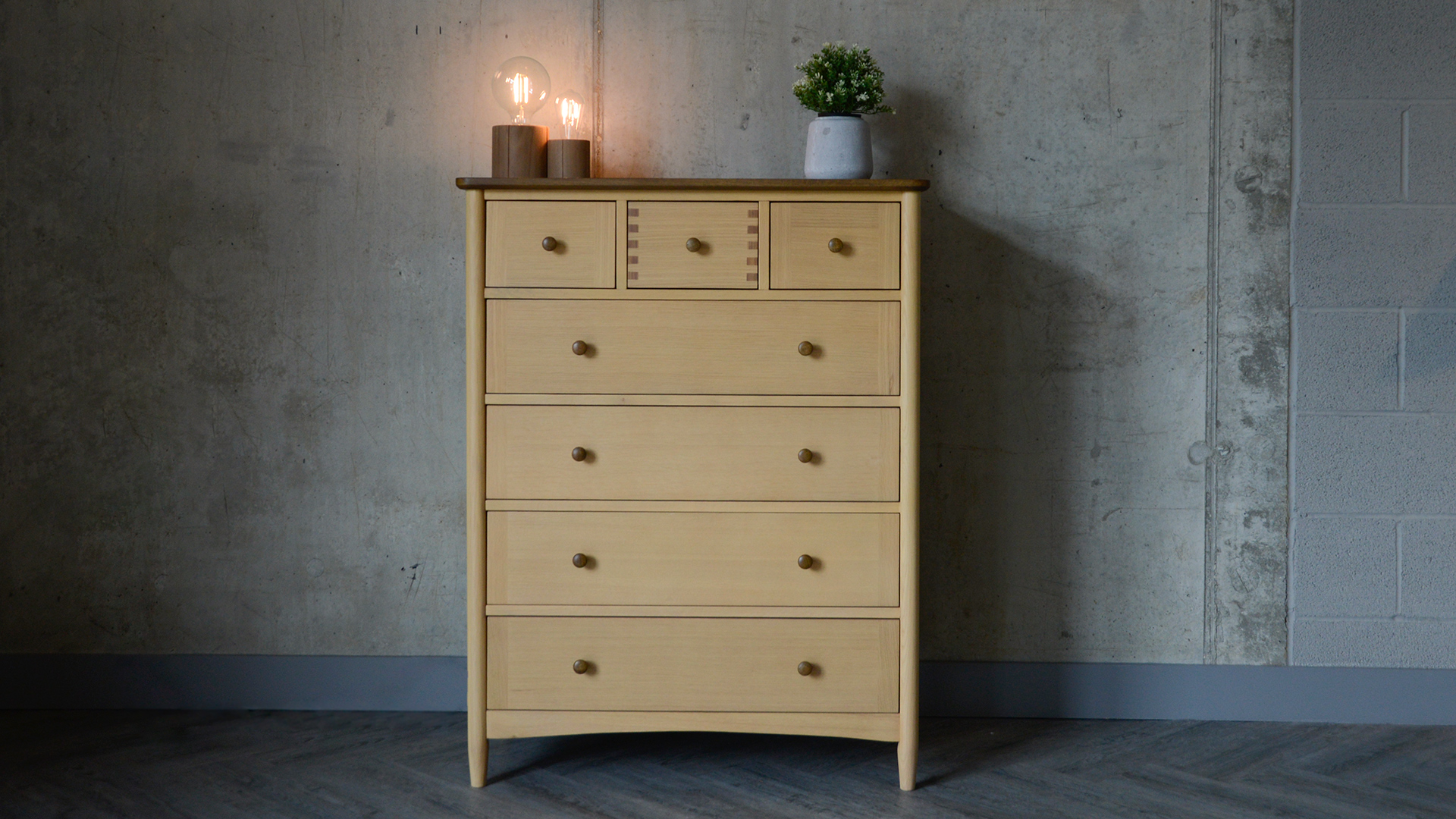 Chests for Days
The bulk of this new oak bedroom furniture collection features a whole host of different chests of drawers. Available in a variety of shapes and sizes to suit all manner of spaces, these chests all feature deep, spacious drawers. Ideal for storing clothes, books, toys – whatever you need stashed away to keep your room looking tidy. Thanks to the range of sizes available, these chests are also just as at home in the lounge or hallway as they are in the bedroom.
Tallboy
This tall chest of drawers is ideal for slimmer spaces. With a width of just 50cm, the Tallboy still boasts the same generous drawer space as the rest of our chests, but its slimline profile makes it easy to fit wherever you need it.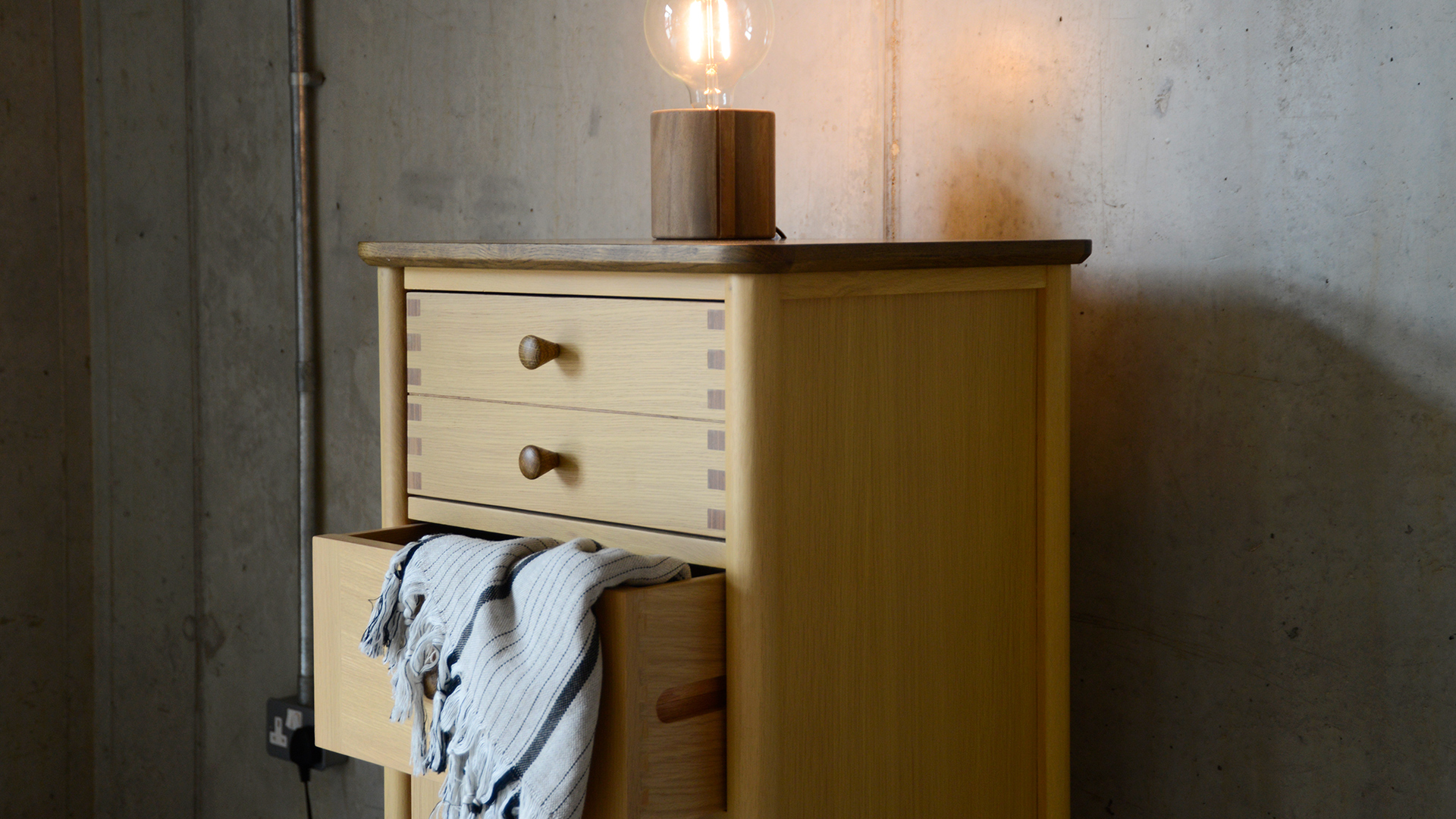 Overall Dimensions: W 50 x H 118 x D 45cm
Internal Drawer Dimensions: D 16 x W 36 x L 32cm
Wide Unit
Looking for maximum storage potential? Look no further than this extra-wide unit boasting seven spacious drawers. Not only does this unit offer heaps of storage space, but also, at 135cm wide, it delivers on tabletop space, too. Ideal for displaying those large prints you've been meaning to put on show, or as a sideboard in the hall.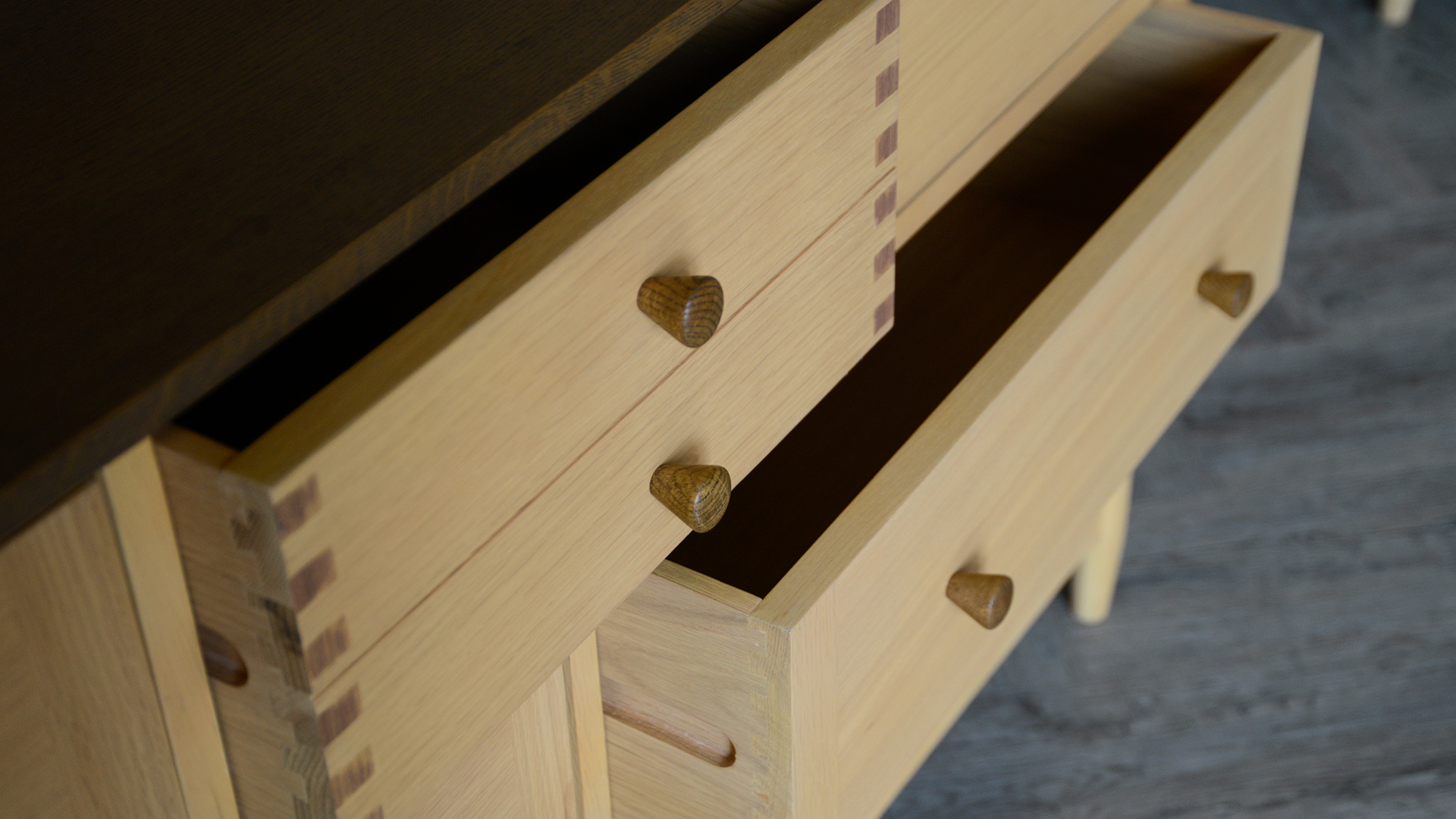 Overall Dimensions: W 135 x H 77.5 x D 45cm
Internal Drawer Dimensions – Top Row: D 16 x W 37.5 x L 32cm | Bottom Rows: D 16 x W 58 x L 32cm
Six & Seven Drawer Chests
These two chests of drawers feature mainly the same dimensions. The six-drawer chest is the shorter version of the seven-drawer, which features one additional wide drawer to the bottom. Choose whichever suits your needs best! Ideal as traditional oak bedroom furniture.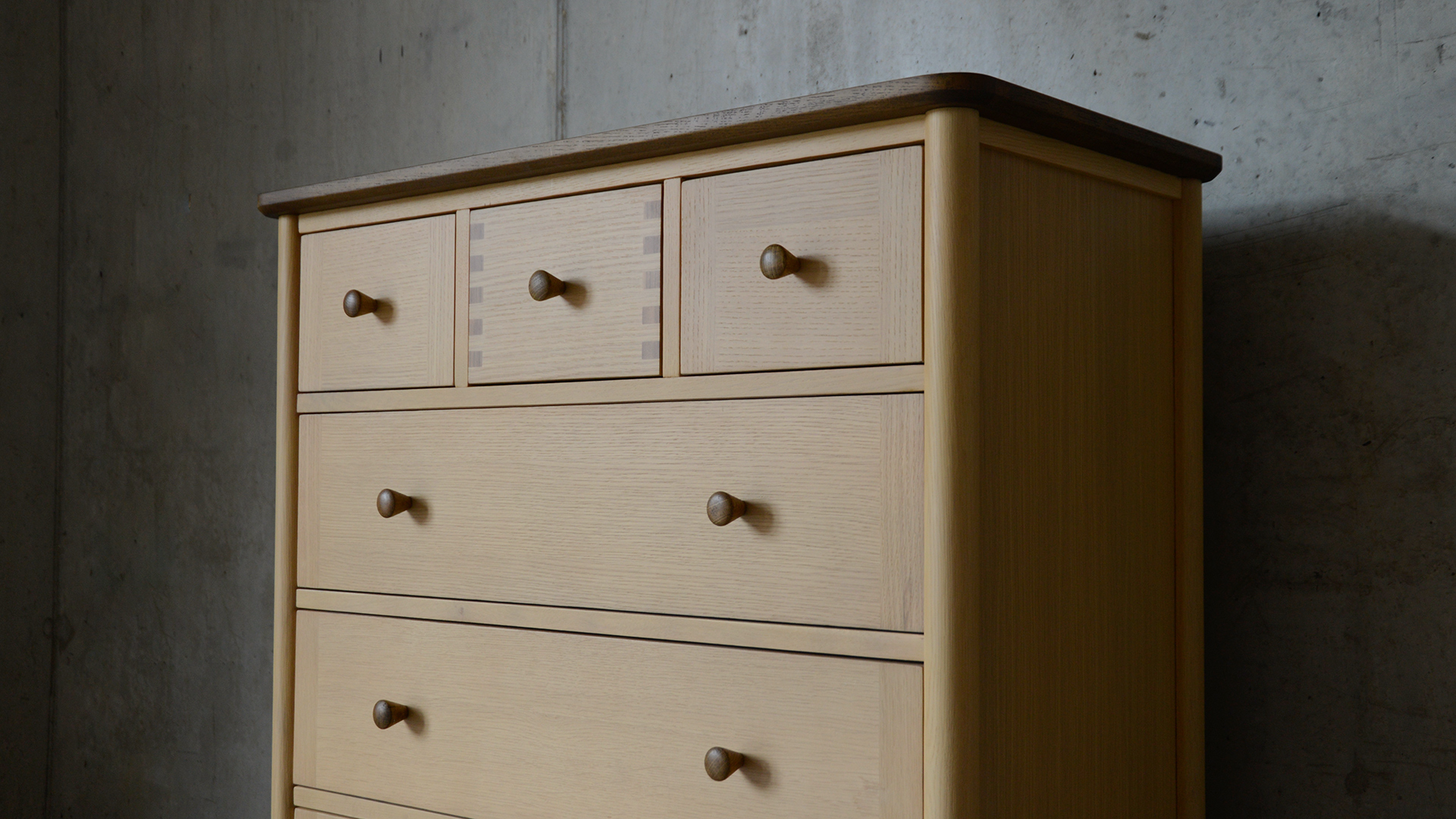 Six Drawer – Overall Dimensions: W 90 x H 96 x D 45cm
Seven Drawer – Overall Dimensions: W 90 x H 116.5 x D 45cm
Internal Drawer Dimensions – Top Row: D 14.5 x W 22.5 x L 32cm | Bottom Rows: D 16 x W 76 x L 32cm
Bedside Storage
Also starring in this new collection are these two new bedside tables. Like the rest of the collection, these are made using a mix of solid oak and oak veneers. The rustic, two tone look is created using a combination of stained oaks – the tops and handles always stained to match one another. This makes for a classic, cohesive design that would pair well with our classic bed designs.
Round Nightstand
This sweet little round nightstand is a stylish addition to any bedside. The rustic look is further enhanced by the rounded angles found in this piece, making for an overall softer look. A rounded drawer can be found within the table top, along with a slatted shelf below – ideal for slippers!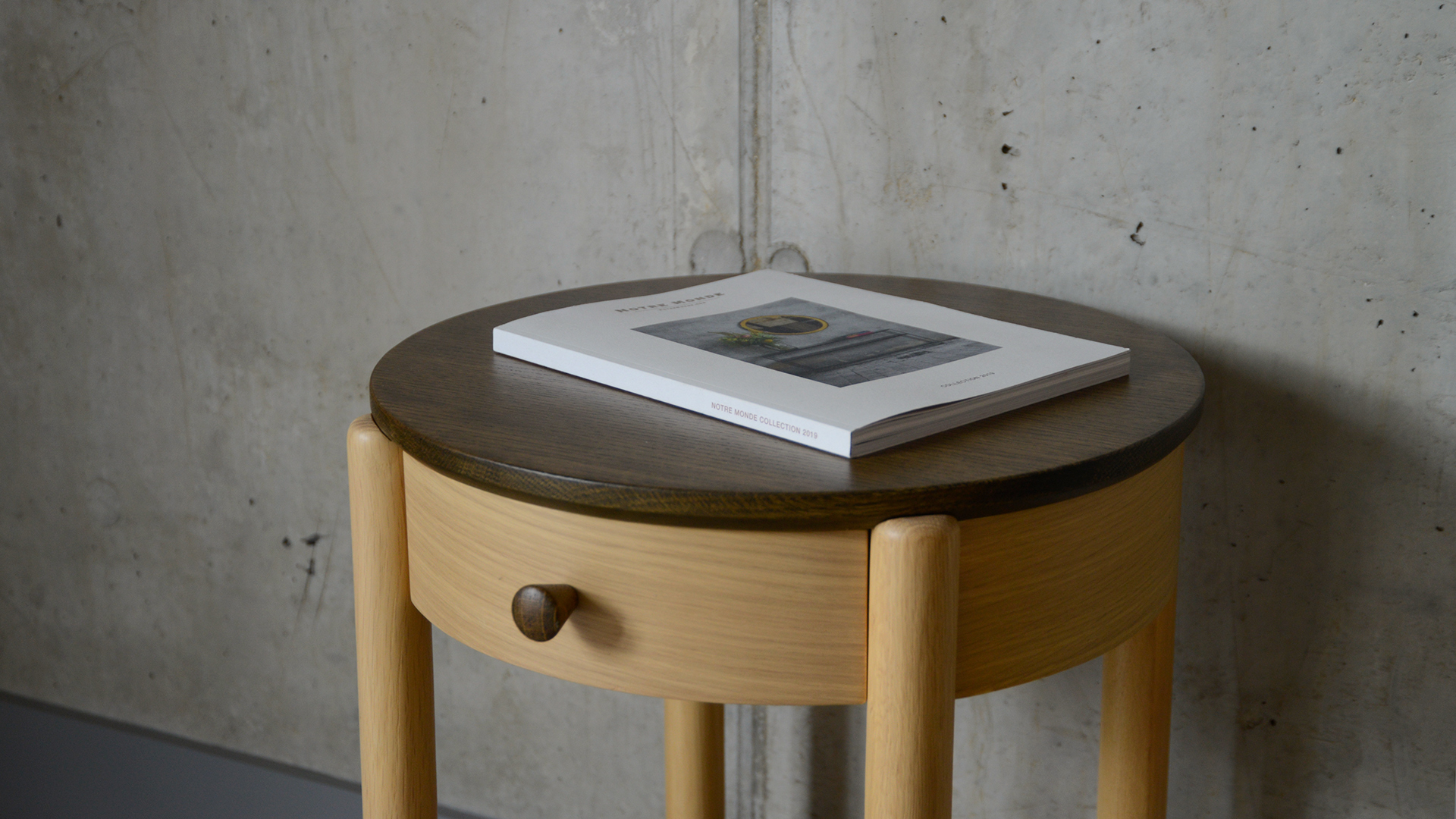 Overall Dimensions: W 45 x H 60 x D 45cm
Internal Drawer Dimensions (not incl. curve of drawer front): D 6.5 x W 23.5 x L 27cm
Bedside Chest
The perfect partner in decluttering your room, this oak bedside chest features the same large drawers found across this range. Ideal for storing toiletries, books or blankets – whatever you need close at hand at bedtime!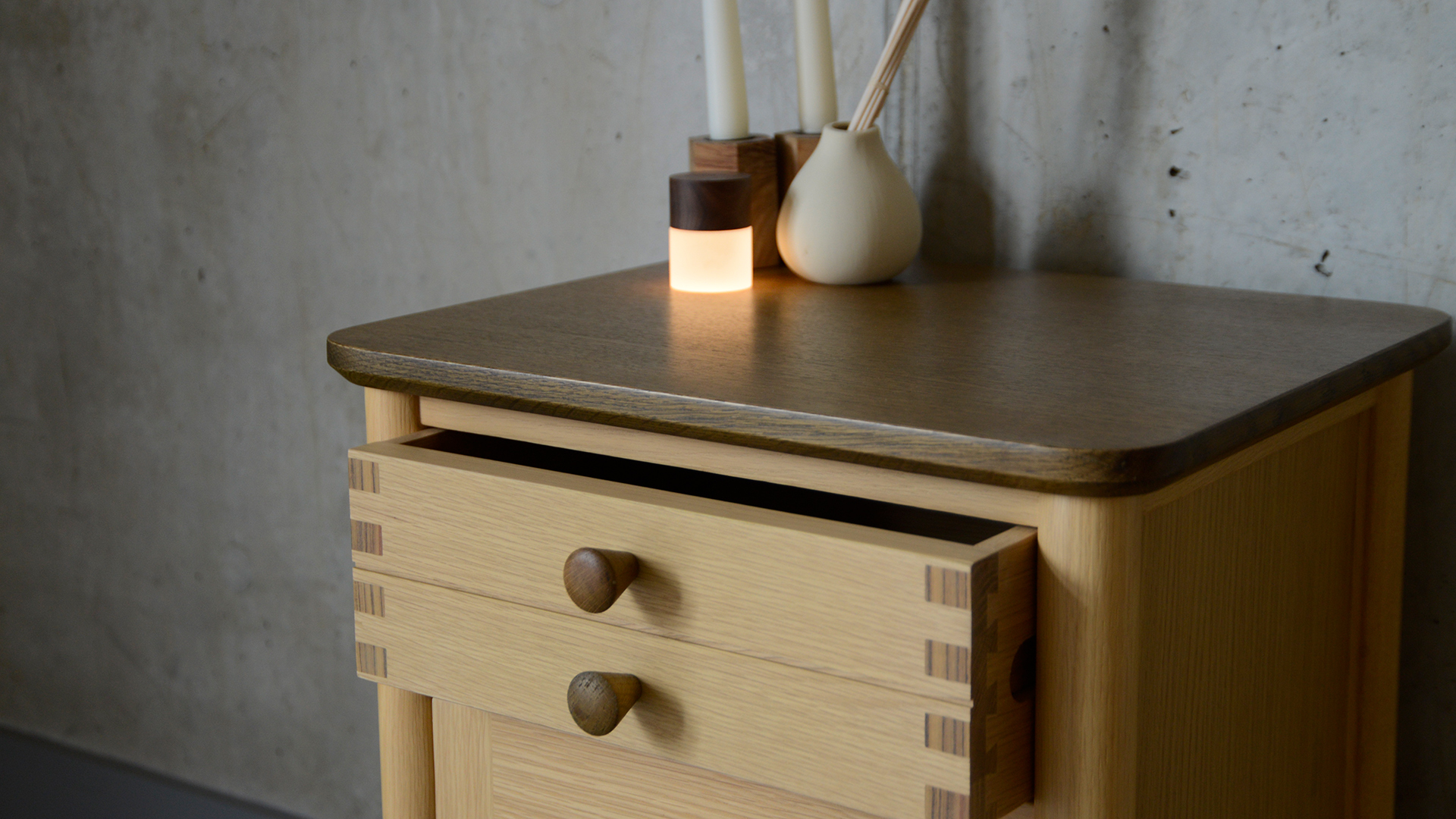 Overall Dimensions: W 45 x H 62.5 x D 38cm
Internal Drawer Dimensions – Top drawer: D 9.5 x W 31 x L 24.5cm | Bottom drawers: D 12 x W 31 x L 24.5
The Star of the Show
By far the most asked-about item from the new range in our showroom! This luxe dressing table with matching upholstered stool offers a stylish place for you to get ready for the day ahead. With a large, round mirror attached to the table legs, this dresser boasts a unique, satisfying shape and is made of solid oak to boot.
The dresser features three drawers within the stained tabletop. The two outer drawers are the perfect size for small cosmetics or toiletries, whilst the middle drawer has a thin felt lining – specially designed for jewellery! Store your rings and necklaces without fear of them tangling or scratching the inside of the drawer.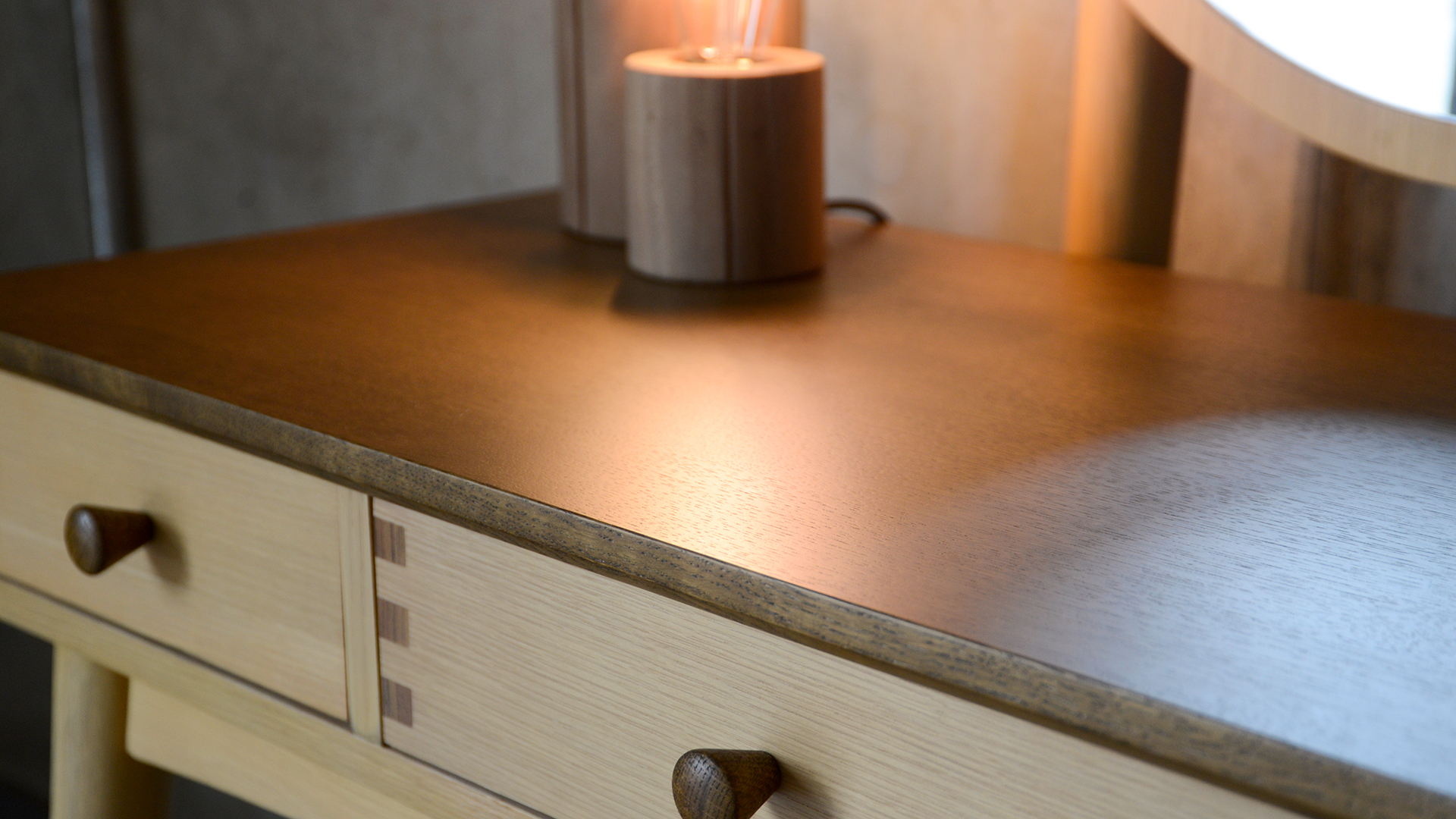 Lastly, this dresser comes with a matching upholstered stool. A wonderful compliment to the whole bedroom furniture range, this stool features the same stained oak top beneath the seat to tie in with the dresser. It is upholstered in a hardwearing, woven fabric that feels durable but still comfortable enough for those hours spent in front of the mirror!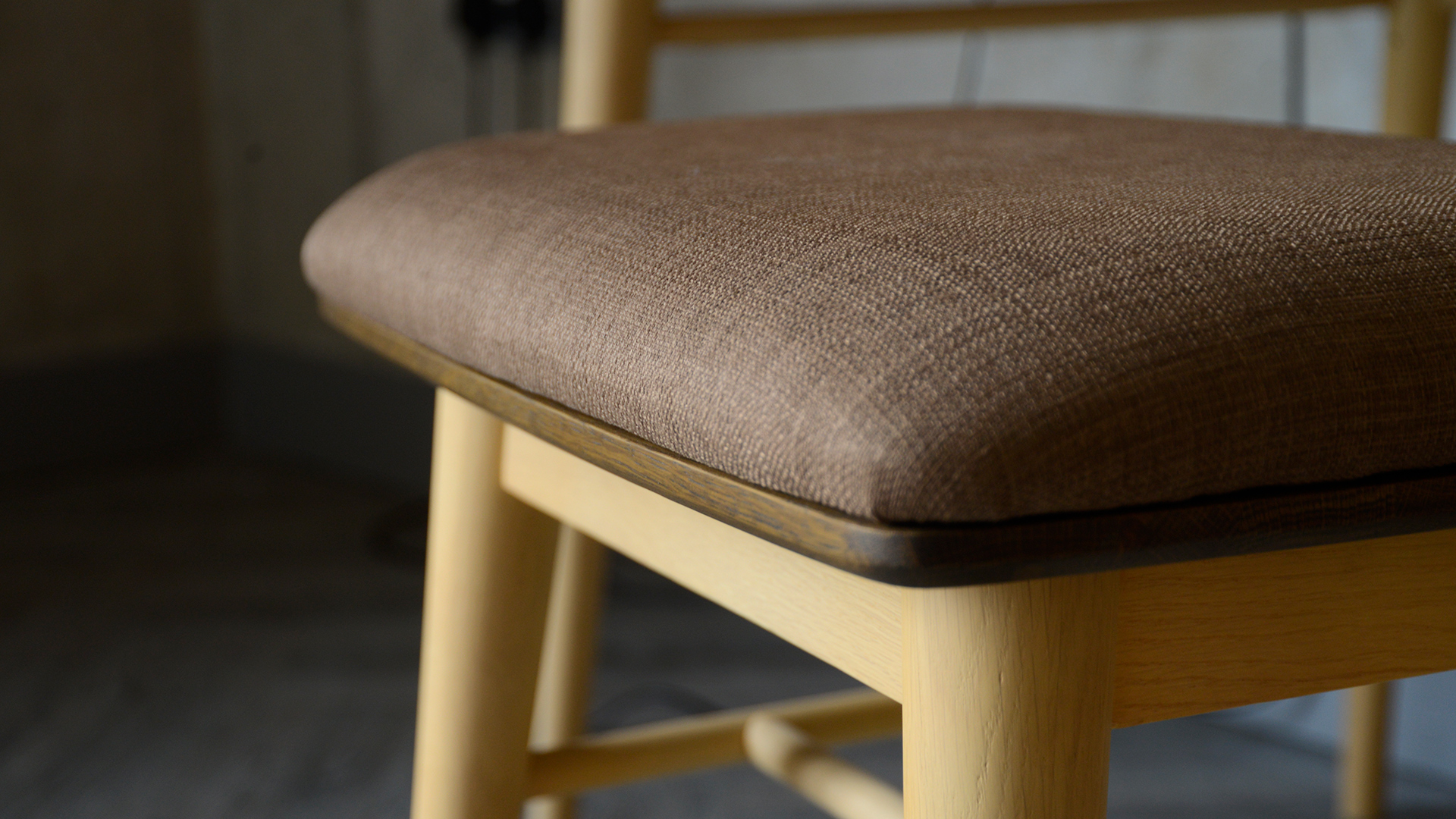 Overall Dimensions: H (to table top) 79 / H (to top of mirror) 143.5 x W 104 x D 42cm
Internal Drawer Dimensions – Outer drawers: D 7.8 x W 23.5 x L 32cm | Middle drawer: D 7.8 x W 37 x L 32cm
We hope you love this new furniture range just as much as we do. Follow the links in each paragraph to view the products on their own pages, or search 'Two Tone' on our website to see the full range. Looking for more interior inspiration? Take a look at our Pinterest page for heaps of ideas.