Scandinavian style has grown in popularity throughout the last decade. The style incorporates themes of light, nature and space – traits which have only become more and more desirable over the last few years! In this article, we we share our tips on achieving the sought-after Scandinavian style bedroom.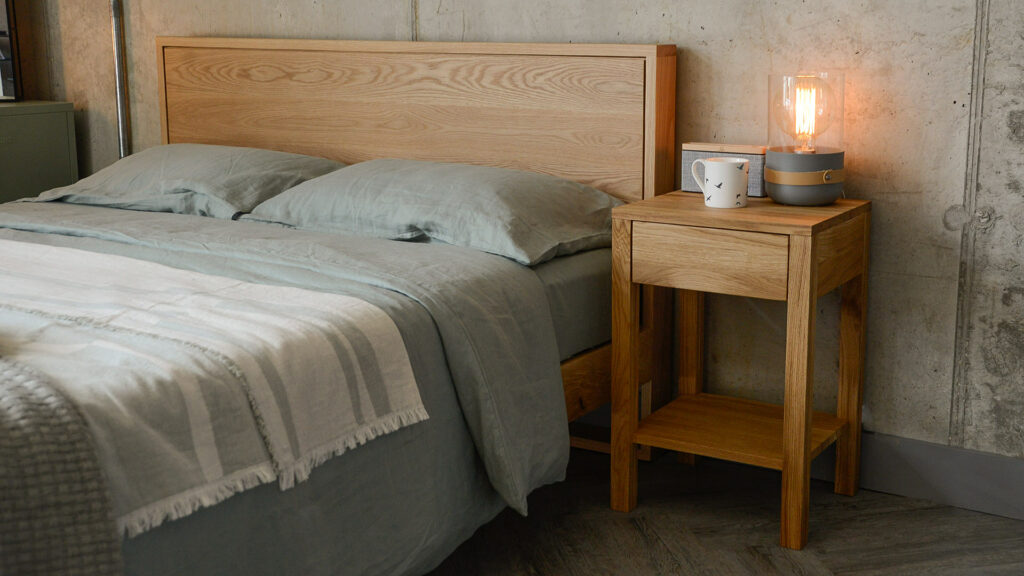 Let in the Light
The main concept behind Scandinavian style is bringing nature into the home; allowing the line between the outside and inside to blur. One of the ways you can achieve this with lighting. Of course, natural lighting is the best option in this case. If you have large windows, dress them with light, airy materials to let as much light in as possible. Try long, sheer drapes over slatted blinds, or if you prefer curtains, opt for something with a natural or boho-inspired pattern.
If you have small windows or your room isn't subject to a lot of natural light, think about adding pops of mood lighting. Small filament lamps look great in a Scandinavian style bedroom, and allow you to set the feel of a space even if natural lighting is lacking. Take a look at our Humble One and Floating Bulb Lamp for examples.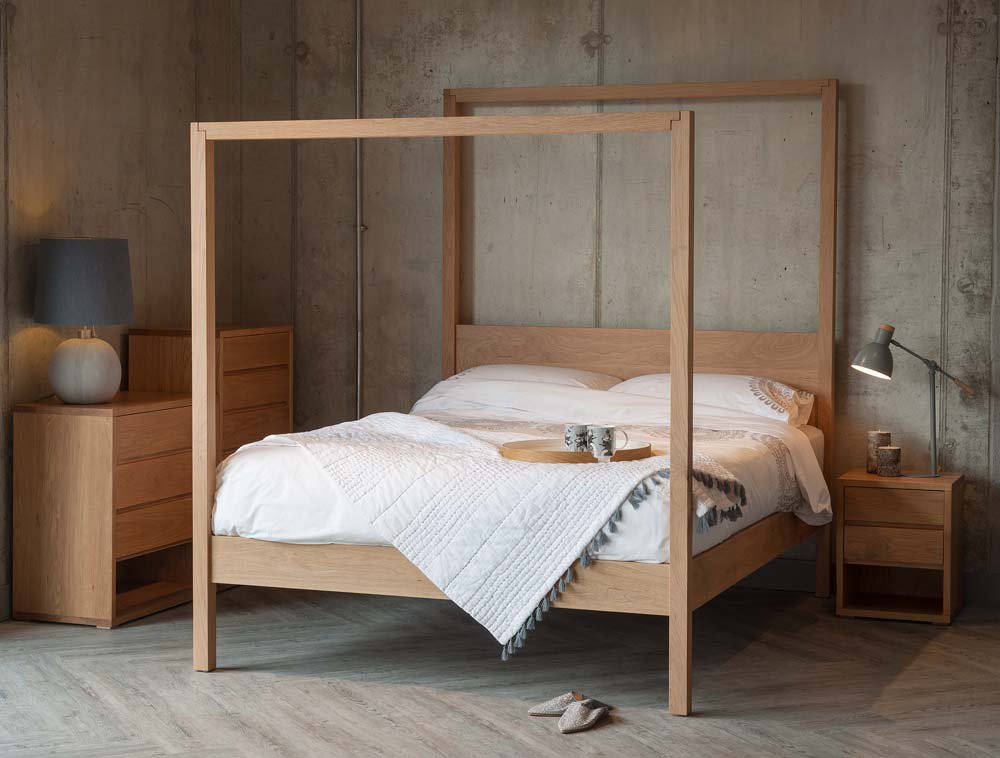 Natural Materials
Another way to invite nature into your interior design is through the materials you choose. Here at Natural Bed Company, we craft our own beds from solid timber, and offer a range of bedroom furniture made from beautiful hardwoods. Wood is a fantastic material to bring out the Scandinavian style. If you're looking to create this vibe for your own room, opt for lighter timbers such as ash, oak or maple – lighter tones reflect light around your room, and and are easy to style with neutrals and bright colours alike.
Wondering what style of bed to go for to compliment Scandi style? Keep its style traits in mind. If you're wanting to create a spacious look, a low bed such as the Kyoto or four-poster low Cube could be the one for you. Or, if you're wanting a lot of natural material on show, the Bamford or Leith beds may be better choices.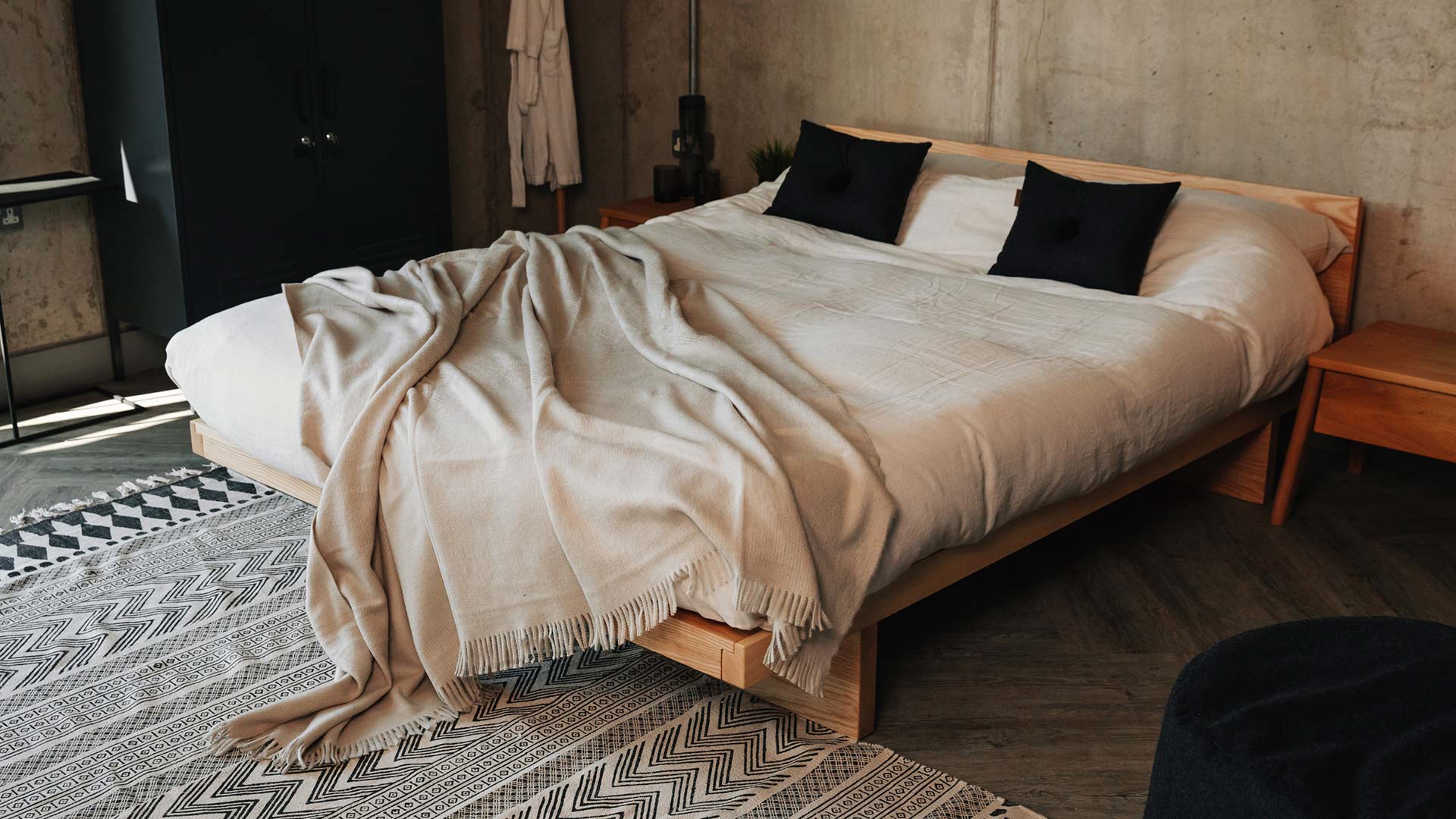 Another option to consider is an upholstered bed. For example, our Shetland bed offers clean lines and pairs lovely with this style. Go for upholstery in natural tones such as green, brown or pale neutrals to keep to the theme.
Textiles
Dressing your bedroom with textiles such as bedding, curtains and accessories can really bring it all together. When choosing items for a Scandinavian style bedroom, think about the type of materials you choose, not just the colour palette or patterns. Organic cotton, wool and linen are all brilliant options; fabrics from nature rather than synthetic materials.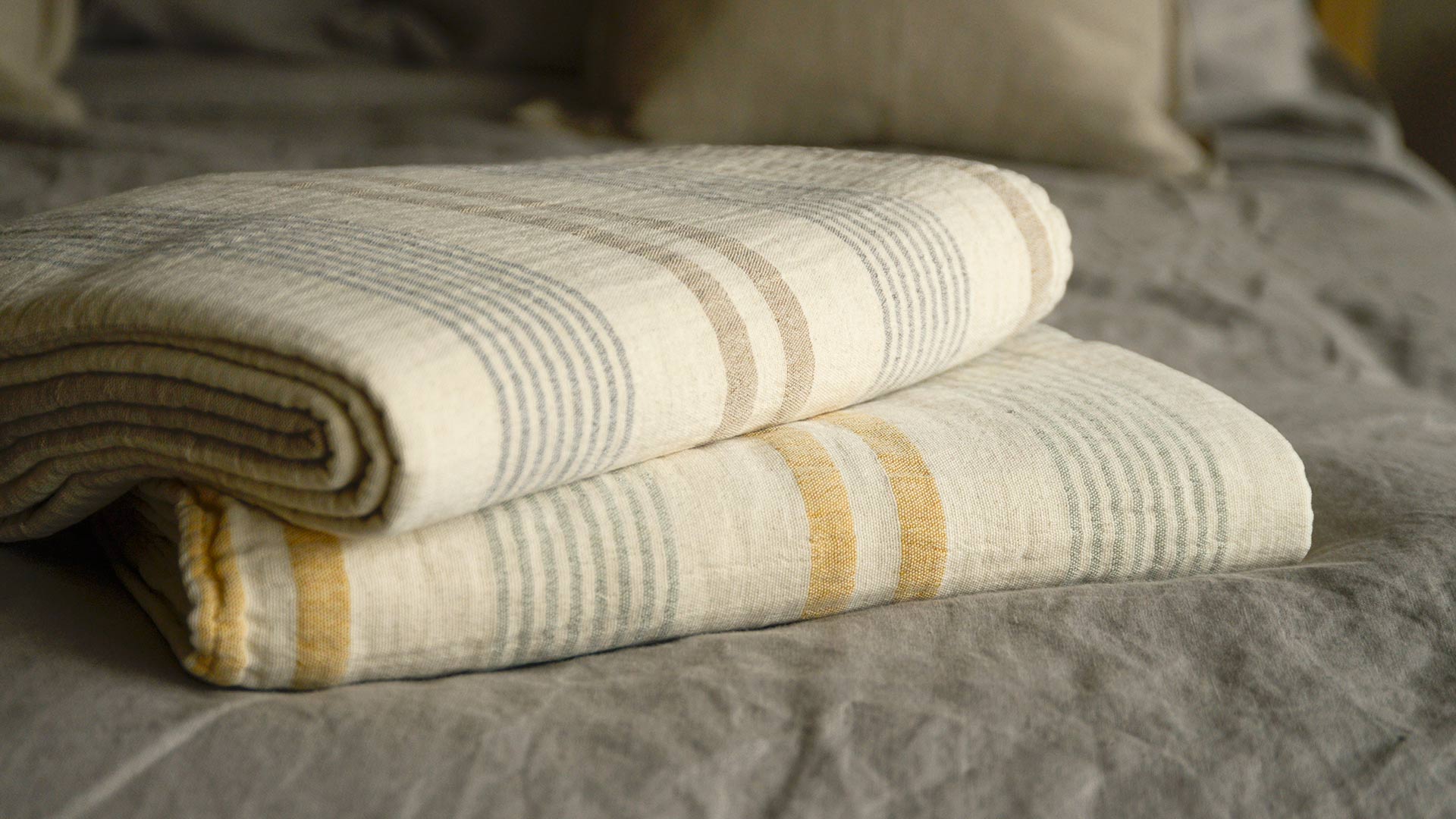 With regards to colour palettes and patterns, though, again keep the natural world in mind. Bohemian patterns are a great pairing, along with leafy, floral or coastal inspired designs. For colours, opt for neutrals such as stones, clays and pale browns, or add a pop of colour with yellow, blue or green. Wherever you add textiles, try and pair with a hardwearing natural material – woven rugs over hardwood floors, organic bedding on a wooden bed, or an upholstered chair with a solid timber dressing table.
Another benefit of this popular style is that it stays fresh the year round. You can keep your textiles in season and switch up your room when it gets warmer or colder. Think light linen bedding with cotton throws in summer, swapped out for brushed cotton bedding and faux fur throws in winter.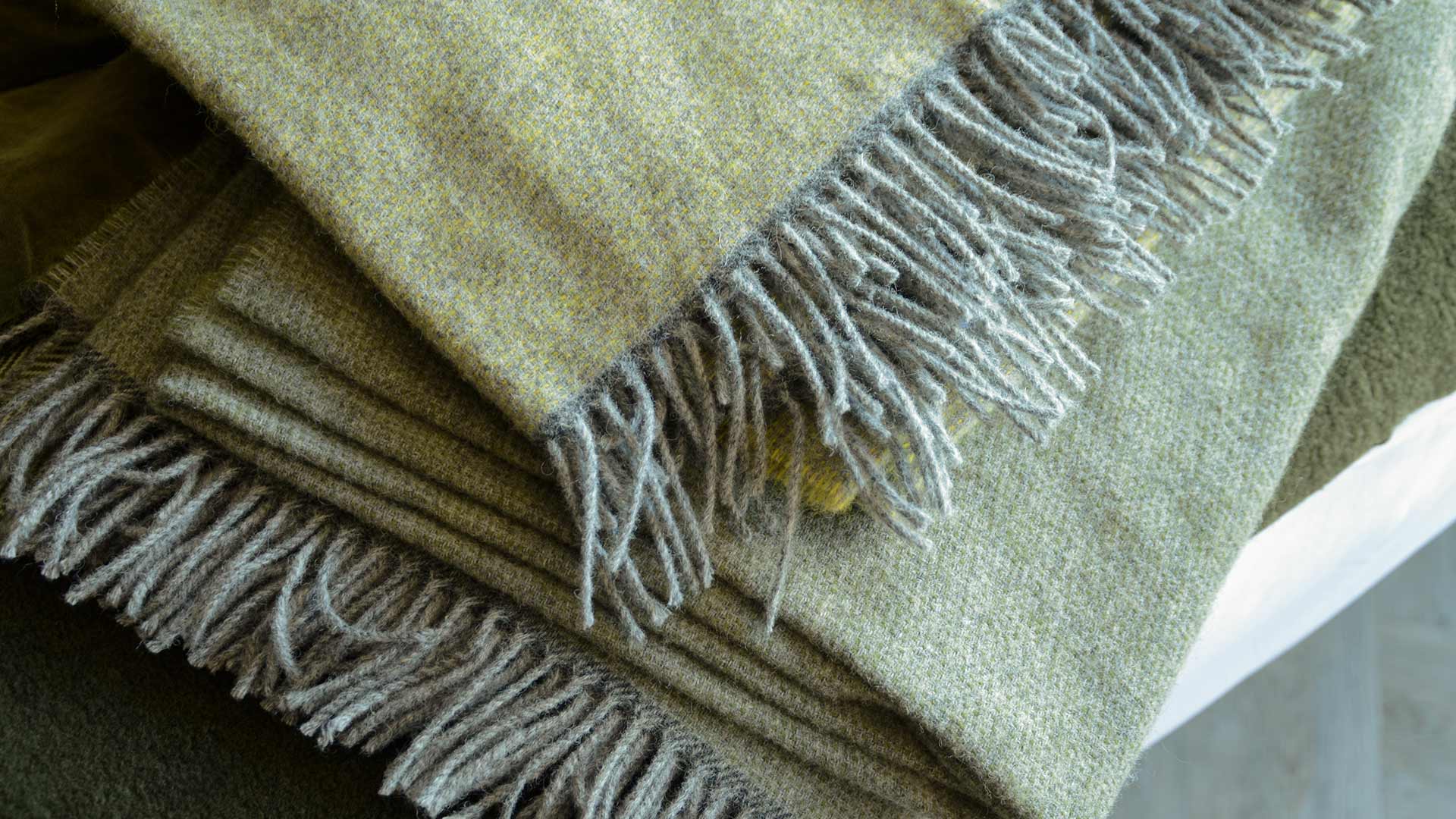 You can find our full range of organic products just here on our website, along with wool throws and pure linen bedding.
Space is Key
One of the big takeaways for this style is space. Spaciousness lends itself to creating that iconic Scandi style. Wherever you can add more space, its bound to further your pursuit in achieving this look. Try mounting bedside lights from the ceiling to add space to bedside cabinets, or opting for under-bed drawers to reduce clutter in your room.
If you don't have the luxury of a large room, consider wall-mounted bedside tables to create more floor space. Adding prints to walls is also a great way of drawing the eye upwards, creating the illusion that a room is larger than it may initially appear.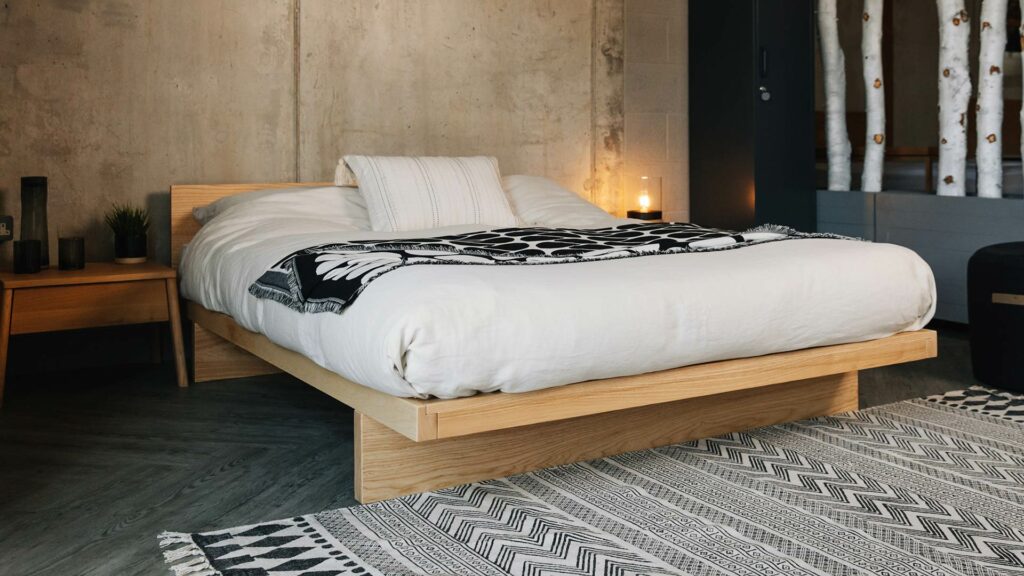 Finishing touches?
One final suggestion – if you're looking to accessorise, add large, leafy plants and simple, no-fuss fixtures. Glass and ceramic are also wonderful choices if you're looking to add ornaments – go for large vases filled with pampas grass or dried flowers, or ceramic pots in unglazed clay.
You can find heaps more inspiration over on our Pinterest page.