We all want guests to feel at home when they come to stay. In this post we'll take a look at ways you can create the perfect guest bedroom – a cosy, welcoming bedroom that will make your guests feel right at home.
A comfy bed and mattress
Getting the basics right is the place to start – a comfortable bed and mattress will help your guest get a good night's sleep (and everyone benefits from a happy, well rested guest!).
Our solid wood beds come will beech sprung slats – the slats are curved like a row of gentle hills and, when you lay on the mattress, they flatten to adjust to your profile. Sprung slats are very successful at giving good support to your back and extra comfort for the vast majority of customers (and therefore guests!). The quality sprung slats are 5-6cm apart and are suitable for use with the majority of mattress types (and if you do happen to have a mattreses that requires the slats to be placed closer together – just get in touch we can add extra slats to your bed order when requested). If you have a regular guest and know their preference is for an extra firm bed, then order your bed with solid pine slats – these will give a firmer base for your mattress to rest on.
Choosing the right mattress for a guest bedroom is tricky – simply because you may have a variety of people to stay with differing preferences and of different heights and weights. The safest choice is usually to choose a medium firm mattress. We find that the Optimal Support and Waterlattex mattresses are the most popular of our medium-firm foam mattresses. If you prefer a sprung mattress we have found that the Weldbank 1000 suits a wide range of customers and is a great value, quality sprung mattress. A slightly more luxurious option is the Westgate Chemical Free Mattress, available in a soft, medium or firm firmness rating.
Mattress toppers and protectors
With guests with varying preferences using your spare bed the addition of a mattress protector will give you the comfort of knowing that the mattress will stay clean and fresh, ready for all your guests. We have a wide range of mattress protectors – from natural organic cotton (a good choice for those sensitive to chemicals) to zip close, waterproof protectors to save your mattress from marks and spills.
A mattress topper is a handy addition – particularly for guests who prefer a softer mattress. As we discussed above a medium firm mattress will suit most guests, however some guests may prefer a softer option – a mattress topper will add an extra layer of comfort to help these guests get a good nights sleep.
Fresh and comfortable bedding
Layering bedding is the best option for guest bedrooms, so your guest can easily remove as many layers as they need to get the right level of warmth for them. I would suggest starting with a pure cotton or linen fitted sheet. Natural fibres are breathable and comfortable – and you want your guest to feel a little pampered too. A lightweight duvet, supportive pillows and a cotton (or linen) duvet cover and pillowcases is the next layer (if it's particularly hot weather you may want to just use a flat sheet instead). Follow with a light-weight bedspread and finally layer over a throw or blanket. Your guest is then unlikely to need to request extra bedding for warmth and can easily take off layers if they are too hot.
We have a wide range of bedding available, so you are sure to find a range that suits your bedroom colour scheme and style. White bedding is often the favourite for a guest room – as it's a choice popular with everyone! However don't feel that you have to stick with white or cream – we have a wide range of more colourful bedding, patterned or plain. This year soft blush pink has been a customer favourite, we also have a wide range of grey bedding from pale silver grey to dark charcoal or slate that is a sophisticated uni-sex option. White and grey also make a good backdrop to more colourful or patterned accessories, such as cushions or throws.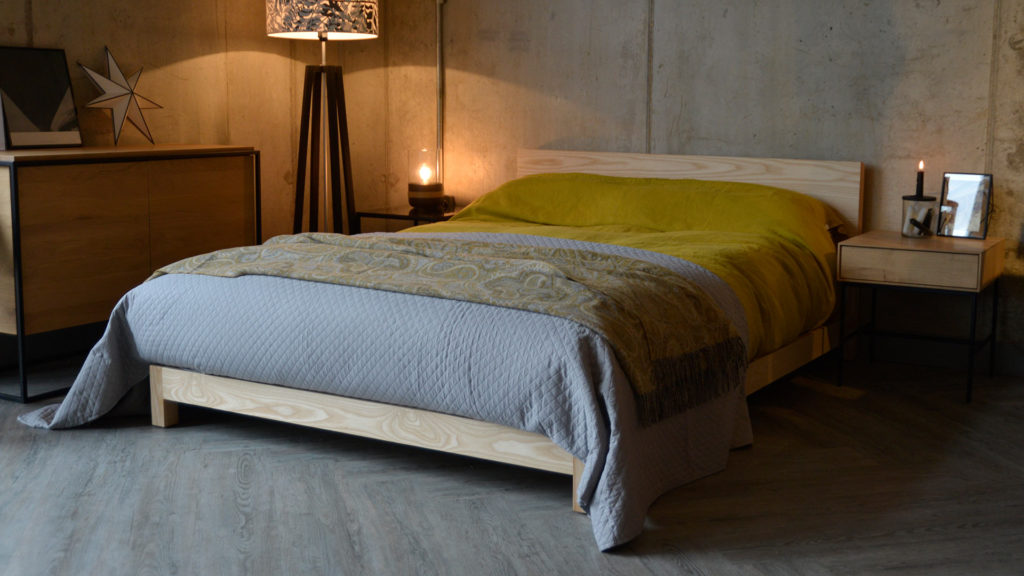 Storage space and useful furniture
Whether staying overnight or for a couple of weeks – plenty of storage space will be appreciated by your guest. Rest assured they won't need a full run of fitted wardrobes, but a cupboard or chest of drawers, a bedside unit and a short rail or locker will do the job.
Don't worry if your spare bedroom doesn't have a lot of extra floor space it's possible to add clever storage solutions with a small foot print. When choosing a bedside table, ensure that it has a couple of drawers or a cupboard (such as the Cube 2 drawer bedside unit). A tallboy has a small footprint but can store all your guests clothing and possibly some spare bedding or towels too! Take a look at our exclusive Black Lotus collection for bedside tables and chests of drawers in oak or walnut.
If you want to provide some hanging space for coats and dresses – our tall lockers and wall mounted rails take up very little space.
Finishing touches
There are a few small additions to a guest bedroom that will make your guests feel truly cared for. A pile of freshly laundered towels for their exclusive use is a good start. Add a jar with a few travel size toiletries and a bar of soap to give that hotel luxe feel. Try our Hair & Body Care Travel set from our Toiletries and Bodycare collection – it includes luxury shampoo, conditioner, body wash and lotion – everything your guest will need (the bottles can be refilled from full size toiletries when used up).
A scented candle or scented room diffuser will give the space a fresh and fragrant feel, fresh flowers or a potted plant will give the room some life. A mirror and a cosy bedside lamp will also help to create a home-from-home effect. A spare bedroom that feels cared for will ensure your guests feel cared for too.
For more ideas to help you ceate the perfect guest bedroom take a look at our Pinterest board: The Perfect Guest Bedroom