We are celebrating our beautiful Hoxton bed design with the introduction of our new Special Edition Hoxton – a solid walnut bed with the chevron detail highlighted with a contrast timber detail. The result is stunning! This beautifully handcrafted bed boasts a mix of timbers which draws attention to the elegant headboard and softly curved frame.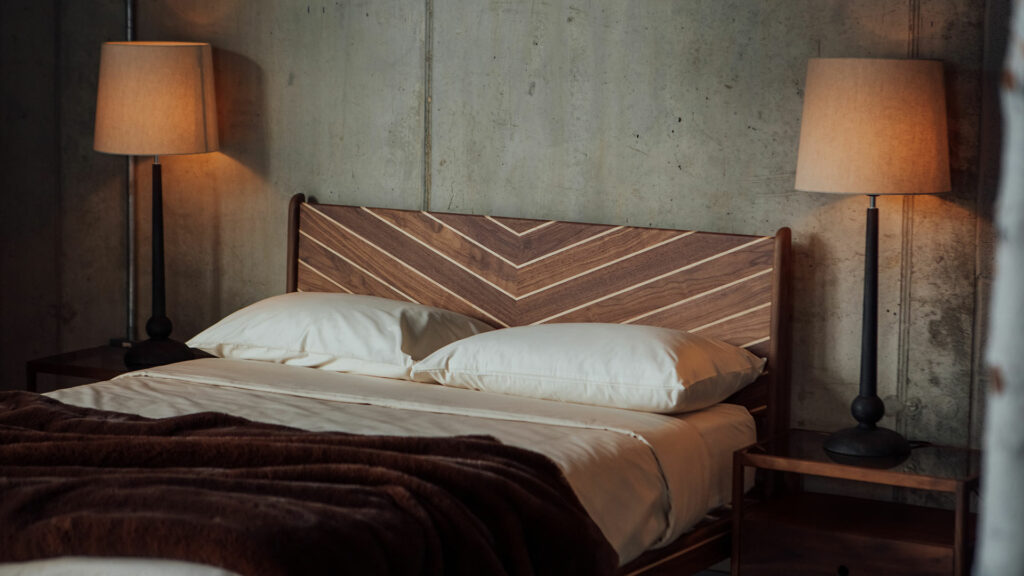 The Headboard Panel
The solid walnut panels that make up the chevron pattern to the Hoxton headboard is punctuated by slim panels in a contrasting timber. Here we have used solid maple wood – a pale blonde wood that shows up well against the deep chocolate tones of the walnut. You can select oak or cherry if you prefer less of a contrast, ash or maple if you want to maximise the contrast.
If you would prefer the frame in another hardwood – such as an oak bed base with ash contrast detail – please just call us for details. Find out more about Our Timbers here.
Contrast Detail to the Side & Foot Rails
The side and foot rails in solid walnut have softly curved edges and attach to gently tapered legs. In this Special Edition Hoxton the rails are highlighted with a slim band of contrast timber. Slender strips of timber, matching the headboard contrast timber, draw attention to the frame and the elegant proportions of this design.
Below you can see the Special Edition Hoxton and our original Hoxton bed and the changes the contrast timber makes to the overall look.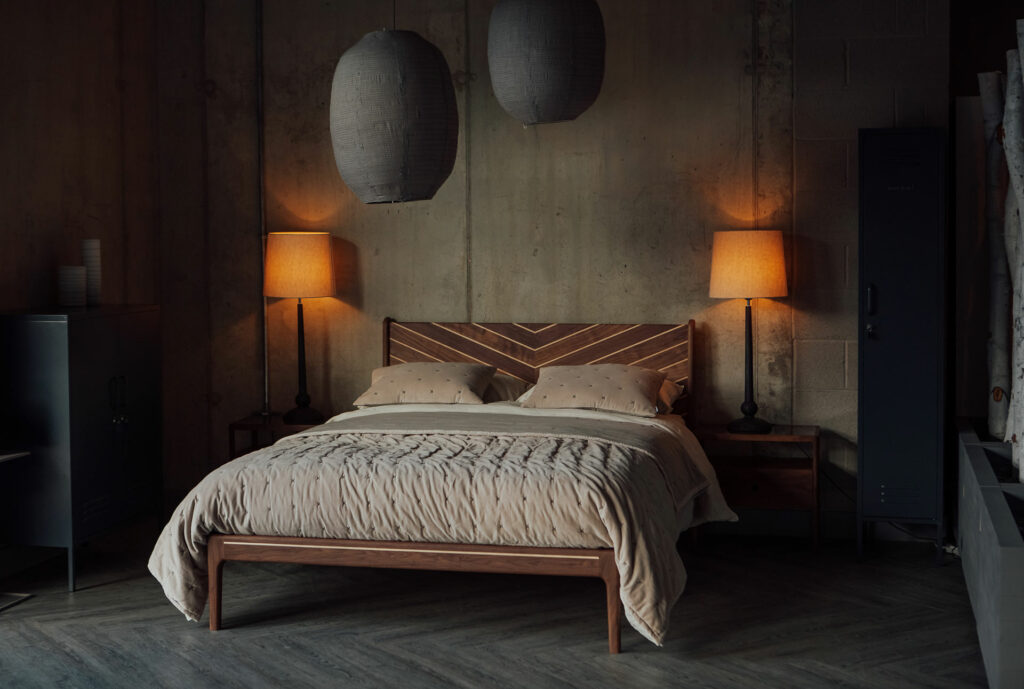 The Details
Every bed is made to order at our Sheffield workshops. We are endeavouring to return to our usual lead-time of 6-8 weeks however, since the COVID lock-down, our lead-time is much longer – currently around 14-17 weeks (+ delivery). For specific information about delivery and delivery times please contact us by e-mail: [email protected]
We thank you for your patience and understanding in these difficult times.
The Bed Dimensions:
overall length: 208cm for a 200cm long mattress; 198cm for a 190cm long mattress.
overall width: same as the nominal size, e.g. a Hoxton bed that accommodates a 150 x 200cm mattress is 150cm wide
height to top of bed slats: 35cm
under-bed clearance: 27cm
height to top of headboard: 98cm
height to the top of the headboard legs: 100cm
approx. self assembly time: 20 minutes