With working from home becoming the norm for many of us, we take a look at ways you can create a harmonious workspace. Let's face it – one of the joys of working from home is being able to decorate and accessorise your own office! Read on for some home office inspiration…
Desks
Everyone needs a good, stable place to do their work – a desk being the perfect option for most of us. You can choose one that not only fits your space in terms of size, but also shows off a bit of personality, too. We love the Ethnicraft drawer tables as they give ample space whilst also being super stylish! Available in either Blackbird (dark) or Whitebird (light) depending on your preference.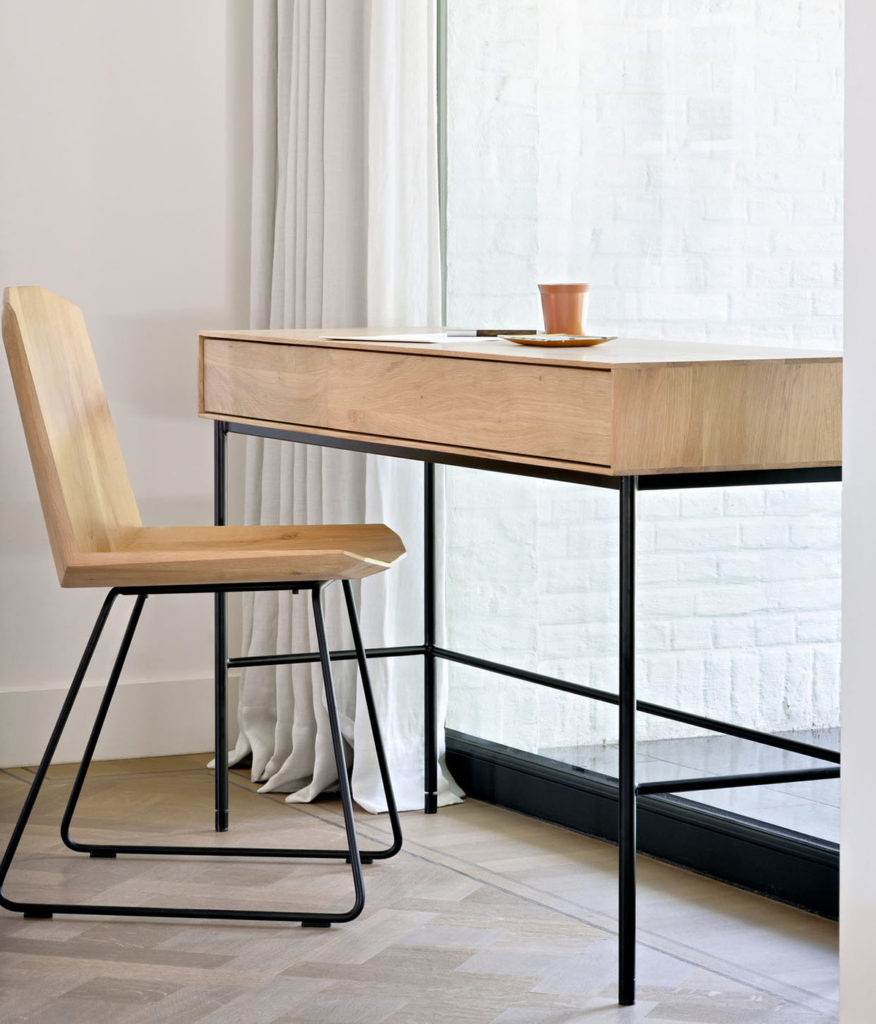 Oak is always a solid choice for furniture, and we have two different size tables in oak that would be perfect as work-from-home desks. The Wave Oak Table is simplistic in design, and just the right size for a laptop console table. The Light Oak Writing Table is another minimalist option, but being with a smaller footprint, is perfect for those box-rooms-come-office-spaces!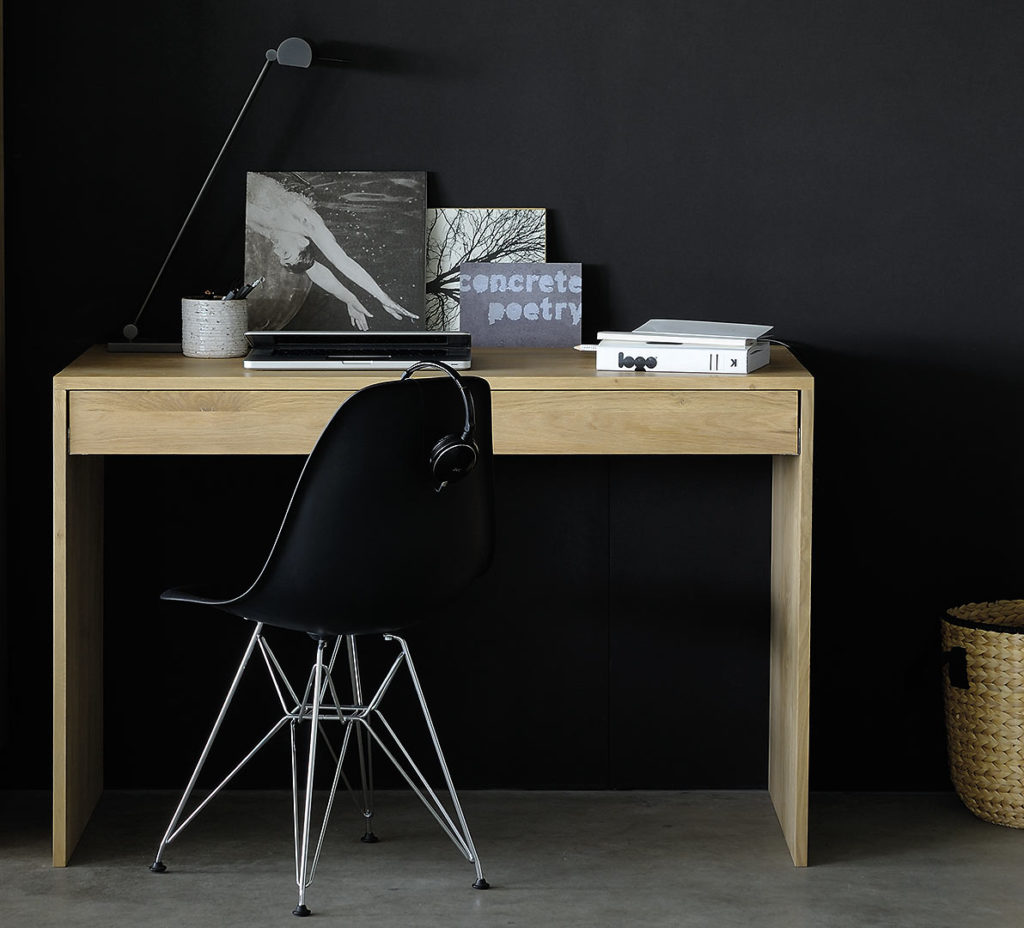 Extra Storage for Working from Home
One thing that I found whilst working from home over the last year was how quickly my paperwork built up! Files everywhere. Something to keep things in order such as a storage trolley would be perfect to keep everything together. The Side Table Trolley in black offers a sleek and minimal design, and boasts a basket below and a shelf above, so you have space to look through your files without adding to the clutter on your desk!
If wood is more your thing, we also have the Light Oak Storage Trolley for a more homely feel; still offering multiple places to store your files.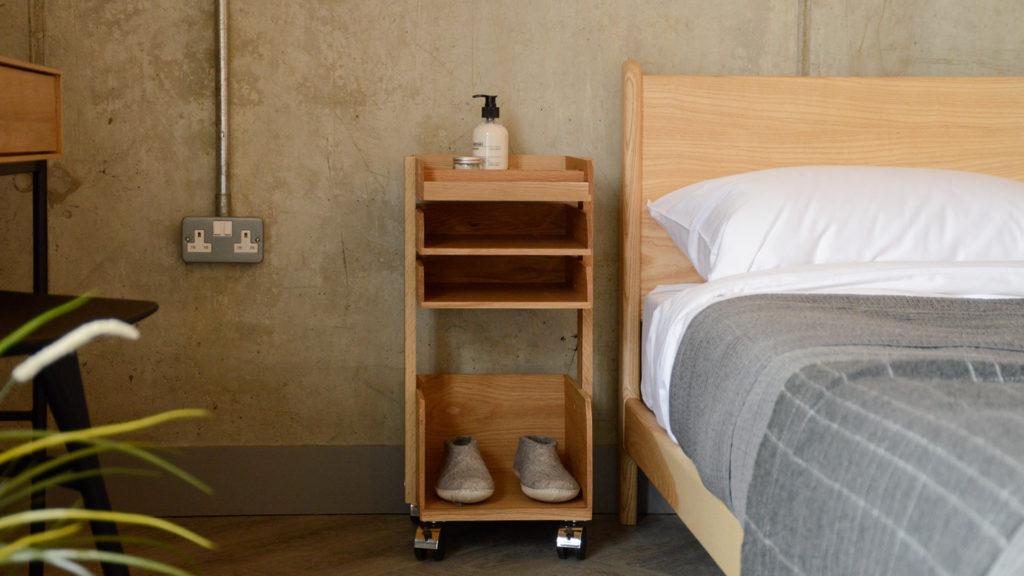 Other great storage options are lockers and caddies. The lockers come in a range of shapes and sizes to suit your working from home style, and make for fantastic filing systems. You can organise your files using the built-in shelves, or pair them with baskets to finally reach your filing goals.
Usually found in bathrooms, caddies make great options for storing your stationary bits and bobs – keeping them in reach and looking fab next to your desk!
Lighting
Think about the lighting usually found in offices… strip lights? Maybe the odd desk lamp? Why not spruce up your home office with something more stylish? Still practical, but giving your eyes a break from harsh lights, our range of LED lamps are dimmable, meaning you can adjust the amount of light you need throughout the day.
Our particular favourites are the LED Table Lamp, Mobile LED Lamps and the new LED Task Lights. The latter requires a wall socket, but the first two are rechargeable and portable, meaning you can shift them around as needed.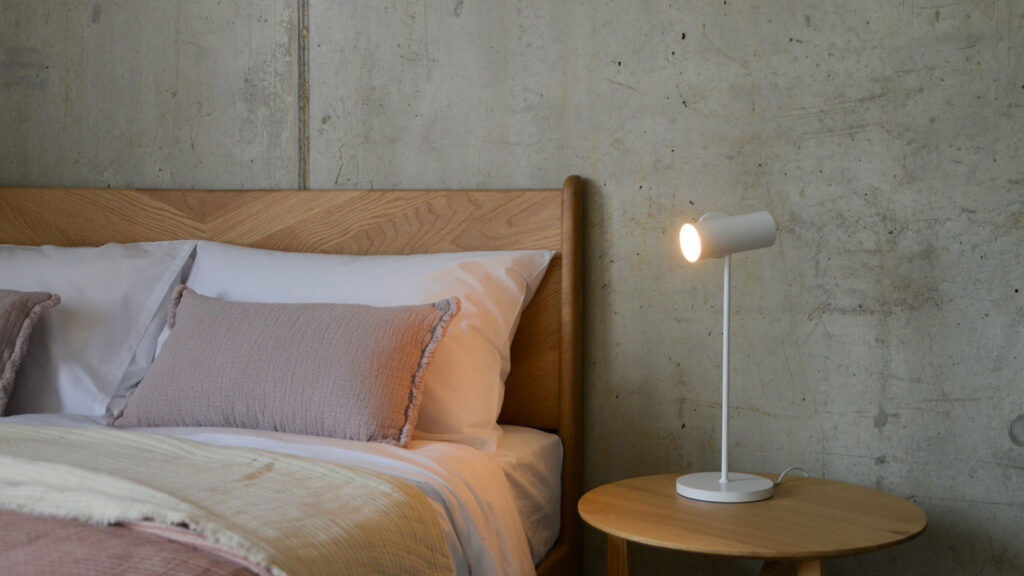 Accessorise Working from Home!
As I might've mentioned, it's your home office, so make it your own! Why not add a comfy cushion or luxurious throw to spruce up your office chair? It'll make it more comfortable and add a touch of style – two birds, one stone! Over the last year, some popular choices for home offices have been soft greys, warm earth colours and natural tones. Take a look at some of our favourites below…
Maximising comfort is another huge benefit of working from home. Making sure you have a supportive office chair is always step one, but we like to think that step two is PJs! You can find a range of loungewear here to suit your style whilst working from home. Just remember to change before that Zoom call!
Your Space, Your Style
Working from home has been a huge change for many of us, and a lot of us are still finding our feet. Bringing your own style and personality into your space can make it feel much less daunting when you have to motivate yourself out of bed in a morning.
One more honourable mention for this post has to be one of my favourites. The Contemporary Thermos Jug is not only beautiful in its design, but it can keep your tea or coffee hot for up to 6 hours at a time. This guy can live on your desk all day, keeping you topped up with much needed hot drinks!
Hopefully you've found some inspiration for your home office, if you'd like more ideas, take a look at our other post; Interior Design Trend Predictions for 2021.