Long a favourite for solid hardwood furniture, oak remains our most popular timber. Durable, long-lasting and growing deeper in colour over time, this wood makes a fantastic choice for your bedroom. We have a wide range of furniture available in oak, and all our bed bases can be made in oak, too! Have a nosey at some of our ranges below…
Black Lotus
The Black Lotus range is one of our most popular brands of furniture. Made especially for Natural Bed Company by our manufactures in Vietnam, these pieces are available in either oak or walnut, and come in two distinct styles…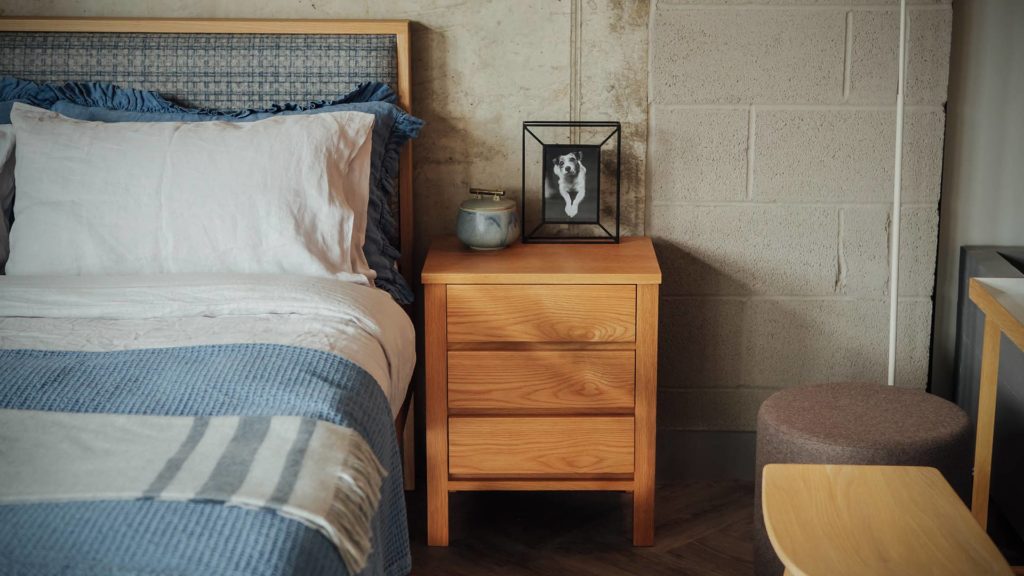 Oak Shaker Range – Black Lotus
The Shaker range is a traditional design with a modern, stylish twist. Keeping in line with current trends and desires for a more rustic, homely vibe, this range's stand-out feature is it's chunky legs. This solid footing adds extra height, allowing these items to stand on their own as statement pieces of furniture.
One thing we like to look out for when pairing furniture with our bed bases is the shape of the feet. The Shaker range boasts a sweet and stable square footing, so matches perfectly with bed bases with a similar shape. Think our Malabar or Sahara bed base, the Zanskar or the Tibet.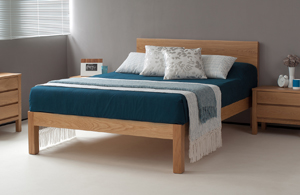 Oak Cubes – Black Lotus
By a simple twist in the design, the Black Lotus Cube range brings a whole different vibe to your space. The geometric frame and clean lines of these pieces offer a modern, sleek option for your room. A huge benefit of this range is that they allow for extra storage, such as shelves, just by their very shape!
Being sleek in both shape and style, we find the Cube range pairs best with our contemporary bed frames. We love the look of these with our Kyoto and Arran beds bases, and especially with the Shetland bed base, due to how perfectly the shape of the bedside tables matches the shape of the bed frame.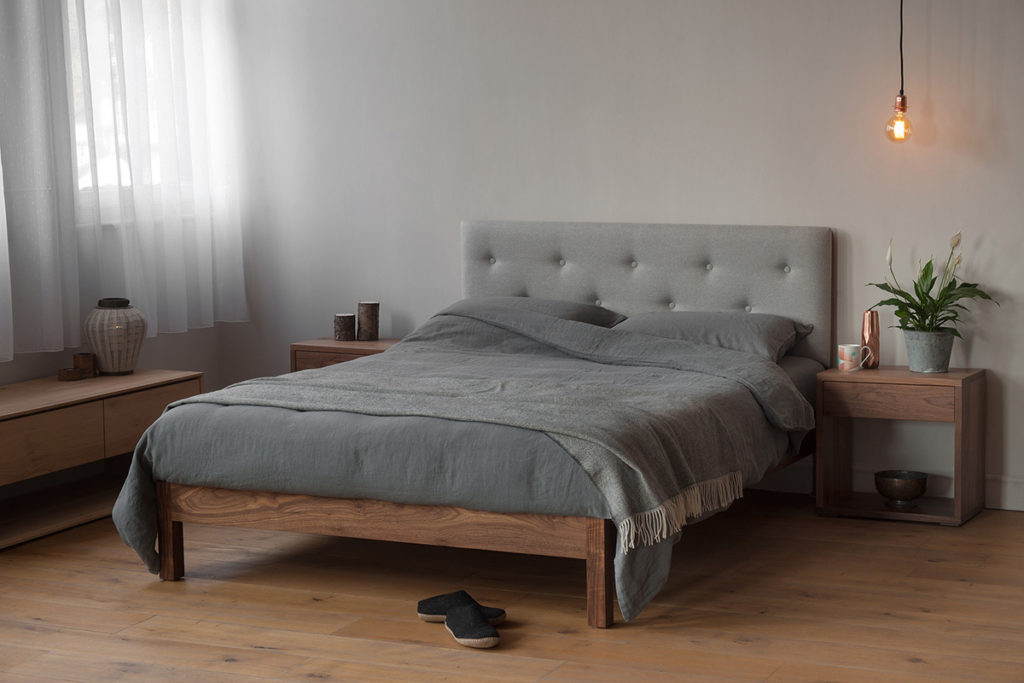 You can find the full Black Lotus range here.
Ethnicraft Oak Furniture
Ethnicraft boasts a wealth of options for your room. We have a full range of bedroom furniture, including bedside tables, sideboards, cupboards and desks. All these pieces are available in oak, and there are a range of styles to suit all tastes.
A particular favourite pairing of ours is the Spindle bedside table with our Camden bed base. These compliment one another due to their thin, slightly tapered legs, and make for an elegant set when placed together. We also make our own Camden bedside tables, if you want the legs to match even more closely!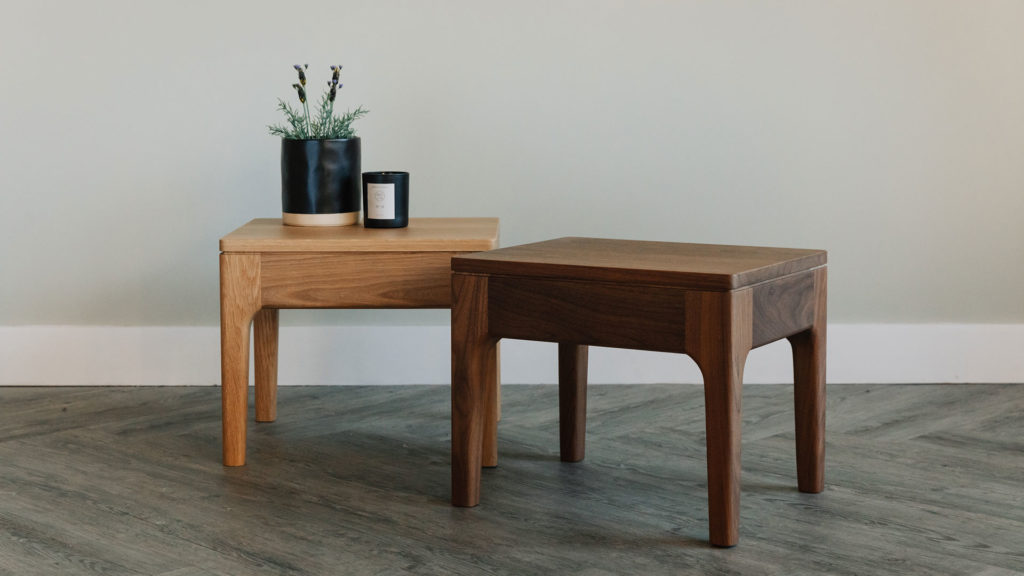 A firm favourite with our customers are the Ethnicraft Oak Air Tables, which look great either side of our Pimlico low bed base – there's something about this pairing that gives me serious coastal vibes and reminds me of holidays by the sea.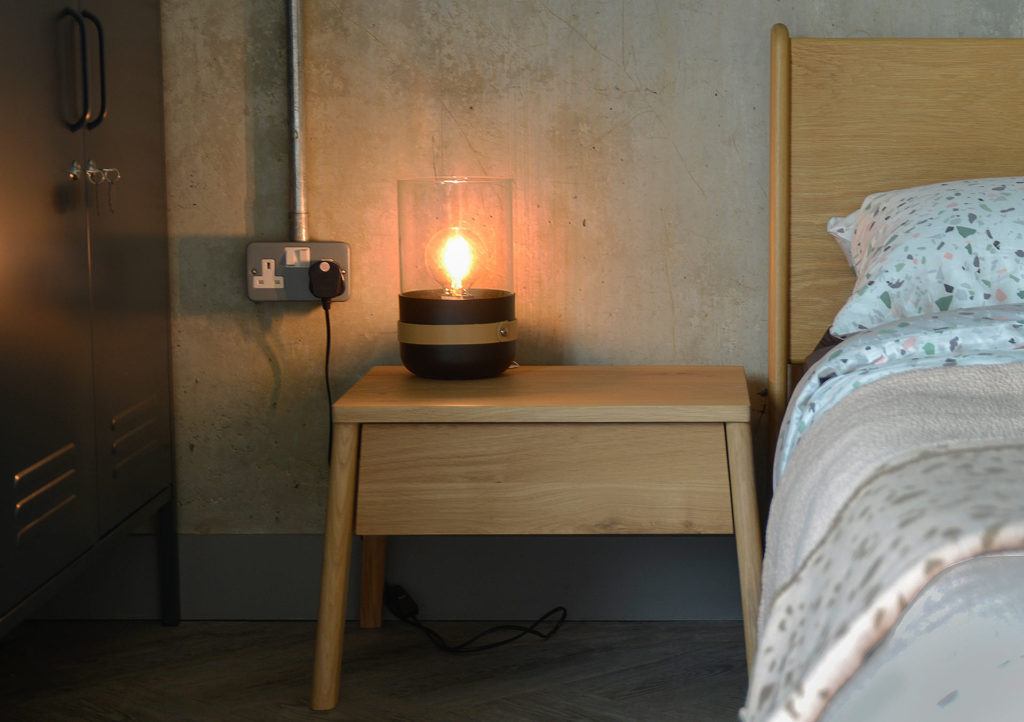 The oak timber used by Ethnicraft is a slightly lighter timber to our own, which gives a lovely, relaxed tone to their pieces. All oak grows gently darker and warmer over time, so as your furniture ages, their colours will alter together.
Take a look at the full Ethnicraft range here.
Low Oak Beds
One of the most contemporary and unique options for beds are our low bed bases. These are comfortable, stylish and bring a sense of calm to a space. Our furniture brands boast a range of low bedside tables and matching items to sit at the right height beside your low bed frame.
Oak Furniture to Suit All Styles
Out of all the pairings I've mentioned, my favourite are the Black Lotus Shaker 3-Drawer Bedside Tables, pictured below with the Arran upholstered bed base. I have dreams of one day owning a cottage in the countryside, and I feel this is the perfect modern farmhouse combo!
Due to how oak ages, all pairings bring a lovely, golden hue to any room that will last and last. And, due to the wide variety of styles available in our furniture ranges, you're sure to find the right options for your taste.
What are your favourite pairings from this article? Let us know in the comments…