Spring has fully blossomed here in the UK. The birds are singing and the sun has finally got his hat on. We've discussed recently on our blog how to refresh your bedroom for spring, but what if you're wanting to change up the colours in your room? In this article, we take a look at a range of bedroom colour schemes; the choices you might want to consider and some favourite combos from our customers.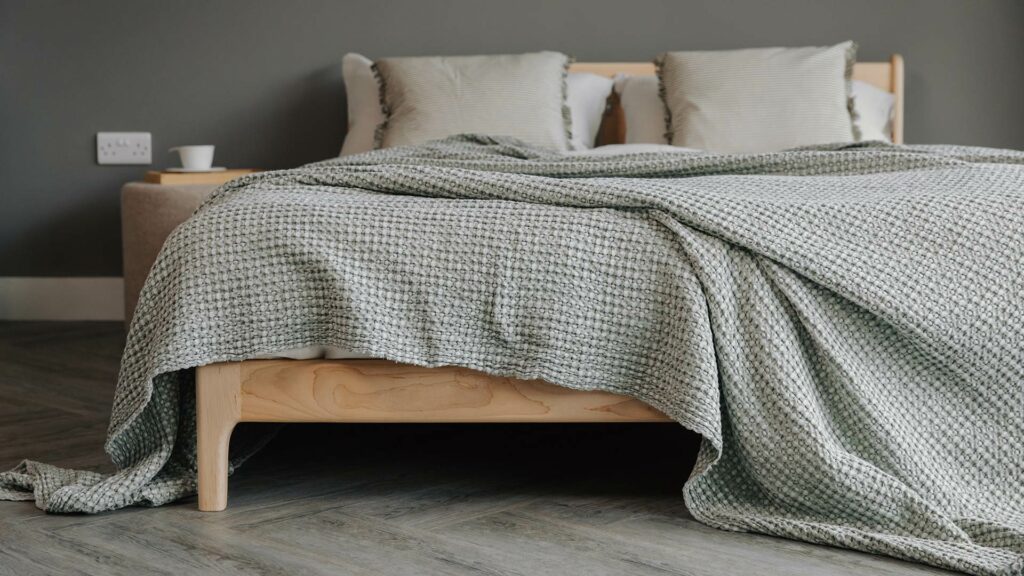 Colour Theory
As the world around us moves into warmer weather, so to do our tendencies toward certain colours. Through winter, most of us don darker colours; thick wooly coats and cosy scarves. However, as spring comes to call, we want to embrace all its colours! Choosing a bright colour for your room can also have an impact on how you feel, and we take a look at what our most popular colours can symbolise below.
Blues
Blue conveys peace and harmony, whilst also being fun and vibrant. Warm blues can conjure images of sun-dappled seas and holidays abroad. Whereas, cool grey or sky-blues can surmise fresh, crisp spring mornings spent at the countryside.
Blues are always popular amongst our customers. A staple customer favourite is the Cotton & Linen Textured Bedspread in blue, and we love the new Embroidered Bee Velvet throw in navy – perfect for springtime!)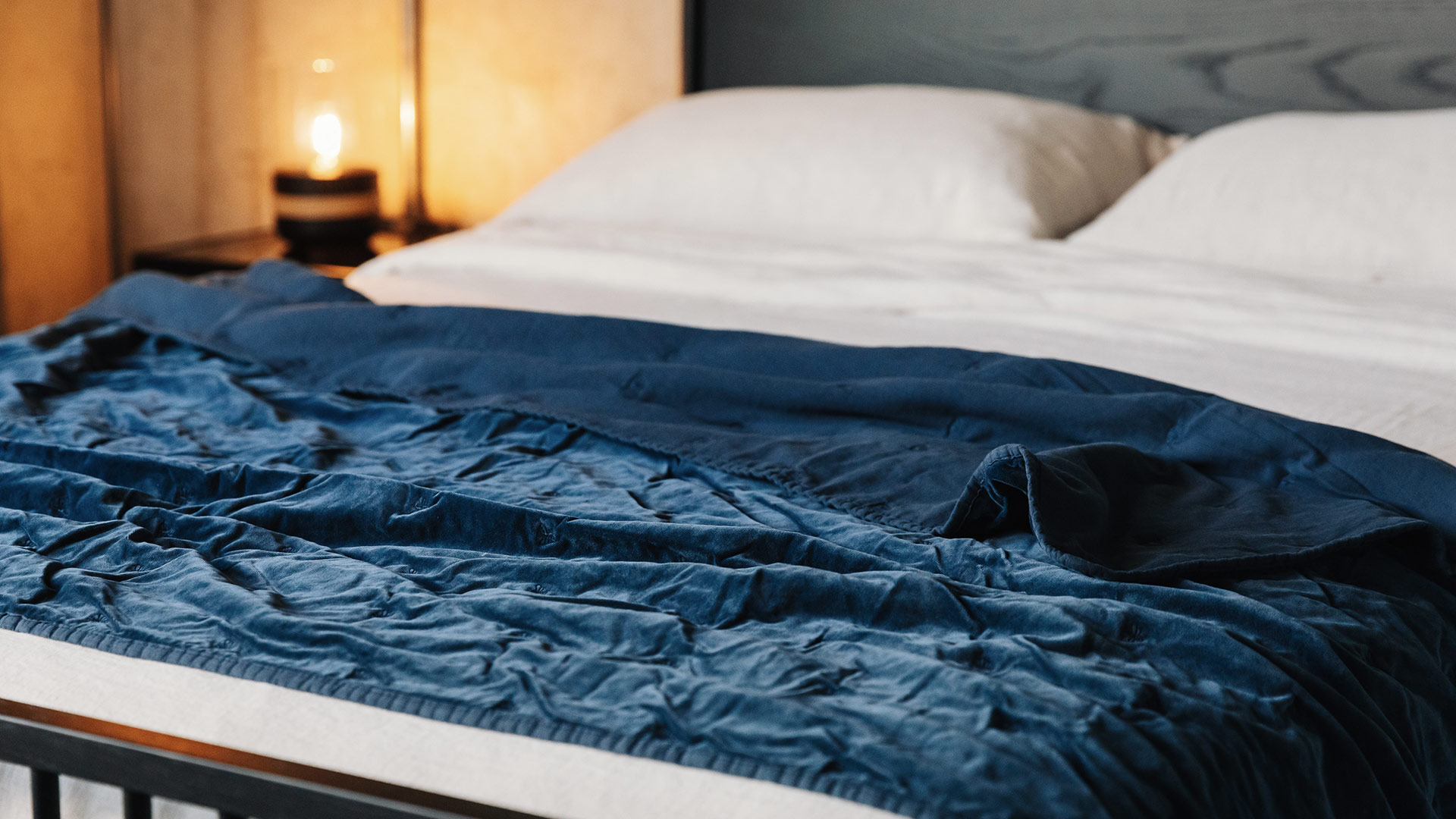 Greens
Green is a real up-and-comer in the world of interior design. As our relationship with nature is constantly growing, we are all drawn towards more natural colours. Green is synonymous with forest walks, with the sunlight dappling through the trees. For me, it takes me back to days spent rolling down grassy hills or making daisy chains!
We have a whole blog post dedicated to our full range of green bedding, but some of our top picks are the Herringbone Cotton Blankets in Olive, and the new Organic Linen Bedding in Sage Green. (The latter is a particular staff favourite!)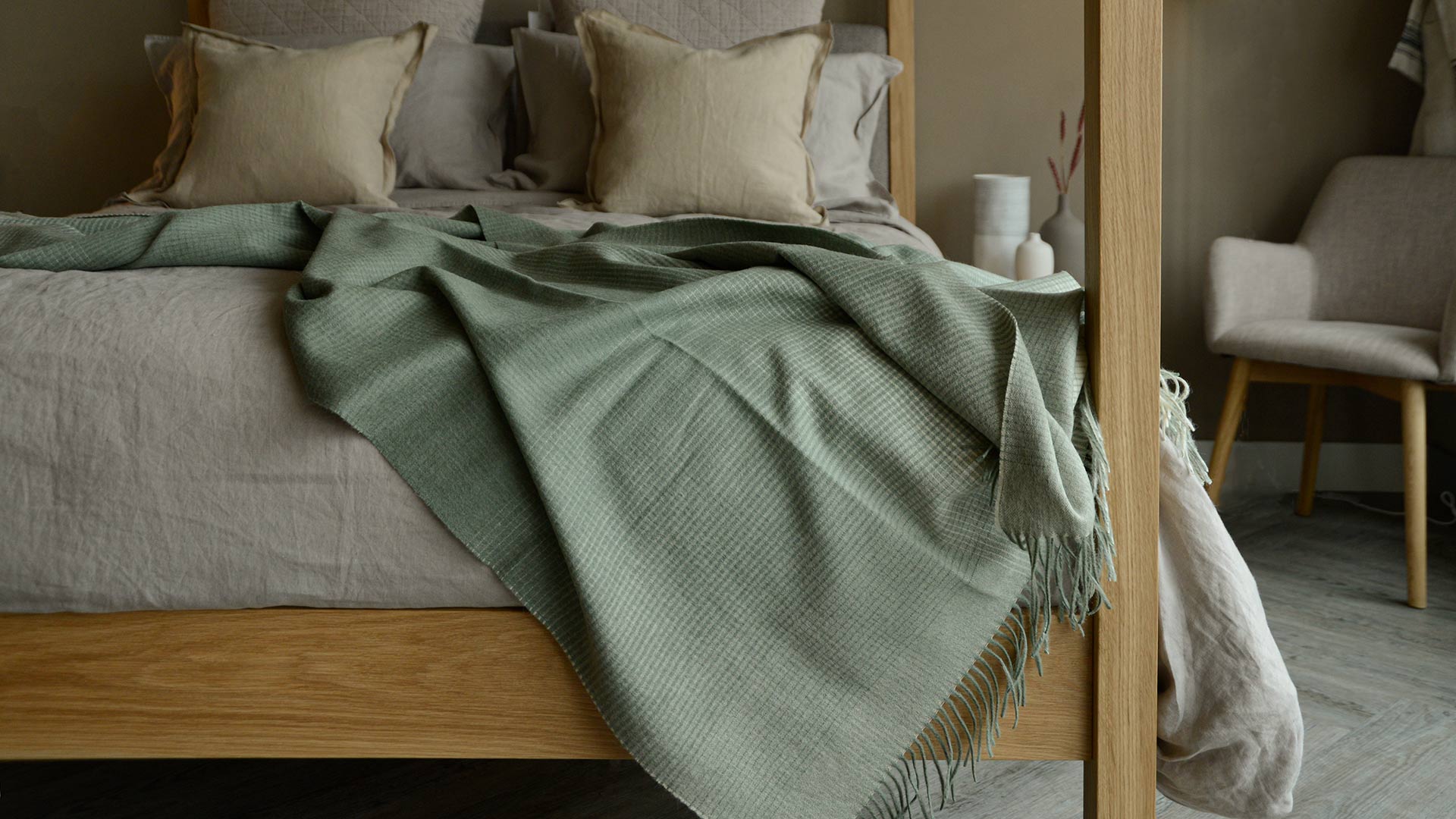 Yellows
This sunny option has been very much in-demand over the last few years, and it seems here to stay. Mustard yellows work especially well with mid-century bedroom colour schemes, a trend that is currently on the rise. Whilst bright yellows conjure images of sunshine and warmth – of happy days by the sea and bright flowery meadows.
Yellow is also a great accent colour, and can work perfect as an accent or pop of colour, as demonstrated by the Shorty Lockers pictured below along with some of our favourite yellow bedding.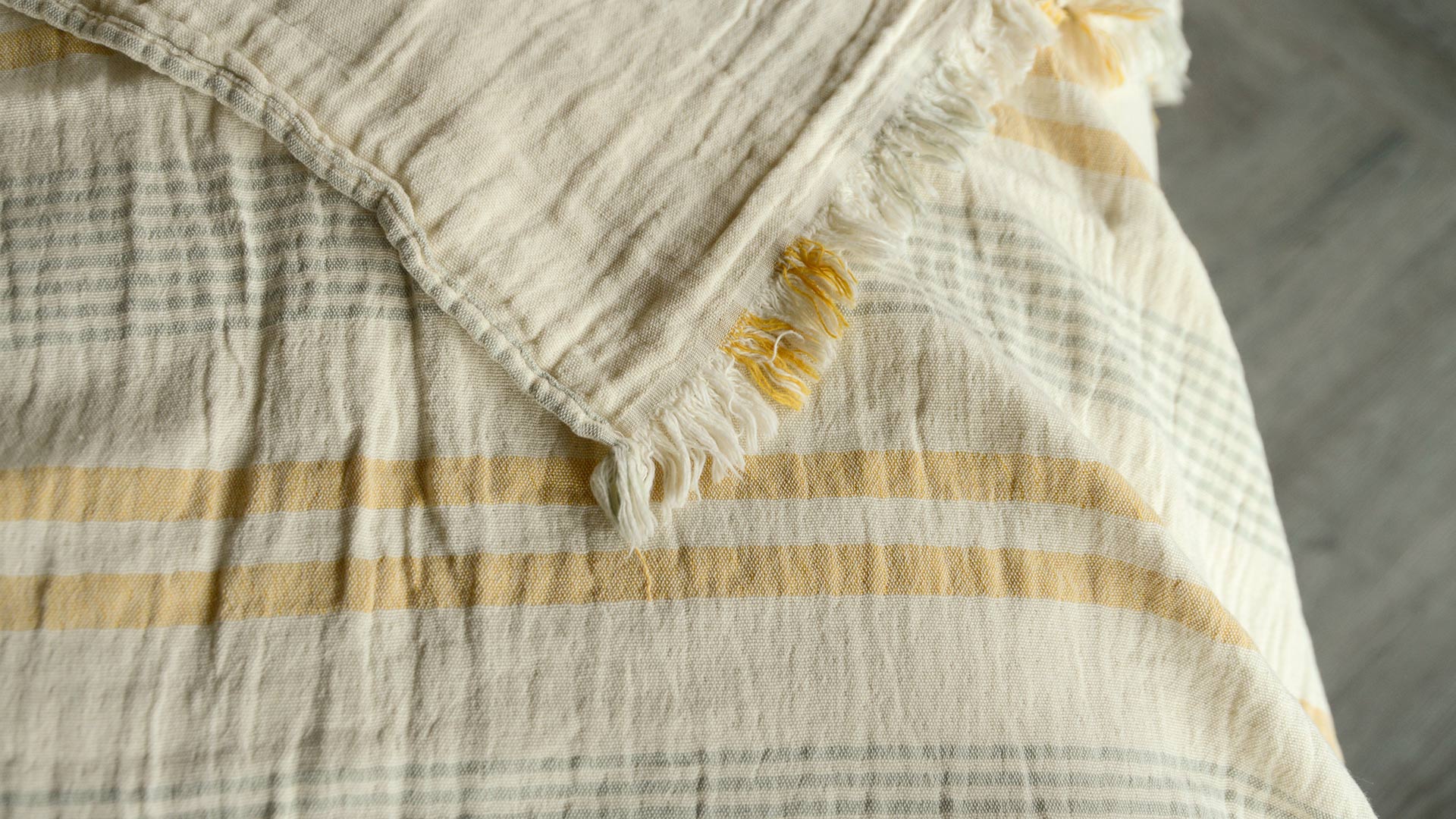 Neutrals
Of course, neutrals are never out of style, but springtime can be a great time to embrace them. Think spring-cleaning for your walls or bedding – a fresh, clean colour that wipes the slate for the new year. Pale stones or soft beiges are easy to pair with any scheme, and give a classic, timeless look. In contrast, red clays and dark browns are also popular at the moment, too, offering a warm, rustic look for your room.
We love neutrals here at Natural Bed Co. and our favourite way to style them is with boho throws and accents. Some favourites are the Andas Throw with matching cushions, or the Woven Yarn Dyed Rug.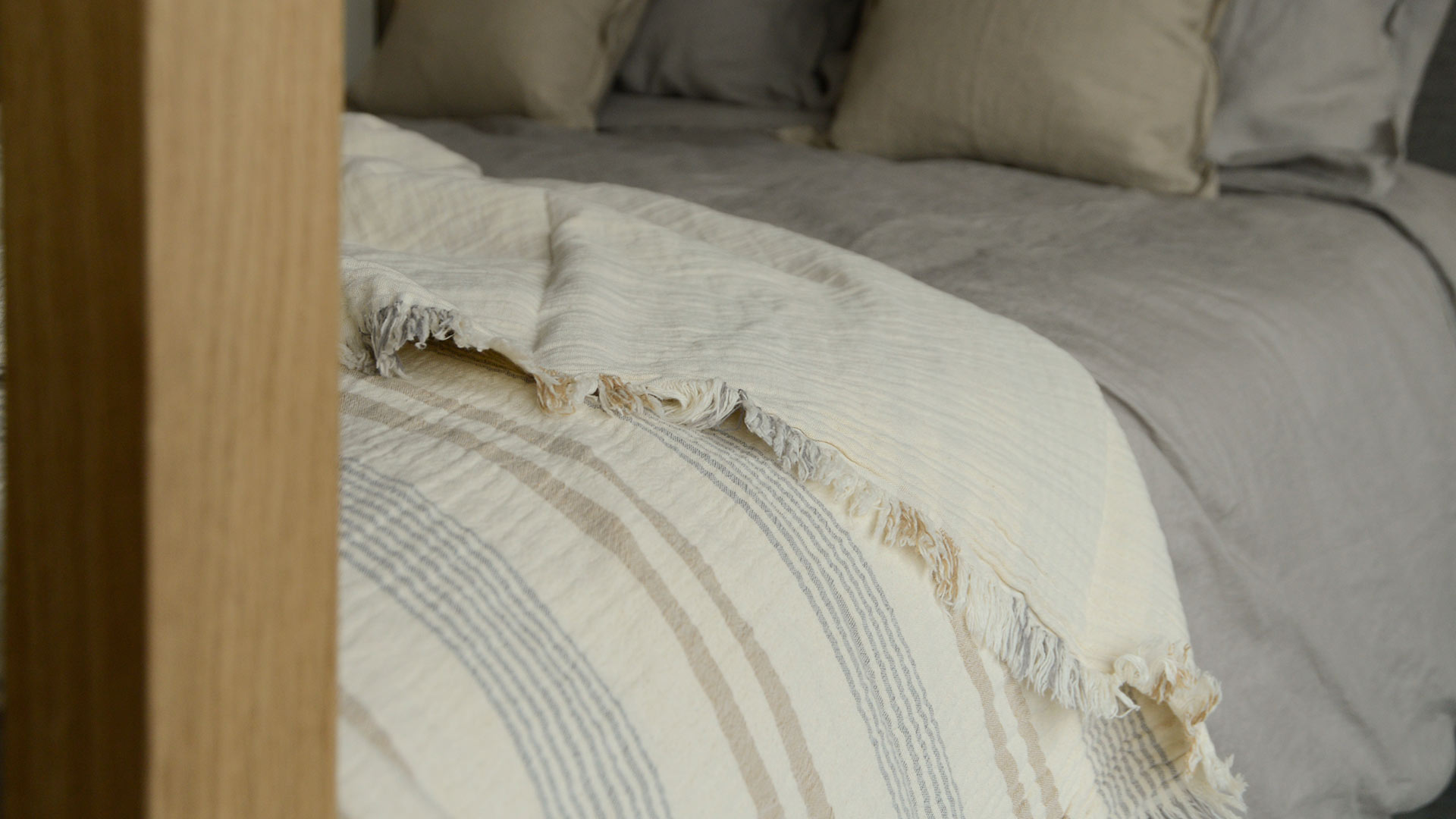 Bringing it all Together
We hope this little venture into colour theory and design has given you some inspiration for your next bedroom makeover. You can add a few new items to an existing room scheme for a quick freshen-up, or overhaul the whole room for a brand new look.
The best way I've found to bring the whole room together is the finishing touches. Once you've chosen your colour scheme and bought your paint, then its time to peruse the lamps, throws and ornaments that will pull all your hard work together. Our full range of throws can be found here on our website, and all our home accessories can be found just here.
If you're after any extra inspiration for bedroom colour schemes, why not take a look at our Pinterest boards? We also love seeing our products in customers' homes, so feel free to tag us in your pics on Facebook or Instagram.