At Natural Bed Company, every solid wooden bed frame is handmade to order with sustainably sourced timber. But with our wide range of timbers on offer, how do you know which one is right for you?
In this blog, I'll run through all of our sustainable timber options for our solid wooden bed bases. Including, how they look, how they change, and what kind of styles they may suit best. Of course, the final decision is always going to be down to you, your personal style and what you want to wake up to each morning!
Please note: Of course, when working with any natural product, there will always be some variation in the colour and grain. Our descriptions, samples and photographs are there to give you a good indication of what to expect, however, we cannot guarantee the exact look of any timber. The variations in the timber gives the timber it's 'life' and ensures that every wooden bed frame we make is unique.
Pine
Most of our customers order their bed in a hardwood, but we also offer most of our wooden bed frames in pine. We're aware that people have different budgets and we want to make our designs as accessible as possible.
Pine is a fairly light timber with a warm yellow tone which slightly deepens and warms with time. Knots are fairly common throughout this timber and we're often asked to avoid them. However, this is a natural part of the Pine timber and shows where different branches have grown on the tree! They add interest and tell the story of this natural material.
See our Kobe wooden bed frame for more photos of this timber!
Pine finishes
We offer a few finishing options for the Pine timber, depending on the look you're after, you can choose from one of the following
Sanded Pine – As the name suggests, the bed base would be left simply sanded with no lacquer or finish. This is perfect for those wanted to apply their own finish at home such as an oil or painted look. Visibly, there is not much difference between the sanded and clear option (below), however, they will feel and age slightly differently. The sanded finish may just appear slightly paler.
Clear Pine – This finish refers to our natural look lacquer which is used on all of our hardwood timber options. This lacquer gives our wooden bed frames a natural semi-matte look whilst sealing and protecting the timber. It gives a smoother finish and is easy / very low maintenance. Over time the pine will warm up in tone, developing a more golden hue.
Whitewash Pine – If you prefer a cooler colour, a wash of translucent white lacquer helps to subdue the natural tones of Pine. You can still see the grain and knots in the timber, so doesn't entirely disguise the real wood.
Wenge Pine – Based on traditional Japanese furniture, our wedge stain is a very dark brown almost black lacquer. Again, it isn't entirely opaque so you can still see some grain and knots, but gives a much darker appearance for a bolder look.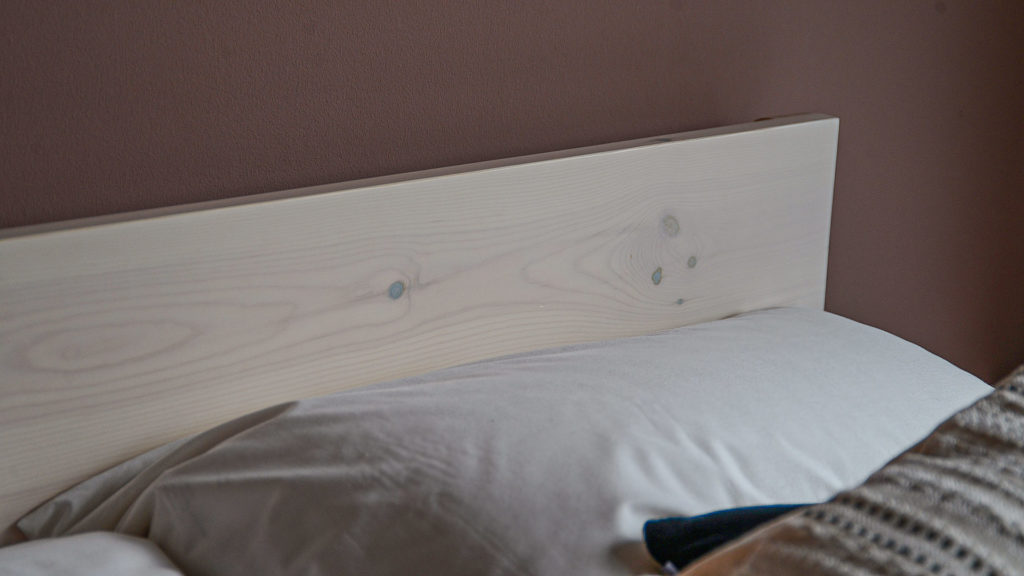 Beech
Beech is a much more subtle timber with a smooth, speckled grain and subtle pink tones. Perfect for those who prefer a more minimal look. This timber will arrive fairly pale and with a subtle pink cast and will deepen and warm up with age.
Another great advantage of Beech's smooth grain, means it is ideal for our painted beds. It gives a solid, smooth finish so the lacquer is much less likely to develop small cracks over time than other timbers.
See our Java bed base for photos of this timber!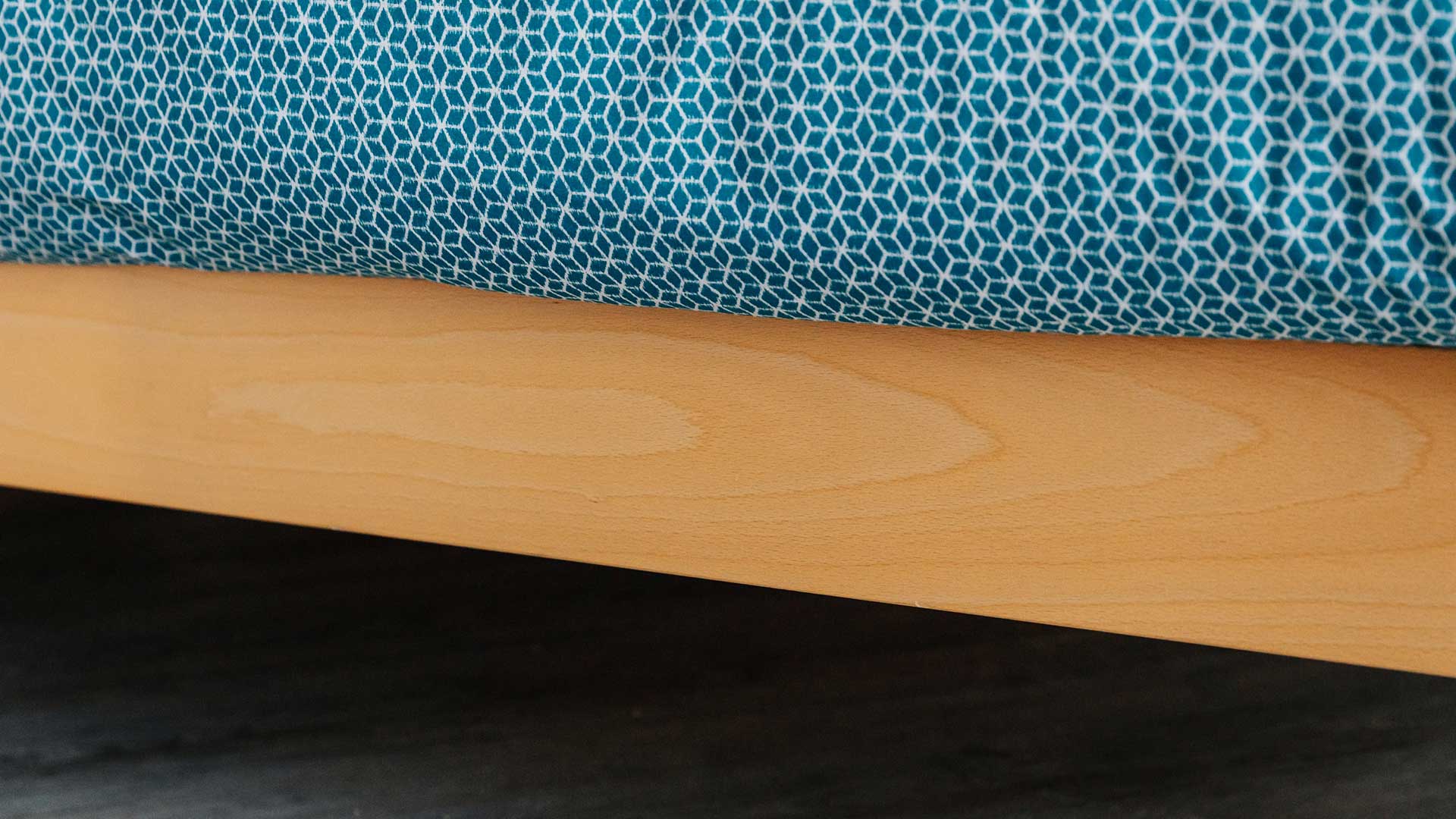 Ash
We love Ash for its beautiful bold and swirly grain. This timber has a pale creamy golden hue contrasted with a deeper, strong patterned grain, giving a naturally striking look. This timber will deepen slightly as it ages, settling to a richer yellow gold tone.
Ash is a versatile timber, working well for a variety of Scandinavian, Bohemian or rustic styles. It also works well with a variety of Oak furniture. Although it isn't an exact match they compliment each other well as they share a similar golden brown tone.
Examples of Ash can be found on the Carnaby, Bamford and Sonora pages!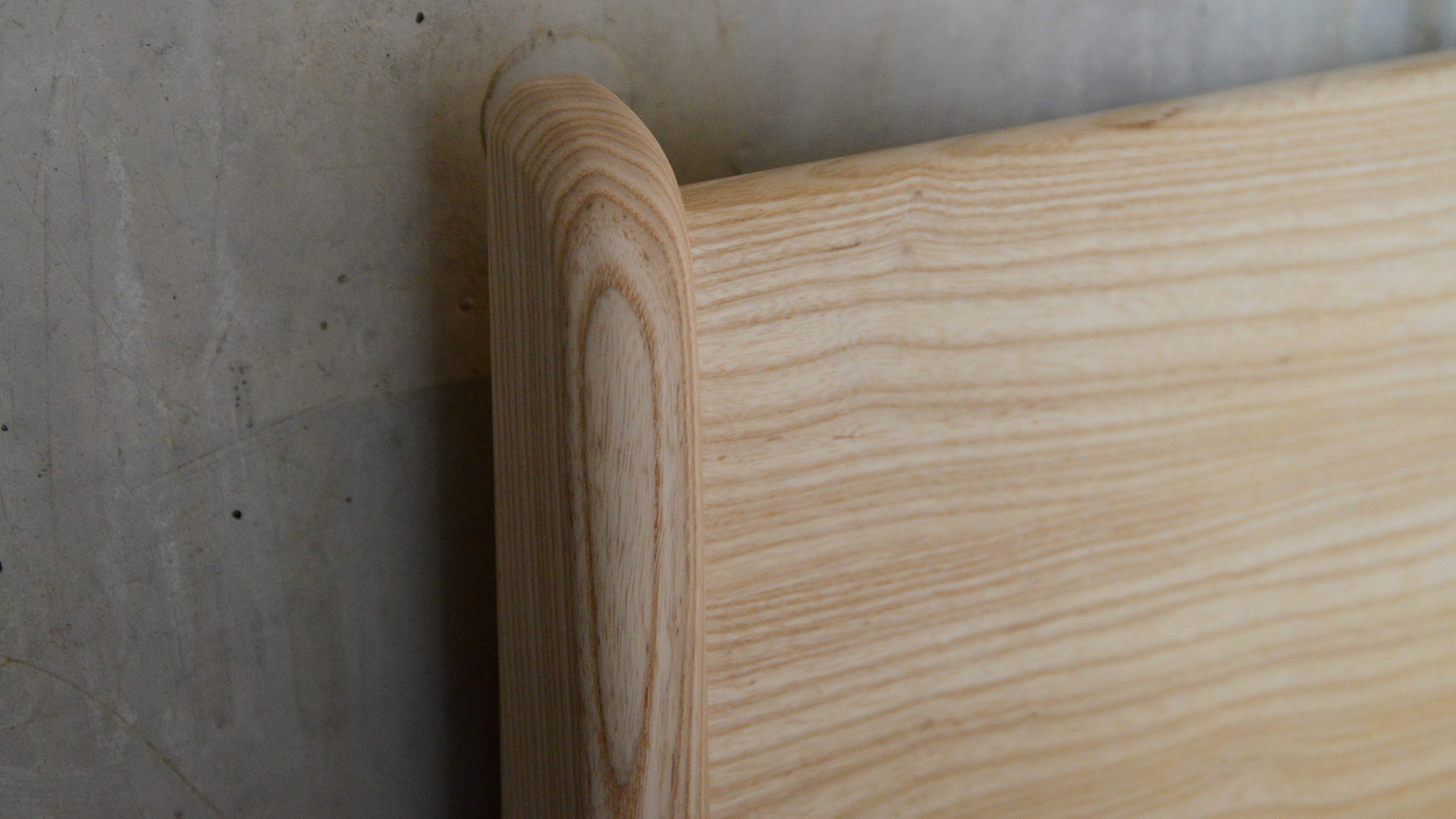 Oak
Probably one of our most popular timbers (if not number 1!), Oak never seems to go out of style. It has a beautiful, warm golden brown tone that is complimented by its strong grain. It has some variation between light and dark, this can be clearly seen on the chevron pattern headboard of the Kelham Four Poster bed below.
This timber will deepen and warm up with age, reaching a rich golden brown.
The Oak timber is possibly our most versatile in terms of design, it works well in both modern and traditional settings. It is also very easy to match other items of furniture to Oak, including the variety of bedside tables that we stock from different suppliers.
This timber can be seen on our Kyoto with Headboard, Malabar and Camden bed pages.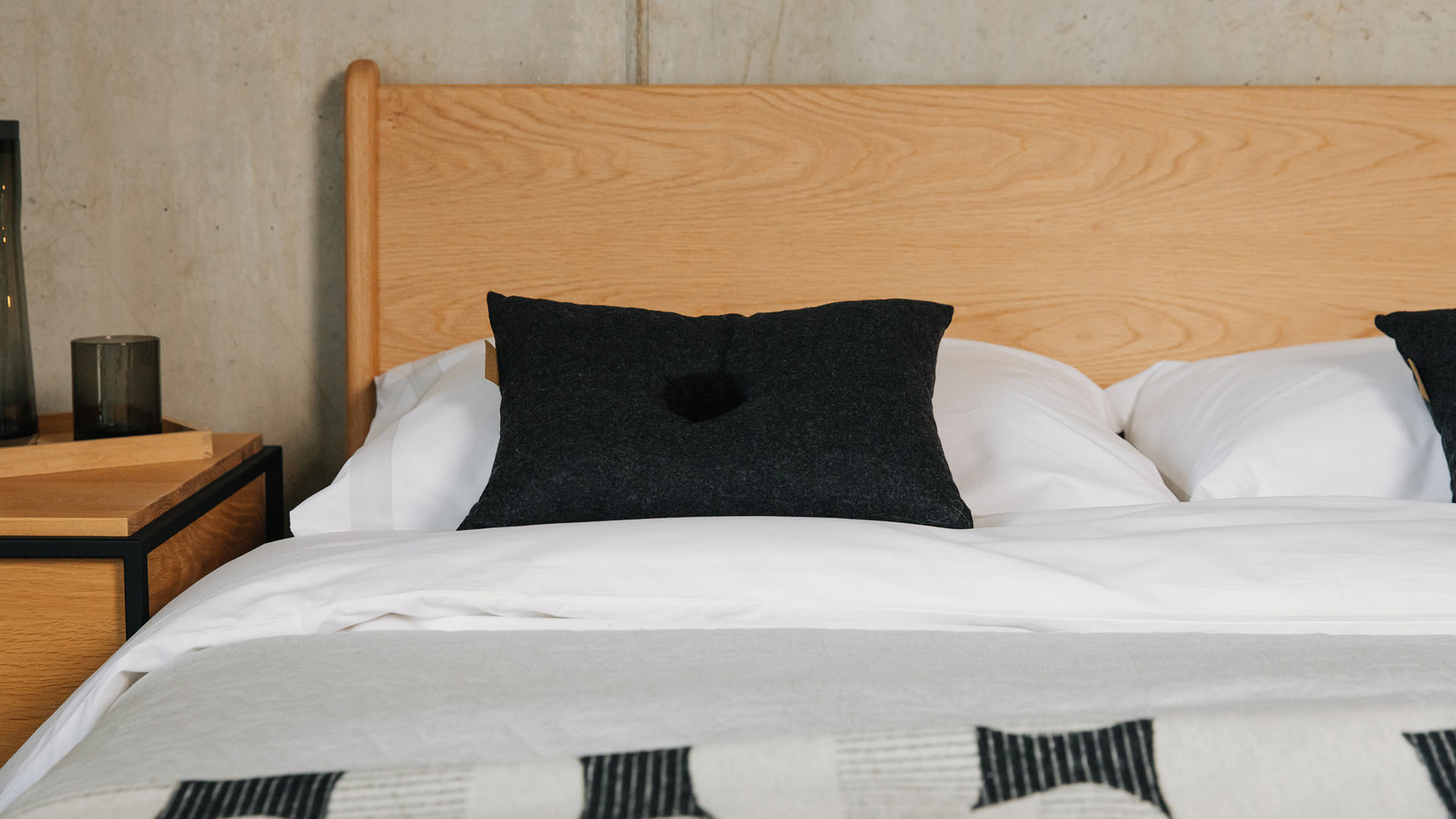 Cherry
If you're after something a little warmer for your wooden bed frame, Cherry is your best bet!
With a predominantly beautiful red undertone, this timber also has some pink and green highlights running through its swirly grain. There are also some occasional lighter sections visible.
Cherry often arrives fairly pale warm brown and quickly deepens, developing richer red tones (as seen below in the large image of our Cochin headboard).
Cherry timber is perfect for more traditional designs, but is also a lovely option for injecting some colour and personality into a cool or plain space.
You can see more images of the Cherry timber on our Oregon, Pimlico and Highland Four Poster bed pages.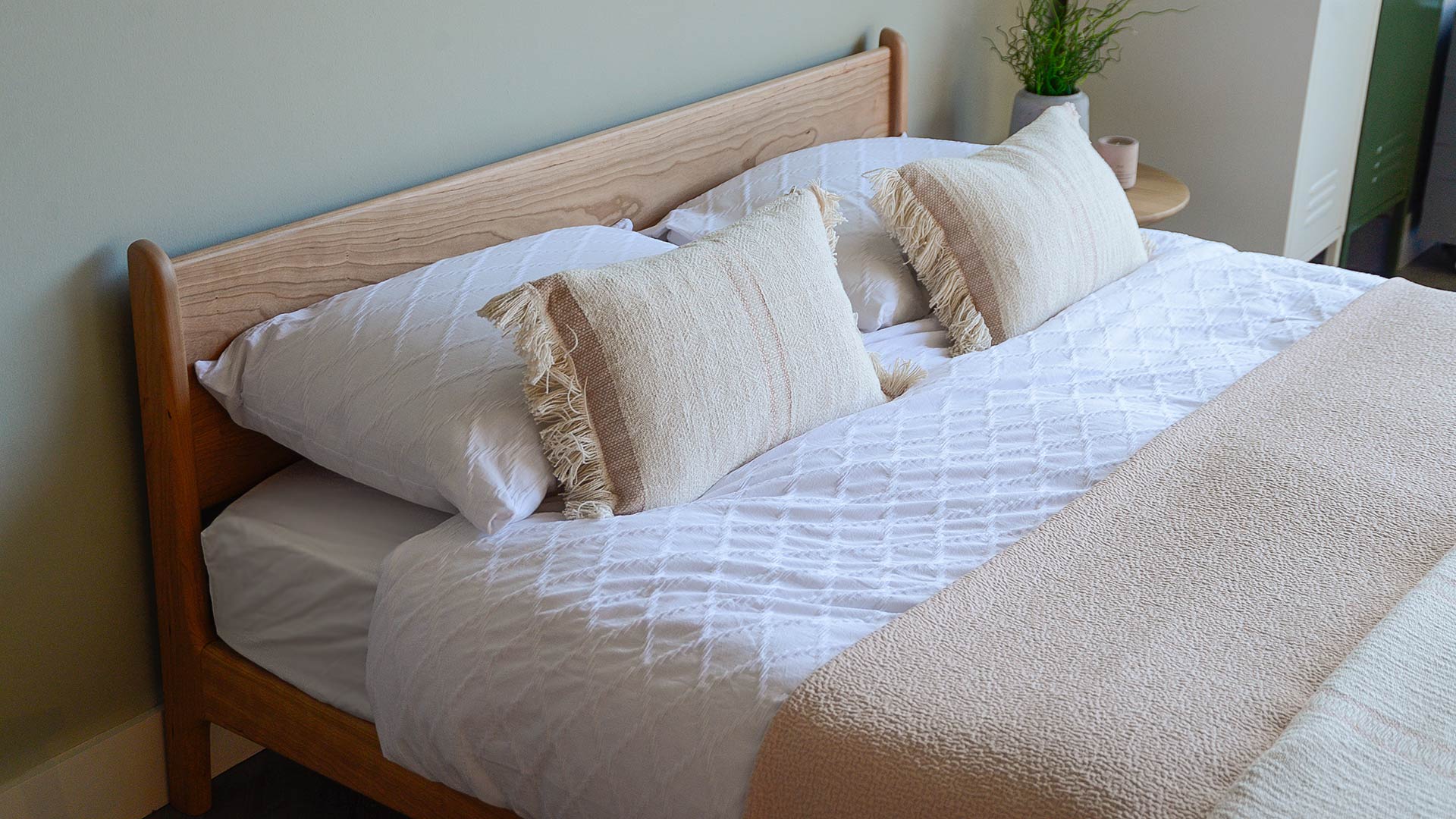 Maple
Maple is our palest natural timber and features a subtle swirly grain pattern on a uniform creamy toned timber. This timber is much more minimal in terms of contrast, with much less variation between different sections. Perfect for clean modern looks, a fresh Scandi design or simply to give a space a more bright and airy feel.
As with most of our timber, Maple does deepen and warm up slightly with age. It may develop a subtle yellow tone but it still maintains its pale creamy colour.
See more images of this wood option on our Orchid Four Poster bed page and in the Malabar, Oregon and Pimlico galleries.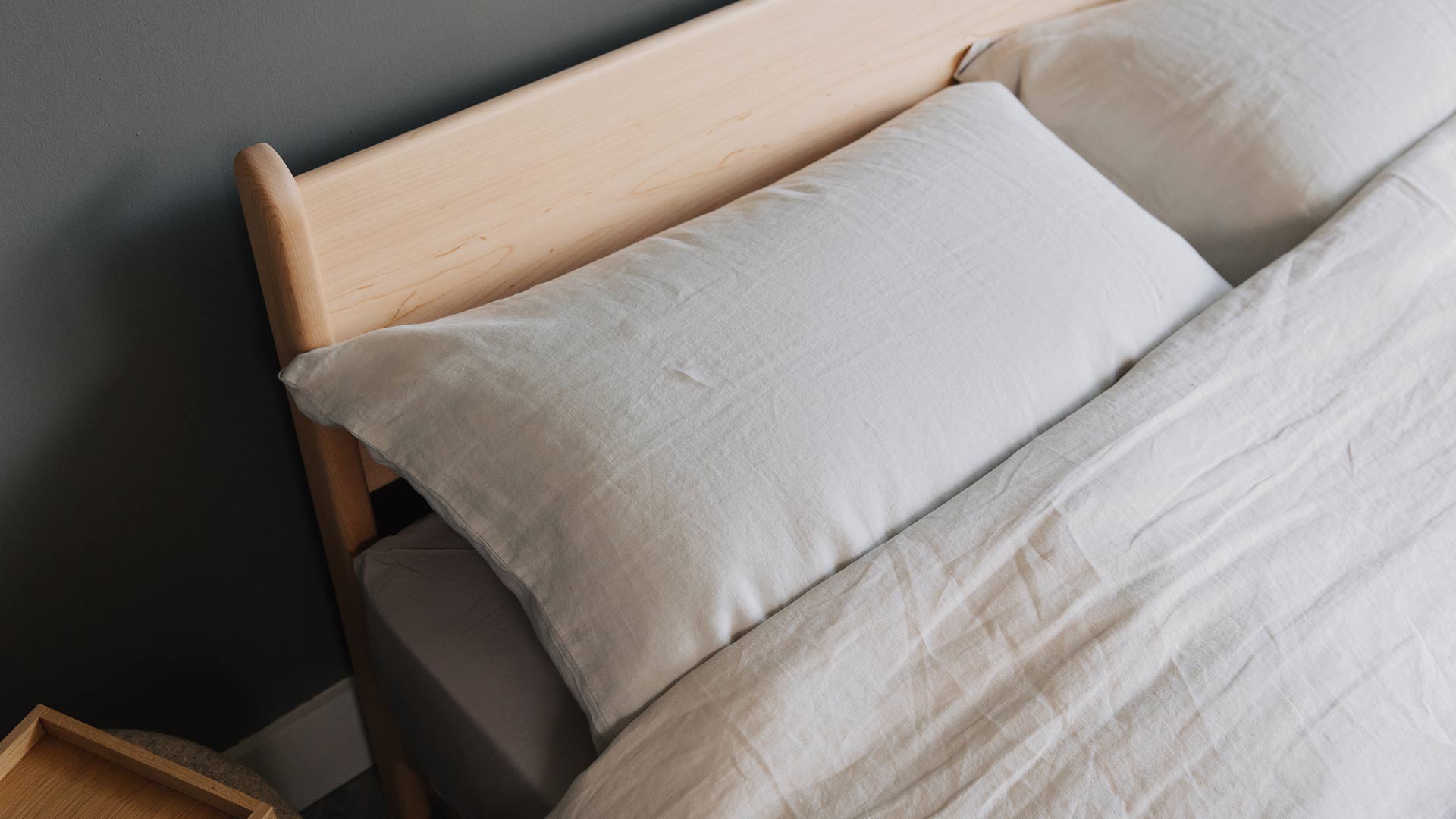 Walnut
Walnut is another very popular option – we think this is down to its luxurious look!
A deep chocolate with a dramatic grain and rich caramel accents. Fresh Walnut can often look quite cool, but as it ages it develops a warmer tone and will lighten up slightly.
We think Walnut is perfect for Mid-century modern or traditional styles, fitting in well with vintage and modern furniture alike!
If you like this option, check out the Hoxton, Leith and Rajasthan Four Poster bed pages for more images.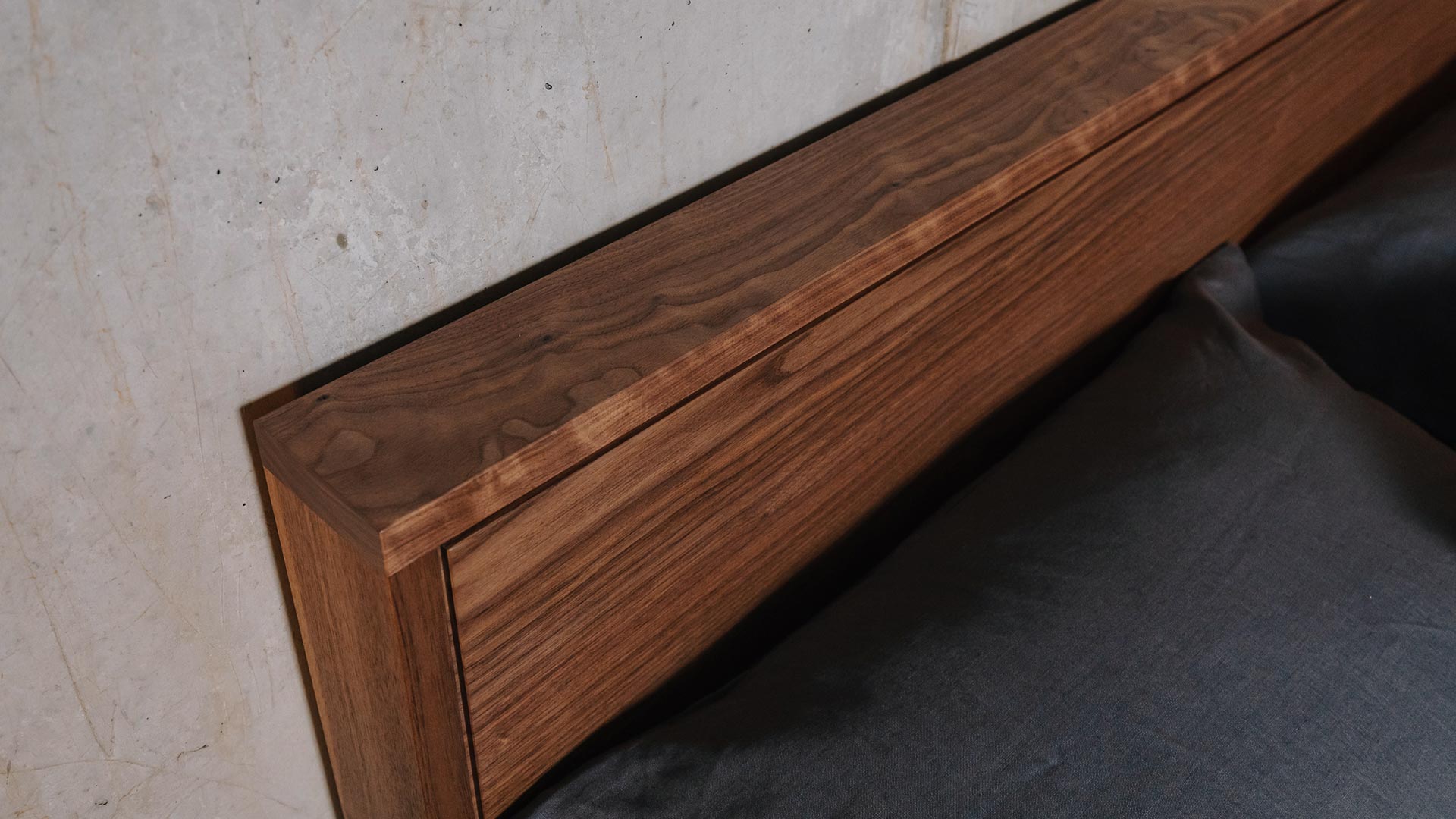 Special Mentions: It wouldn't be right to not mention our range of painted beds and the black stained oak finish available for our bed bases! As seen on the Black Oak Camden, Black Orchid and Black Malabar.
Get in touch if you would like a quote for a different design in this finish!
You can see most of our timbers in person by visiting our Sheffield showroom. Or order a free timber sample through the Order Timbers page on our website!