Greens and blues have always been a staple colour scheme. Easy to pair, these two colours can invoke a multitude of themes and atmospheres. Match deep navy tones with light green botanical prints for a modern, maximalist vibe. Or, pair light greens and blues with natural woods for a coastal look. In celebration of these colours, we recently styled our Arran bed base in swaths of blue and green hues. In this post, we break down the items used in the image below, to give you some bedroom style inspiration.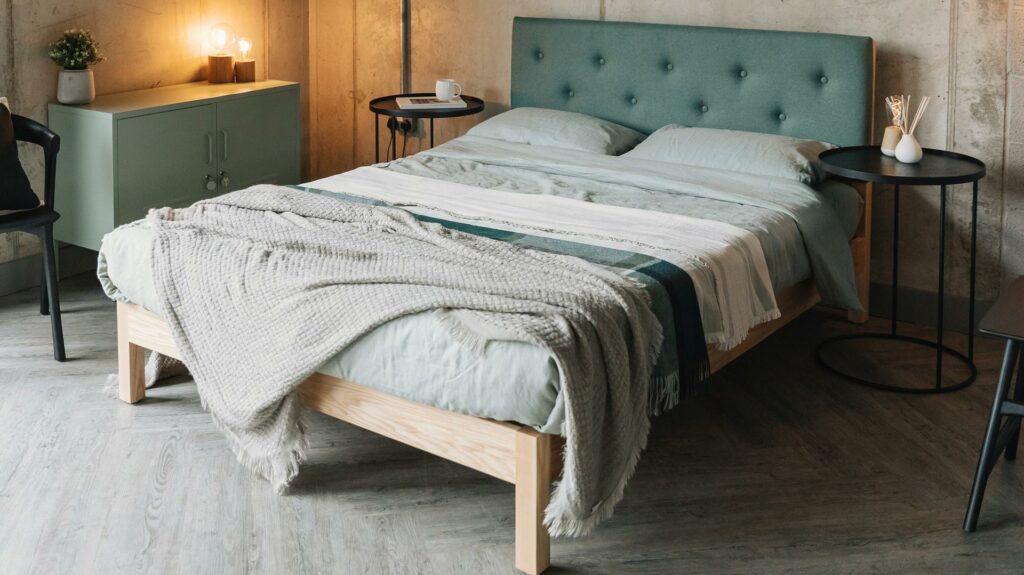 The Bed Base
The Arran bed base is a sweet little number. At only 31cm to the height of the bed slats, it's a medium height bed base; not too tall, not too short. Its buttoned headboard can be upholstered in our full range of fabrics. Choose from the standard range here, or the premium Parquet range just here.
In these photos, we've styled our Arran with Amatheon Seaglass from our standard range. You can also see all the Amatheon colour options on our suppliers' website. We've then paired this fabric with an ash bed base for a bright and breezy, but still sturdy look. Ash is a contrasting timber, with many variations in the grain. In particular, this timber compliments coastal, cottage or rustic schemes wonderfully.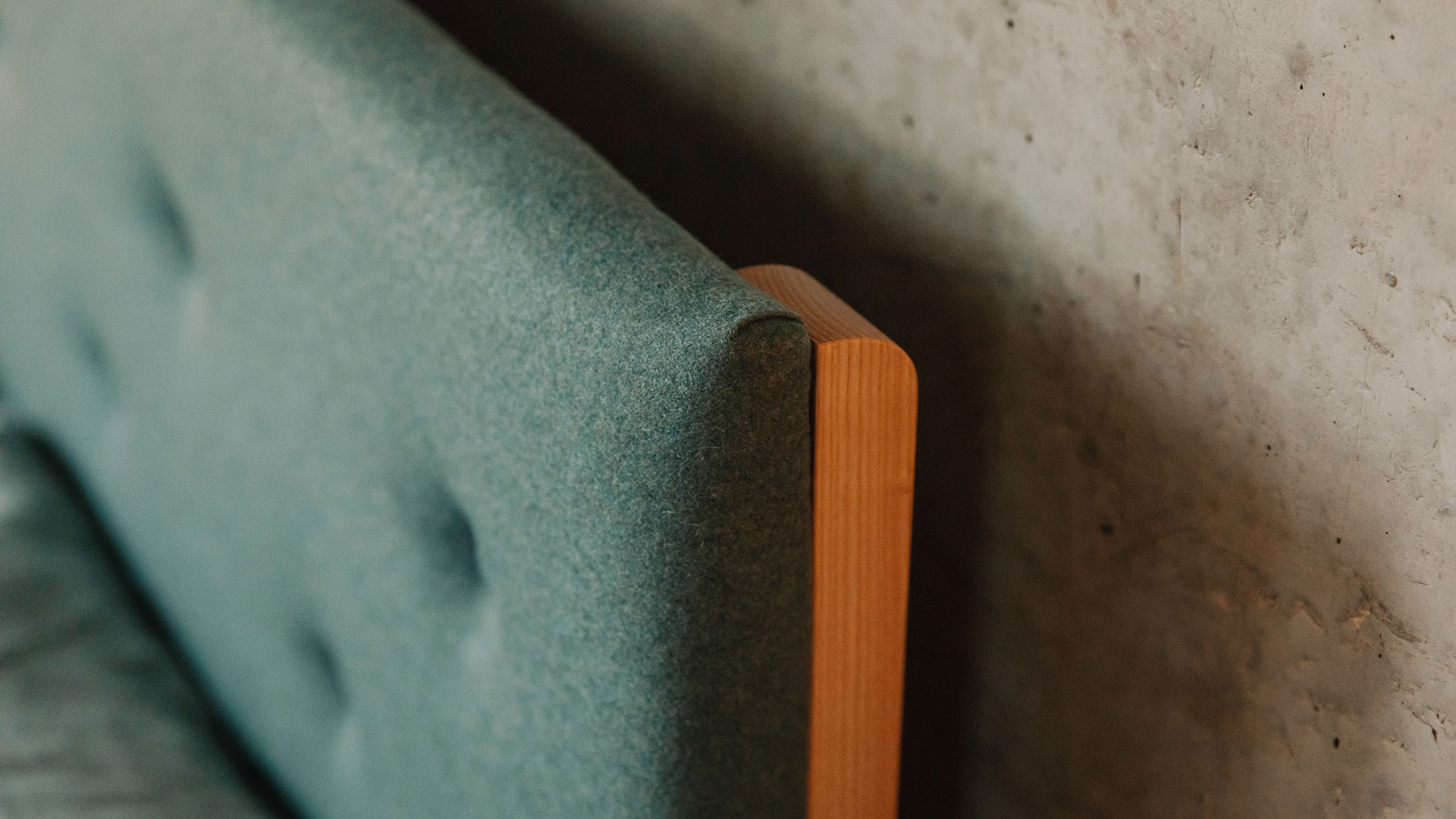 The Bedding
If you've had a browse through our website, you'll see we're mad about layering here at Natural Bed Co.! The first layer of bedding in this look is our brand new Organic Linen Bedding in the colour Sage. This luxurious new collection is made from organic European flax, not only offers the classic, rumpled linen look, whilst also remaining gorgeously soft to the touch.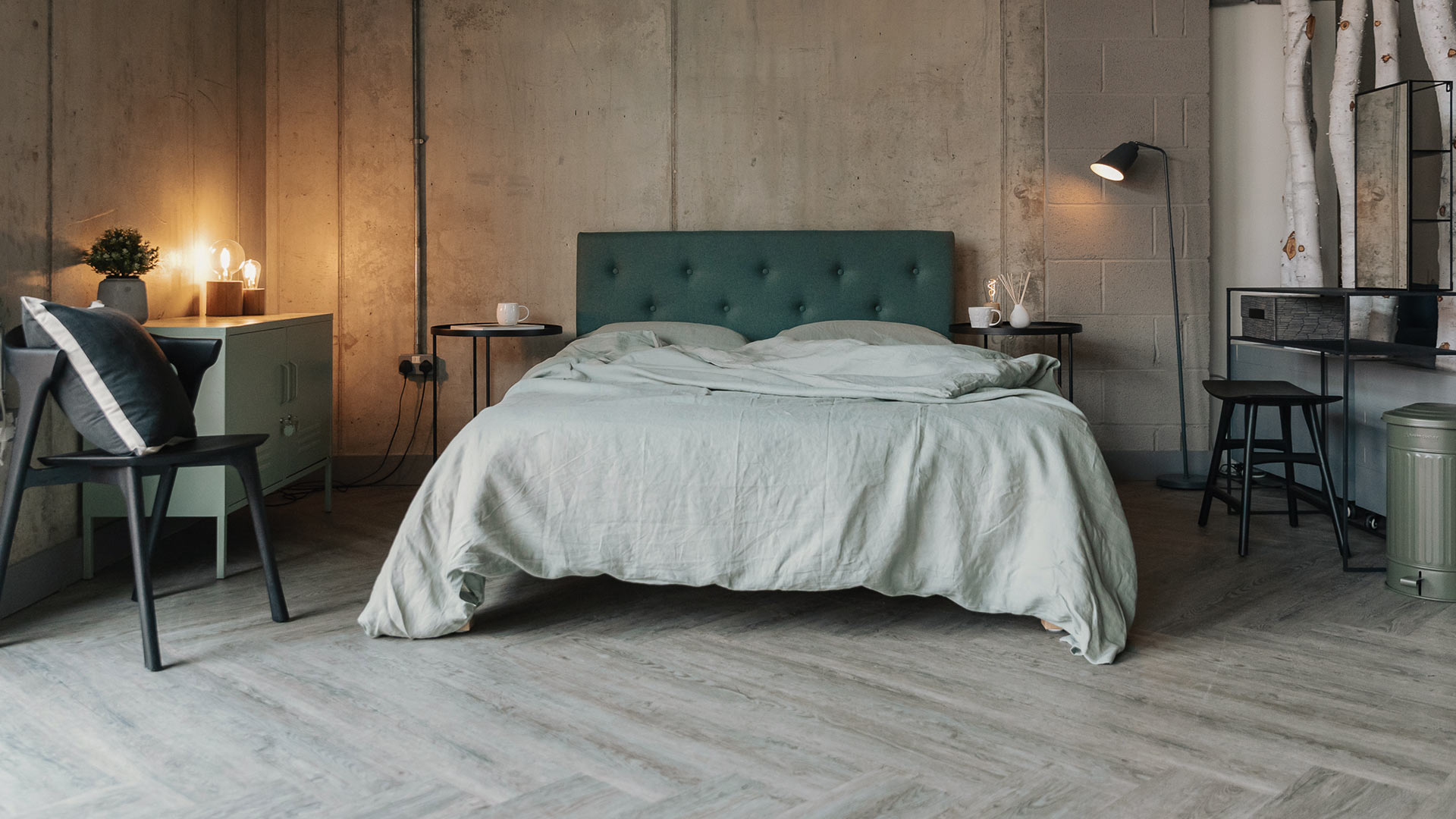 Then, the next layer is another organic piece. A contemporary patterned throw crafted from organic cotton, the Modern Organic Cotton Throw is styled here in the Mint Green shade. Moreover, it's soft white lines and fringed edges bring a gentle harmony to this look.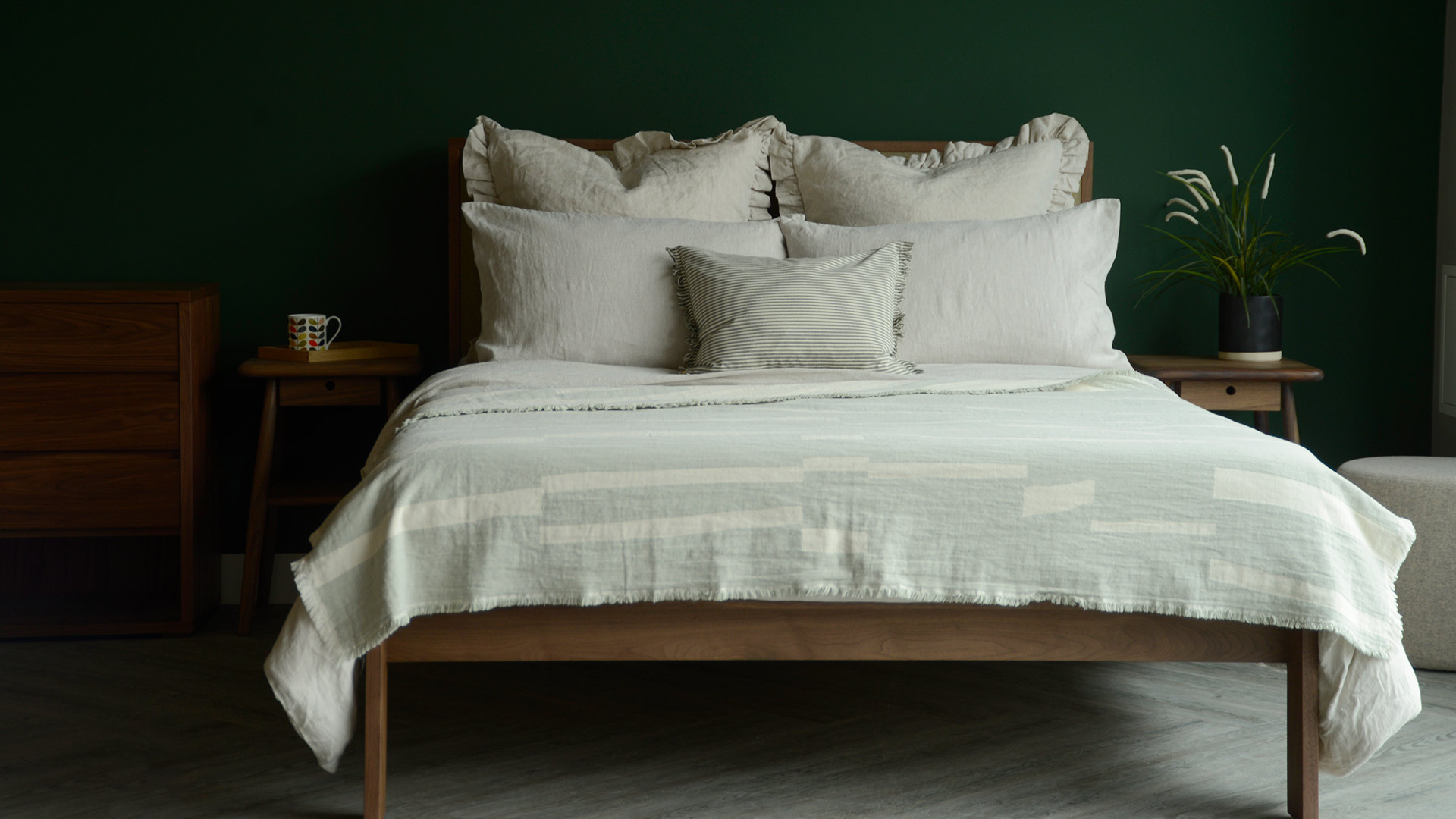 In order to bring out the darker tones of the Amatheon Seaglass headboard, we have then used a throw with varying shades of deeper green. Almost a tartan pattern, the Luxury Alpaca Wool Throws are available in a range of bright, and also neutral, colours. We have used the dark green to add contrast to our scheme – an important factor to bear in mind when layering.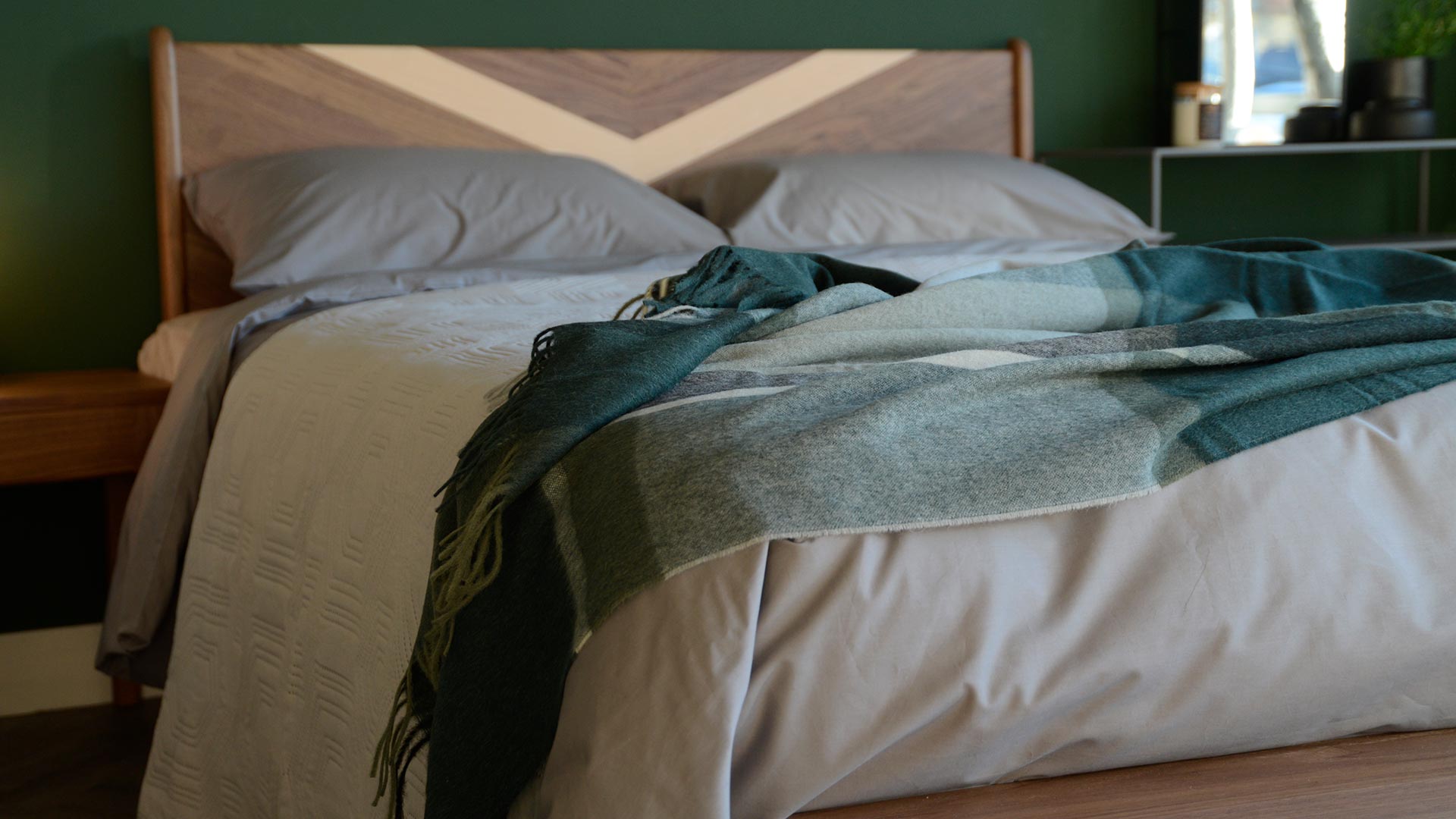 Lastly, we finish off our bedding layers with a light and airy topping. Using the Soft Basket Weave Throw in the popular Moss Grey shade, this final addition brings the whole look together. The previous layers have been deliberately straightened over the bed base to create stripes. Whereas, this throw has been luxuriously draped over the top for a carefree finish.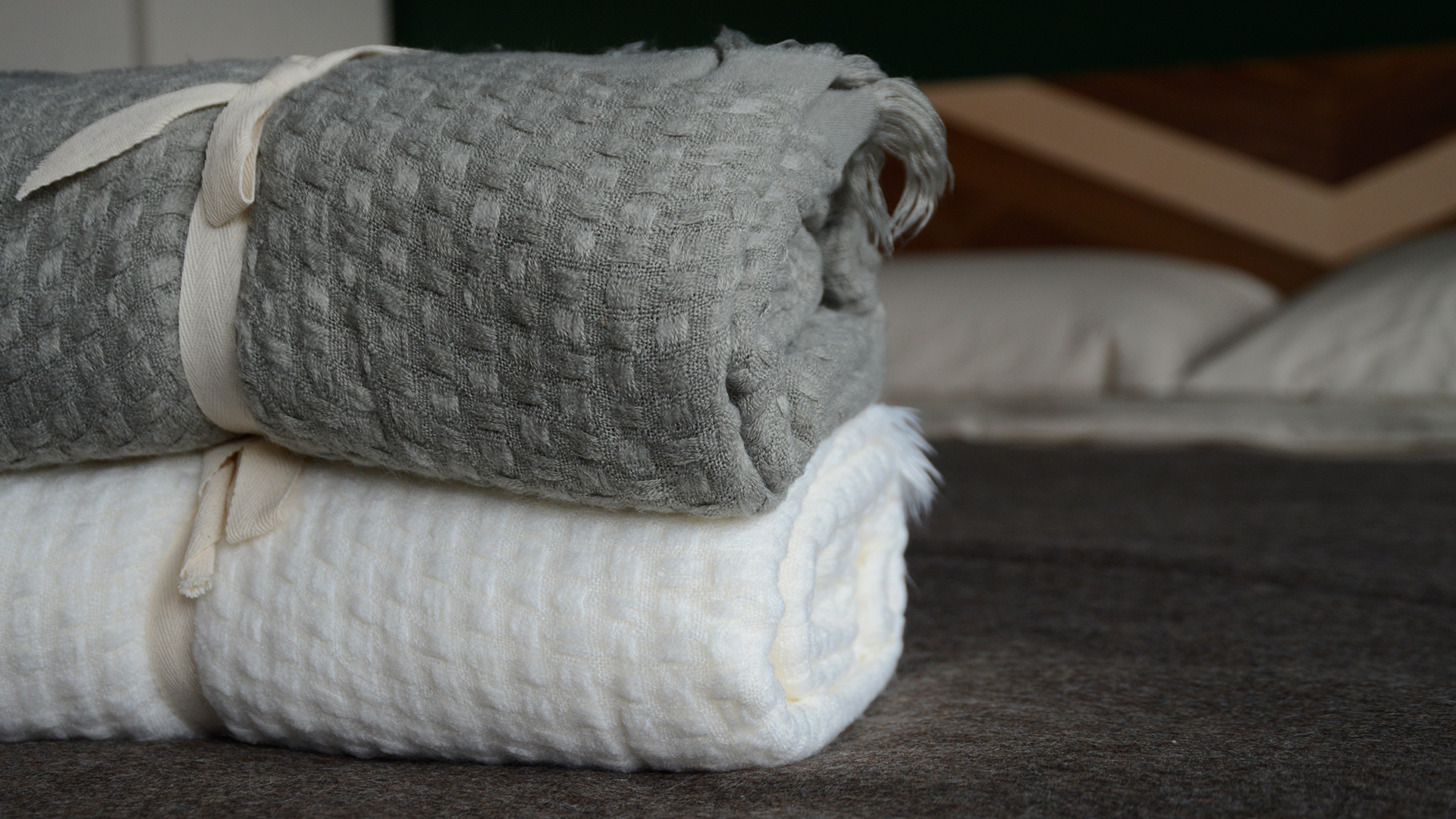 Top Tip – Drape your top layer over the edges of the bed slightly to create interesting shapes; adding intrigue to the overall look.
The Furniture
In order to highlight the bed base, the furniture paired with our Arran bed base has been kept to a minimum. For instance, in your own room you may have more items taking up floor space. In this case, we recommend choosing items that compliment the whole scheme to keep it tied together. Or, if you're working with a small space, consider pieces lighter in colour to make your room feel larger.
Again, bearing contrast in mind we have used the Black Side Tables from Ethnicraft as bedsides. Though black is a different tone, these being the only pieces in play offer a pop of neutral in this otherwise all-colour look. Following the latter theme, the main feature piece of furniture we have chosen is the Lowdown Locker in the new colour, Sage. Practical and effortlessly stylish, these lockers make wonderful bedroom furniture and can be enhanced with baskets to optimise storage within.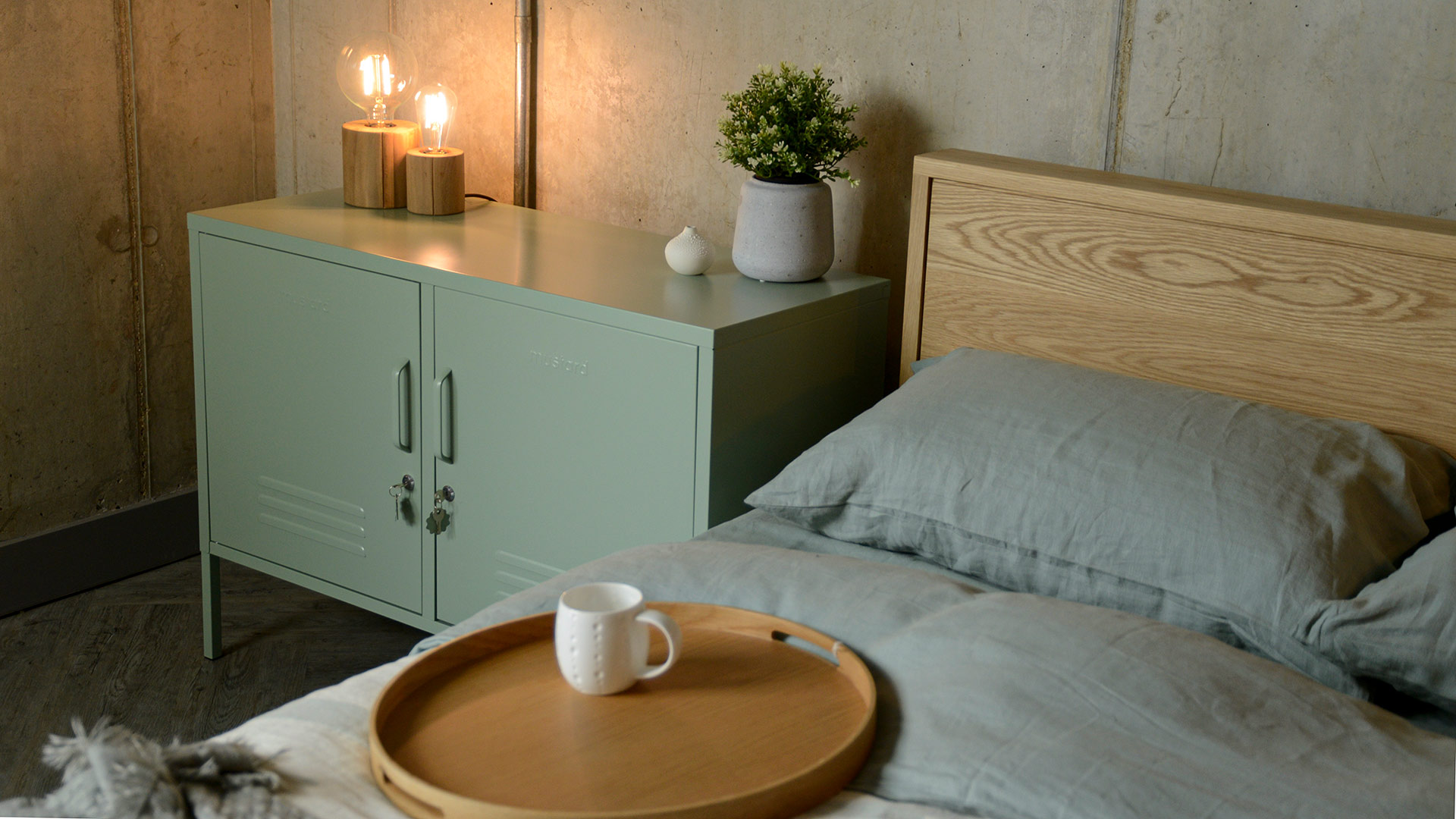 These bright lockers are the perfect way to bring a pop of colour. Take a look at the full range for heaps of new bedroom style inspiration.
The Accessories
Keeping with the rustic modern theme, we have chosen neutral accessories to compliment the blue and green scheme. Pops of lighting draw the eye, thanks to the Wooden Bedside Lamp Holders and the new Humble One rechargeable mini lamp. We've also added some greenery with a bunch of white flowers in a concrete pot, along with an Aery Luxury Room Diffuser in a luxe, white clay pot.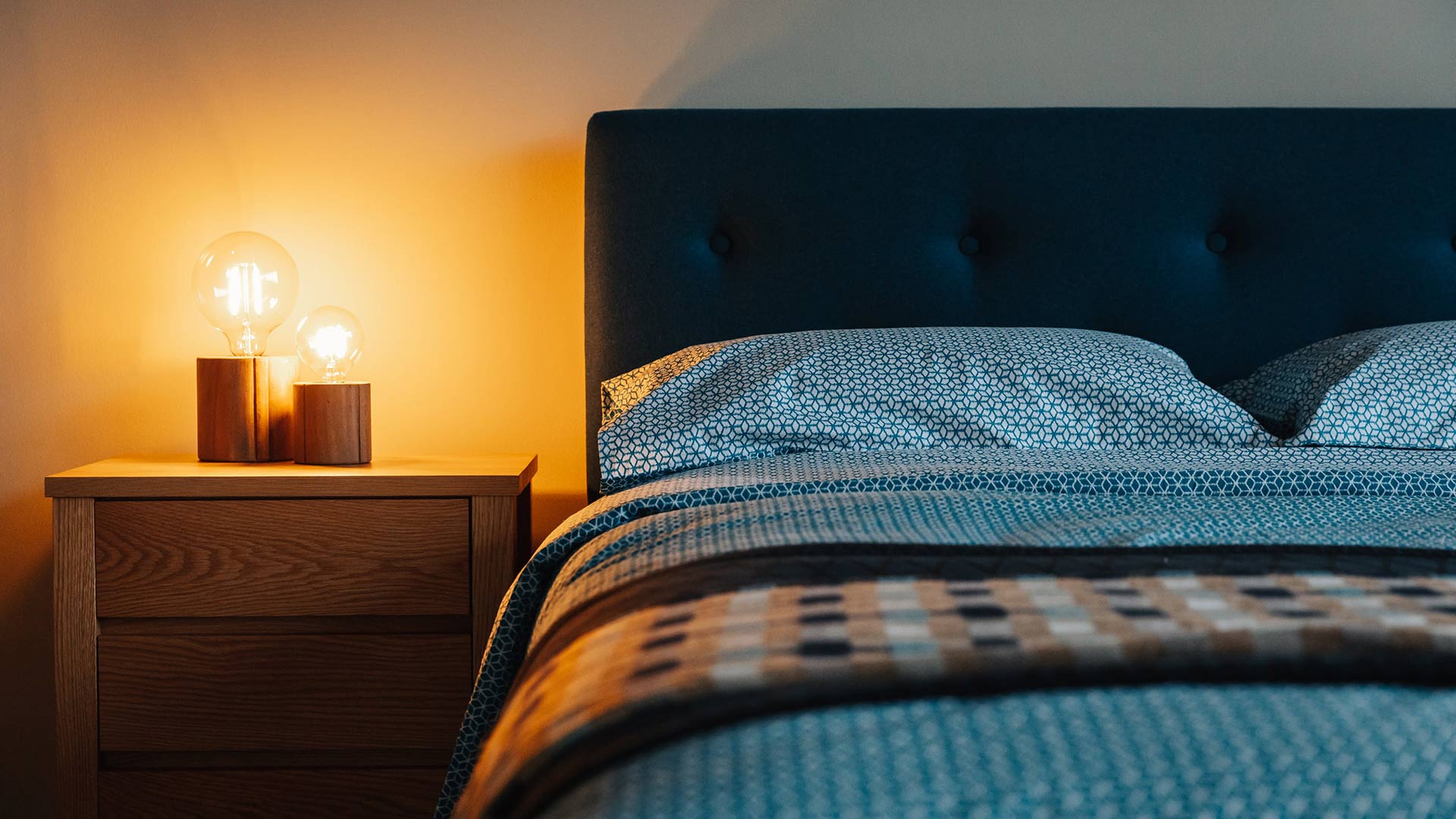 How would you style your Arran bed base? Find us on Instagram for more bedroom style inspiration, or take a look at our Pinterest page for heaps of ideas.