At Natural Bed Company we love solid oak furniture – it's always been one of our most popular timbers and suits every one of our bed designs. This has been our motivation to add a wide range of oak bedroom storage to our collection: bedside drawers, chests of drawers and end-of-bed storage units. Here we'll take a look at the different ranges available and suggest the bed designs best suited to these collections.
The Black Lotus Cube Collection
The Black Lotus range was inspired by the success of our Cube Bedside tables (available in all our hard-wood timbers, but most popular in oak.) Our designer has developed a collection of storage units that complement our modern, solid oak beds. The Black Lotus collection is batch produced by a small, family company in Vietnam exclusively for Natural Bed Company.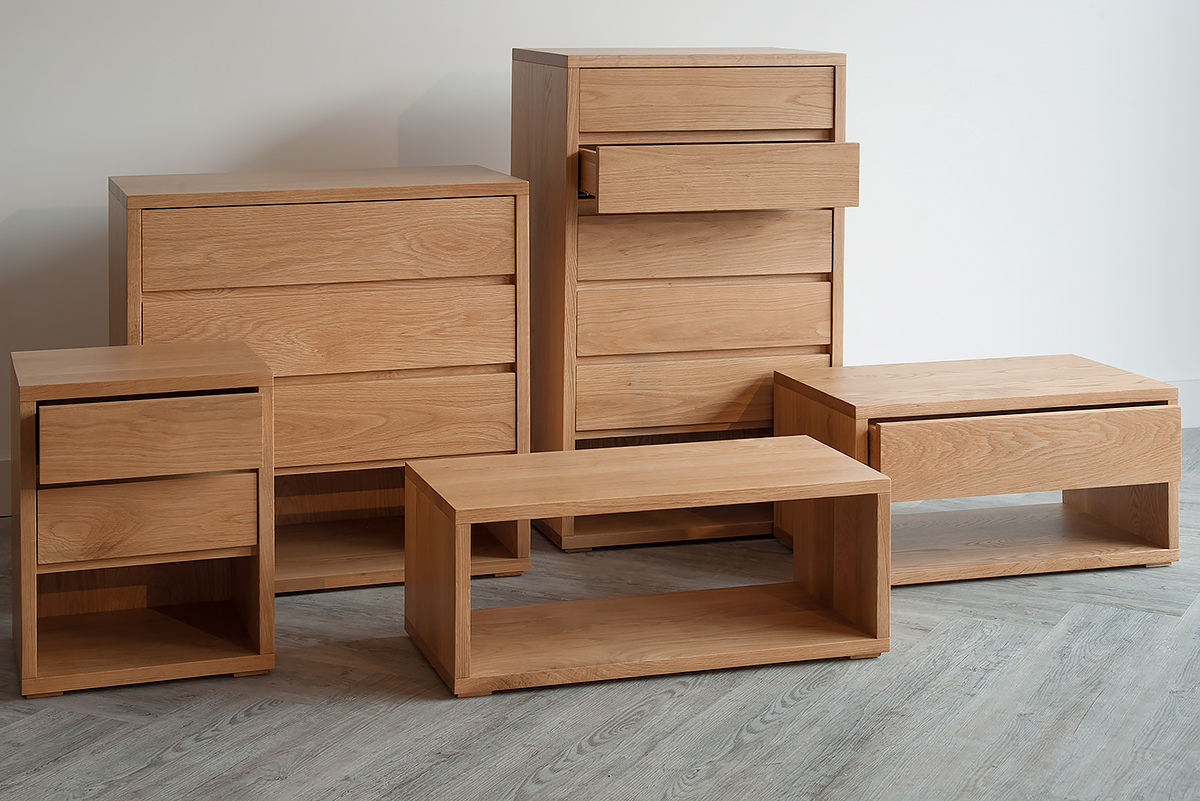 We have photographed the Black Lotus Cube range with our Malabar bed, but this range looks great with any of our contemporary designs. The Cube 4-poster is a low level bed-base with tall posts – the low open Cube units (bedside and end-of-bed storage units) and single drawer Cube units will work well with the low level of the bed base. Two single drawer Cube bedside tables with a Cube four poster would make an amazing centre-piece to a large master bedroom. Taller chests of drawers are also available – a compact 2 drawer bedside unit, a 3-drawer chest and a tall 5-drawer chest. These would suit the clean lines of our modern, oak beds including: the Shetland Bed (with an upholstered headboard panel within an oak frame), the Tibet and Sahara beds, and any of of low Japanese style beds.
The Black Lotus Shaker Style Collection
This shaker furniture inspired collection includes a two-drawer bedside unit, a three-drawer chest, a wide six-drawer chest and a tall five-drawer chest. This range has a classic Shaker style – the top is a little wider than the frame, the frame sits on four square section legs, but it has contemporary, simple handle-less drawers. This range will suit our taller classic beds.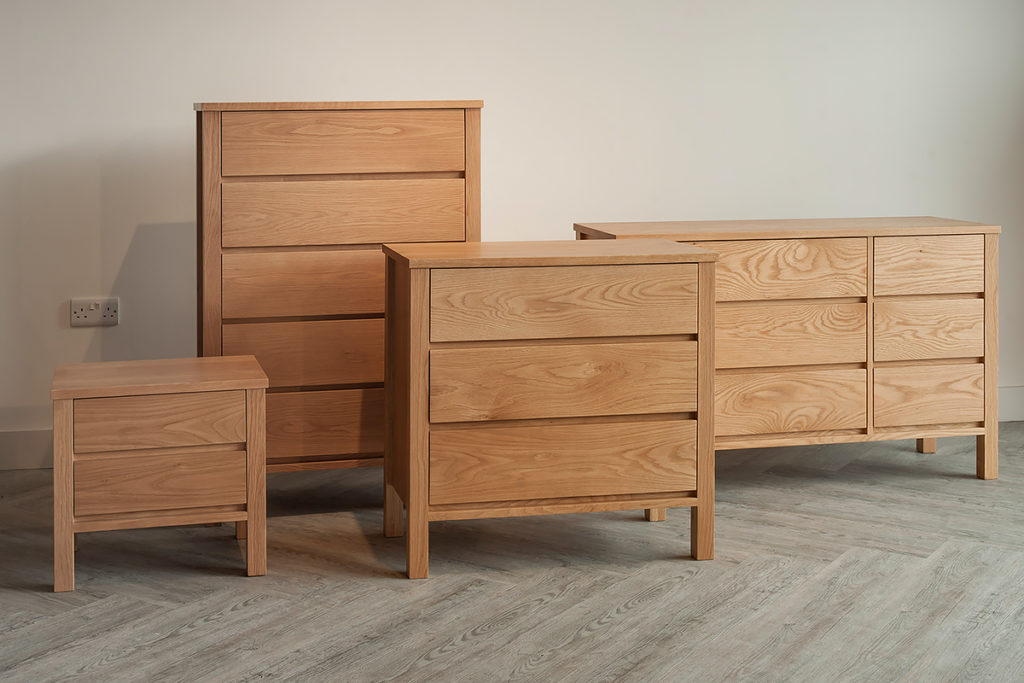 For a subtly retro, mid-century vibe take a look at the Zanskar bed – this bed with the Shaker range has a cosy, timeless feel. The elegant Cochin bed and beside tables work well with the Black Lotus Shaker style 3-drawer chest and 5-drawer tall-boy. For a simple, pared-back look – use these storage units with our Malabar, Sahara or Tibet beds.
The Ethnicraft Oak Bedroom Furniture Collection
Ethnicraft supply a range of contemporary, solid oak storage units and bedside tables. Ethnicraft have their head office in Boom and offices in Marseille, they manufacture their collection of solid oak furniture in Serbia and employ 2000 people around the world.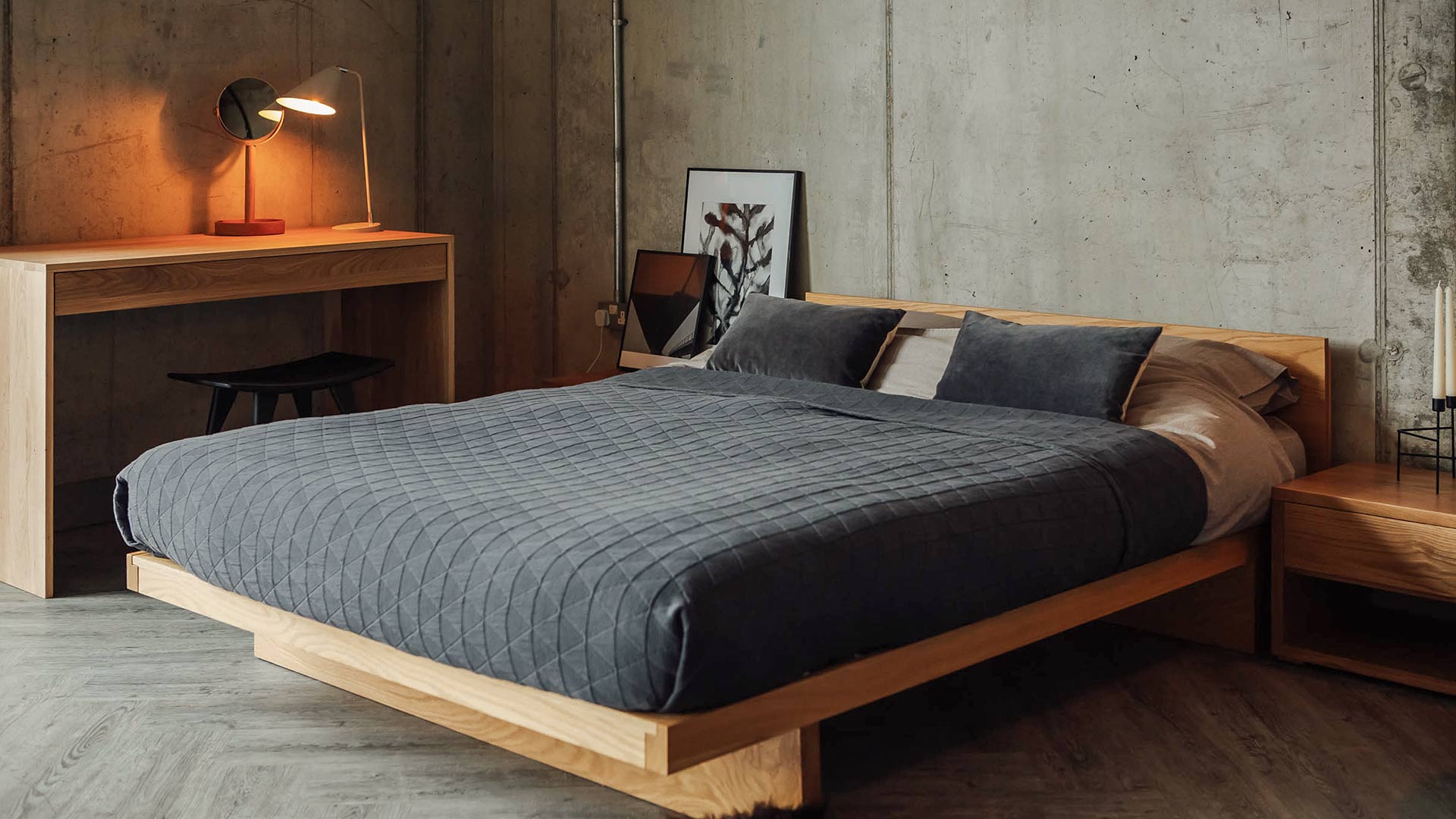 The Ethnicraft collection includes a range of modern, rectilinear beside tables. The Nordic and Frame console tables make simple, stylish dressing tables. There are other items from these ranges to pair with these – a Frame bedside table and a Nordic 2-door cupboard, chest of drawers or low end-of-bed unit.
Ethnicraft furniture is strong, functional and sturdy, made with a passion for pure lines. It therefore works with our more minimalist bed designs. Take a look at the Nevada, Sonora, Ki and Kulu low oak beds.
Other oak bedroom accessories:
We also offer a wide range of ancillary bedside tables and small storage units from Ethnicraft, Wireworks and our own Sheffield made bedside tables.
In order to put a collection together – we recommend that you choose a bed, then work out the height of the from the floor to the top of your mattress and see where you would like the top of the bedside unit to sit alongside the mattress. Some people prefer it to be a similar height to the side rails of the bed, others with the top of the mattress and others taller still. This will help you to select the best bedside tables for your bed, which in turn will help you determine which storage range will suit your scheme.
Get The Look