When we think of Scandinavian design we can't help but think of famous Danish designers such as Arne Jacobsen, Hans Wegner or Poul Kjaerholm; designers who used beautiful, natural materials to create simple, elegant furniture. The focus on natural materials extends throughout the Scandinavian style interiors, along with a cool, neutral or monochrome colour palette and simple, graphic shapes.
With these elements in mind, we feel many our contemporary, solid wood bed-frames fit perfectly with this look. Here we'll take a look at our most 'Nordic' looking bed designs and how to dress them for maximum 'Scandi' chic!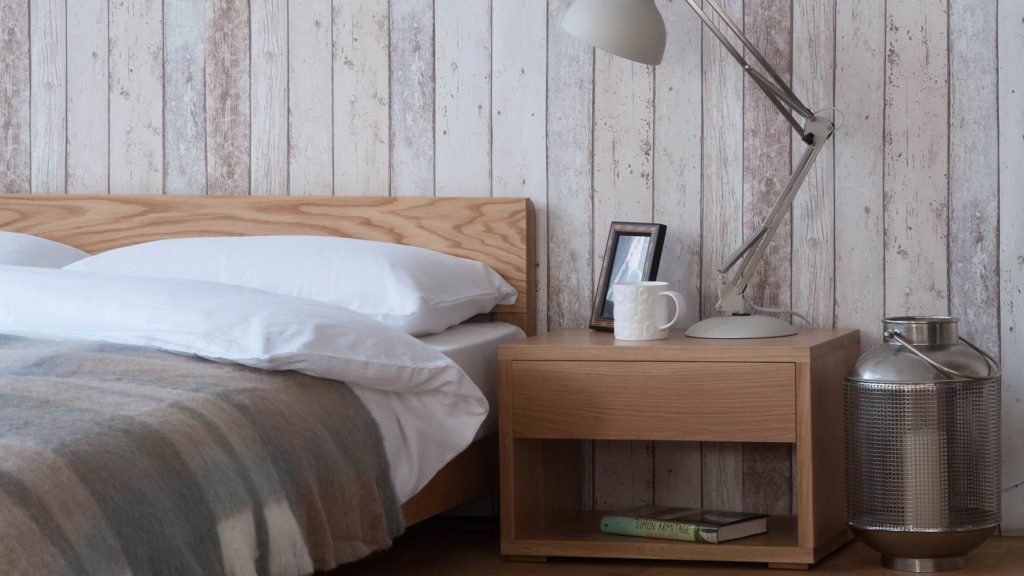 Low solid wood bed-frames for a rustic look – it's easy to create a cosy, contemporary bedroom by using a modern, low, solid wood bed with stylish bedding in neutrals. Here you can see a range of our low beds, all in solid ash – ash is a light coloured timber, with a strong, vivid grain – perfect for this look. The Nevada and Sahara beds shown here have low, neat headboard panels and a pared-down design. The Ki bed is a low, platform bed without a headboard, the deep front foot panel shows the ash grain beautifully. A back-drop of rustic wooden panels of white-washed timber adds to the Scandinavian feel. The cosy wool throws and layers of bedding in shades of grey, white and cream ensure the rustic style feels luxurious.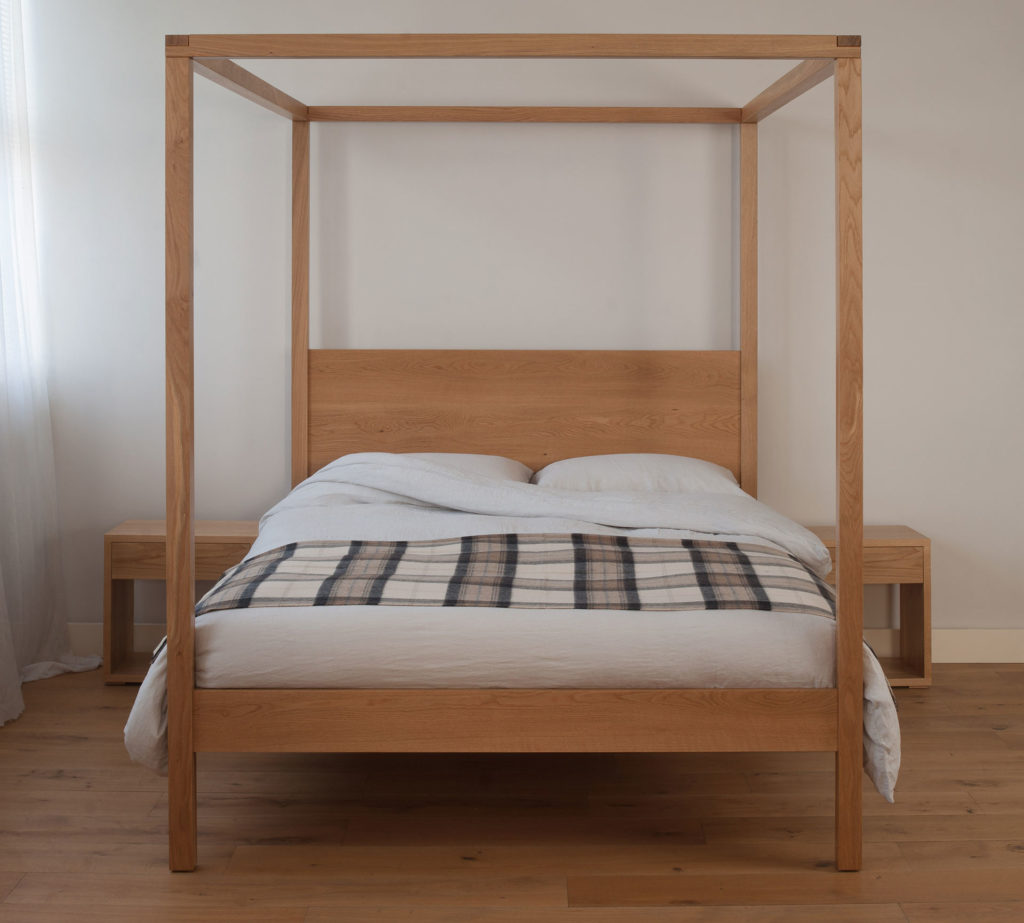 Contemporary wooden four-posters with a Scandinavian look – here we've combined solid wood four-poster beds in deeper timber tones with simple, natural bedding in cotton or linen, topped with wool throws in traditional check or more modern patterns (we offer a range of throws, made in England by Bronte, you're sure to find one to suit). A simple, neutral colour scheme keeps the look contemporary and uncluttered. Alternatively try an upholstered headboard – use a contemporary, plain the fabric and pile on the cosy bedding for the perfect winter bedroom look!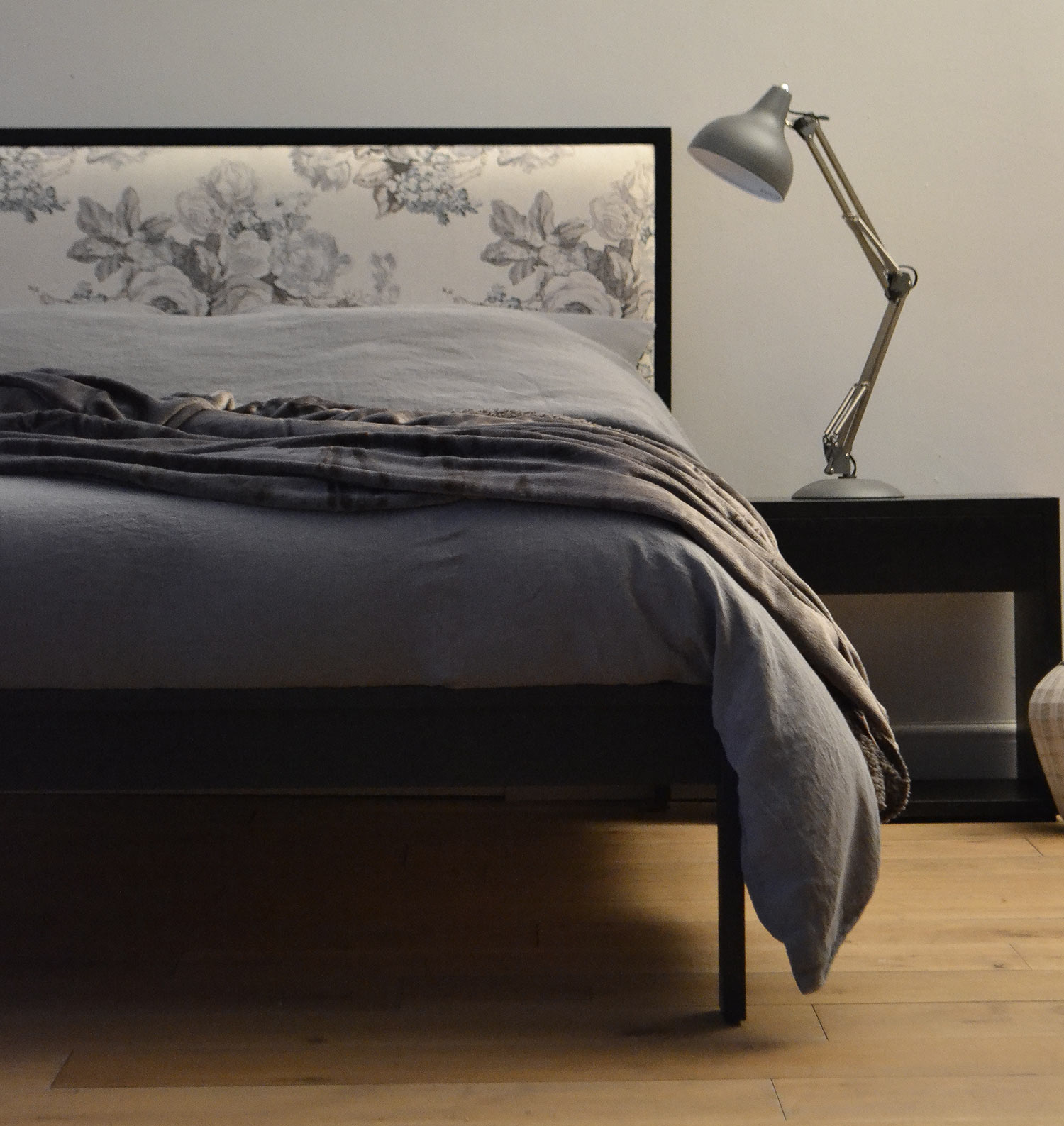 Nordic Noir: dark colours and luxury materials – if you want a really luxurious and atmospheric take on Scandinavian style choose a rich, deep colour scheme. Charcoal, inky blue or taupe for the decor or bedding selection, can be softened with accessories in luxurious materials: a velvet bedspread, a knitted cashmere hot-water bottle cover or a soft linen duvet cover. The solid wood bed can be left a natural shade, or stained black or dark chocolate brown: a pale timber will shine against a dark wall, a dark toned bed will add to the cosy, if slightly gothic feel. For a cosy option take a look at our Shetland and Arran beds with upholstered headboards. Choose a dark colour or a neutral shade for timeless appeal, or choose a black lacquered bed-frame with a dramatic floral print to create a stunning centre-piece.
For more images and ideas to help create your own Nordic haven, just take a look at our pinterest board Scandinavian Style Bedrooms.
Get the look