In this blog we wanted to give you an insight into the wood we use, we thought we'd do a spotlight on Beech beds! If you've been having a nosey on our website, you're probably already aware that all our beds, and a selection of our bedside tables, are handmade to order. We work with solid, hardwood timbers to create our furniture. Read on to find out more about this sturdy timber.
Where does our Beech come from?
The Beech wood we use is sourced from well-managed forests in Northern Europe. We only work with suppliers who have sustainable and environmentally-conscious ethics in mind. Well-managed forests are beneficial to the environment in a variety of ways. In these forests, trees are left to mature, but they are cut down before they die. This means they have the chance to nurture the areas around them. In addition, new trees are then planted in their place, and the cycle continues.
What do Beech beds look like?
Beech, like all our timbers, has natural variations in its colour, grain and lightness. These variations are a natural occurrence, and they give our solid timber beds their 'life'. You may find that pieces of Beech seen in isolation may look very similar. However, when placed together, you'll likely notice these subtle variations. In contrast to the uniform, flatter colour found in veneered furniture, this reflects the quality of the timber we use.
Differences in the grain pattern reflect the differences between the original trees. Small knots or burrs may be present in even the most carefully selected timber sections, but we feel that these are part of the unique nature of having a bed made from a natural material.
What do we make to go with our Beech beds?
All our bed bases are handmade to order, and can be made in any of our hardwood timbers. Our timber options can be found here, along with more information about each one. The Arran upholstered bed base and the Java low bed base are some of the options we have pictured in Beech.
Any of our beds can be made in Beech, along with a selection of our bedside tables. Because we designed our bedsides with our bed bases in mind, they are easy to match with each other. For example, we love the look of our Camden bedside tables with the beds from our Camden and Hoxton bed bases, particularly the low beds from this range. The Pimlico and Carnaby pair perfectly with the Camden table; the matching rounded legs create a harmonious look.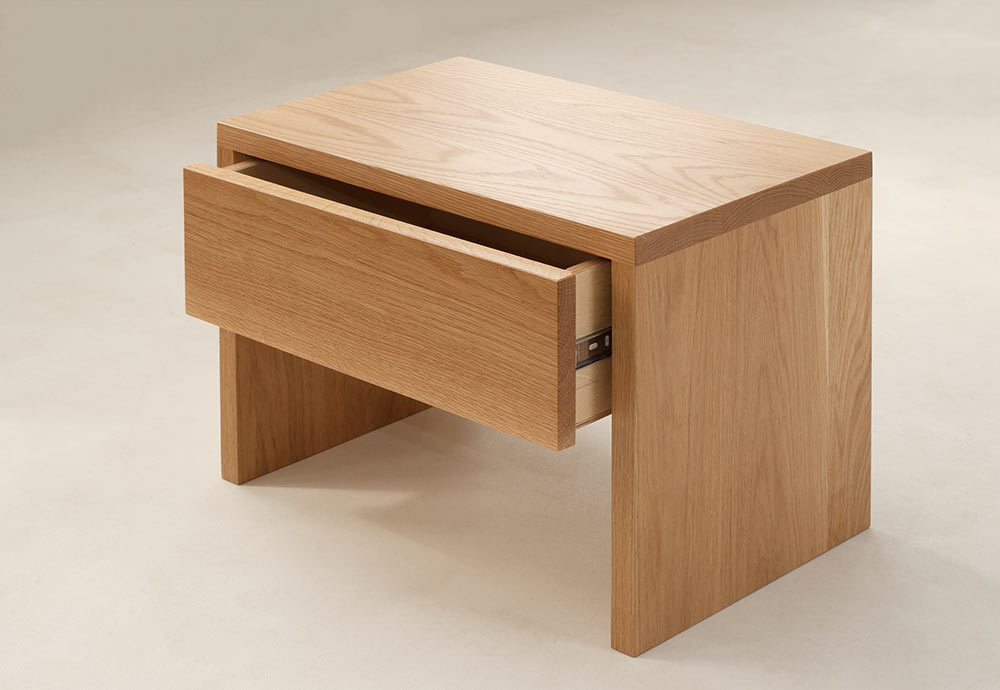 Some tables are designed specifically to fit with a bed base's unique style. For example, the Oregon bed base is one of our lowest beds. The matching Oregon table is designed to sit next to the bed base, perfectly proportioned to its signature height.
In contrast, some of our tables are designed to be used with a range of different beds. Specifically, our Kyoto tables are designed for use with our Japanese bed bases, and come in either a drawer or shelf table option. These are a practical solution to storage next to a low bed base, and offer a super-minimal look.
For a more simple look, the Nevada, Sahara and Tibet tables offer a great match to our Nevada, Sahara, Malabar and Tibet Bed bases. The Cochin also has a matching bedside table that mirrors it's elegant tapered legs.
Finally, we couldn't leave out our most popular bedside table design. Our Cube tables come in three different heights; Tall, Original and Low. These offer ample storage for your books, glasses, phones and slippers. With a drawer and shelf combo that suits any modern bedroom style.
We hope this blog has been useful as a closer insight on our Beech beds and range bedside tables! As always, please do not hesitate to get in touch if you have any further questions.