Solid walnut is a popular choice with those looking for a deep rich colour, vibrant grain and a luxurious feel. We offer all our beds in solid walnut and have a wide range of bedroom furniture – bedside tables, dressing tables and drawer units – available in this beautiful timber. Here we'll take a look at the furniture available and the bed designs that suit it.
About Our Solid Walnut:
Our solid American black walnut comes from the eastern coastal forests of the USA and Canada. These large forests are among the best managed in the world and, due to careful management, are increasing in size. Well-managed logging is beneficial for the environment, the trees are logged when they are mature but before they start to die. New trees are planted in their place and the cycle continues.
Pieces of walnut seen in isolation have a fairly consistent colour, but if you put several pieces together you may notice some variations in lightness and darkness and perhaps also in colour cast. There may also be some paler sapwood. These variations are responsible for the 'life' of solid timber beds in comparison to the uniform, flatter colour of veneered furniture.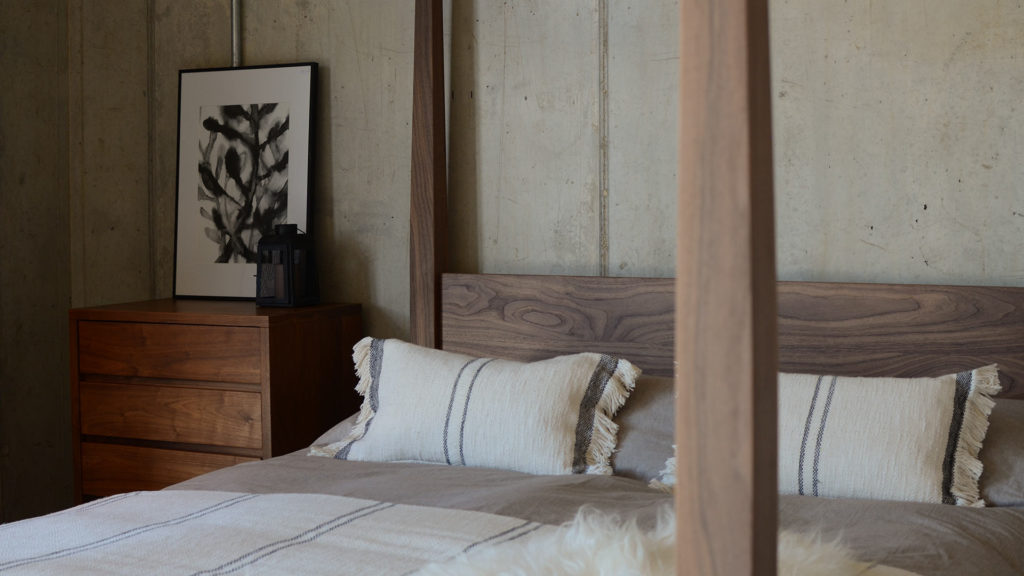 It is reasonable to expect colour variations in different parts of the bed including the headboard panel which for most beds will be made from 2 or 3 different pieces (wood isn't wide enough to make the headboard from one piece). Differences in grain pattern reflect the differences between the original trees. Small knots or burrs may be present even in the most carefully selected timber – these are just part of the natural beauty of the wood. Take a look at our new design the Hoxton bed for an illustration of the variety of walnut – the Hoxton has a chevron design to the headboard using slim planks of solid walnut.
Walnut is a beautiful chocolate brown colour (a cooler brown when new, which warms and lightens over time) that works brilliantly with a wide range of colours – perfect for our beds with a painted hearboard panel or upholstered headboard. We particularly like silver greys, charcoal and ecru for contrast. However warm brown and rust tones also work along with pale blues and plaster pinks.
The Black Lotus – Cube Collection in Walnut
The Cube collection, available in walnut or oak, includes a range of storage solutions from bedside units to tallboys.
If you're searching for a bedside unit from this range we have a 2-drawer unit (W 40 x D 35 x H 50cm), a low wide 1-drawer unit (W 67.5 x D 40 x H 35cm) and a low bench (W 75 x D 35 x H30cm) that can be used as a bedside or end-of bed unit. Your preference will depend on the space you have a available and the style of bed you choose.
Some customers prefer the top of their bedside unit to be a similar height to the top of the side rails on the bed, others prefer taller bedside units which are around the height of the top of their mattress or pillows. The two drawer Cube bedside unit is usually chosen to go with our mid height beds – such as the Malabar, Camden, Arran or Zanskar beds. The low 1-drawer unit and small bench work well with our lower beds such as the Sonora, Pimlico, Nevada and Ki beds.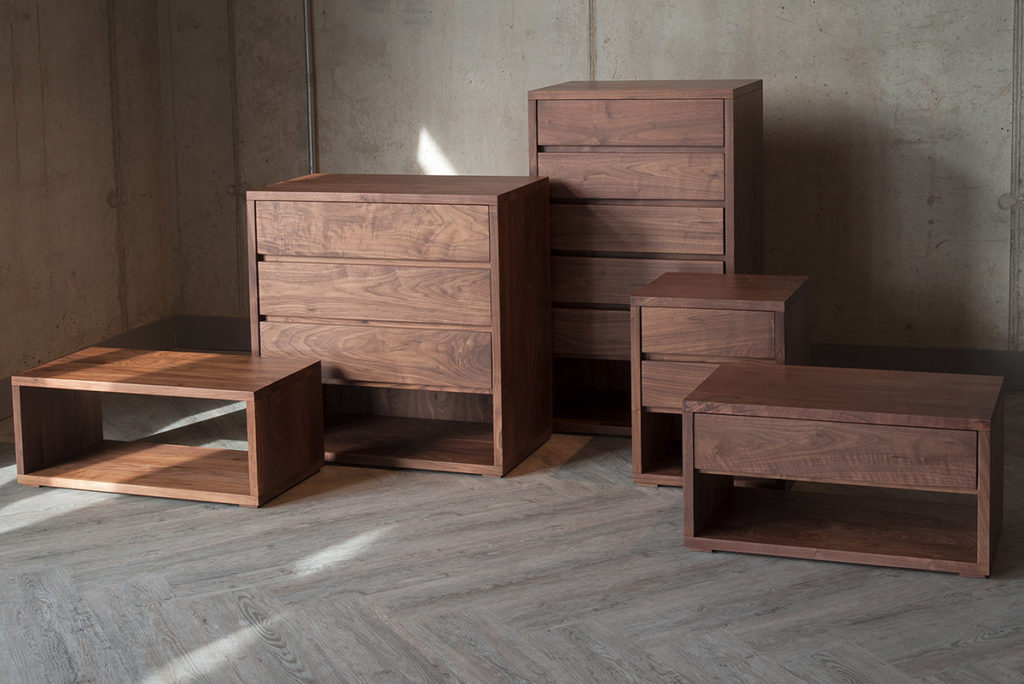 The Cube range also includes some larger units like the 3 Drawer Chest (W 75 x D 40 x H 76cm) and 5 Drawer Tall Chest (W 60 x D 40 x H 100cm) which can add valuable extra storage to your space, whether that be in your bedroom, lounge, study or any other room of the house!
The Cube design has a contemporary and stylish feel, the clean lines and lower shelf give it a modern and unique look. The Cube collection can be paired with any of our designs but we love to see these items paired with the Kyoto, Arran, Skye, Malabar or even the Panama Sofa Bed.
The Black Lotus – Shaker Range in Walnut
The Black Lotus Shaker range, similarly to the Cube style above, is available in oak or walnut and in a variety of sizes from bedside tables to large chests to suit all of your storage needs. If you're searching for a bedside table there is the 2 Drawer Unit (W 50 x D 38 x H 47cm), this piece is perfect for low to mid height beds – depending on how high you like your bedside table top to be. Alternatively, if you need a little more storage, the 3 drawer bedside table (W 50 x D 38 x H 61cm) is ideal for mid to tall bed bases.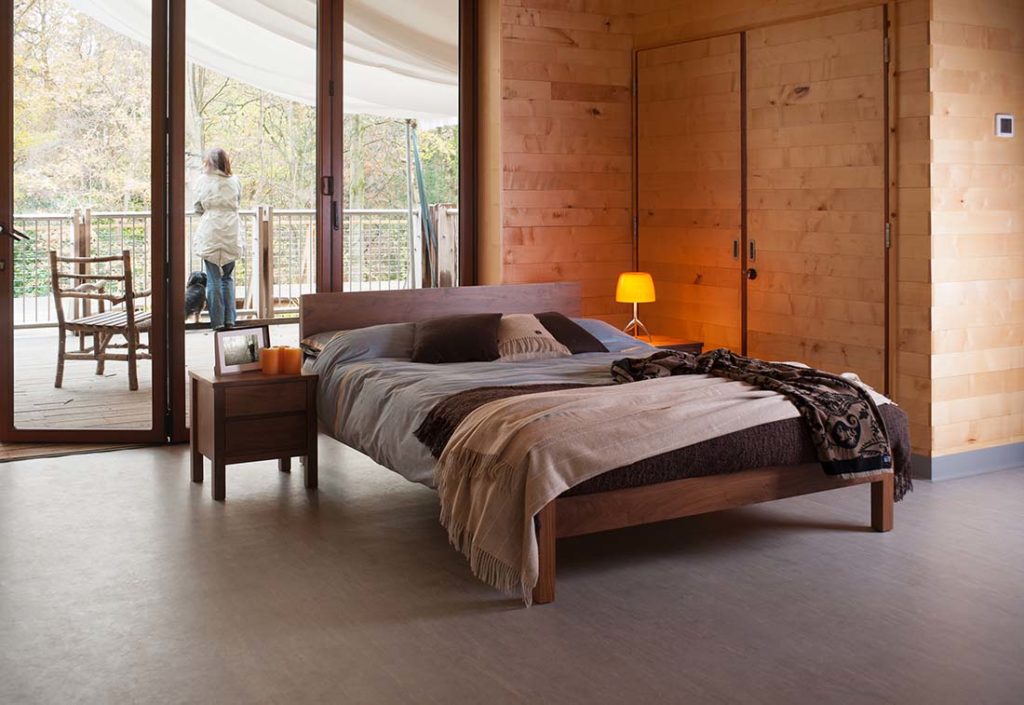 The Shaker range also includes much larger pieces, the 3 drawer chest (W 77 x D 40 x H 76cm), 5 drawer tall chest (W 77 x D 40 x H 114cm) or the Wide 6 Drawer Chest (120 x D 40 x H 76cm) which are ideal for extra storage in your bedroom or any other room in your home.
The Shaker range has a more elegant, chic style with its traditional 4 legs and classic, clean lines of the timeless Shaker design. The Shaker furniture would work well with any of our beds, but we particularly like to pair it with the Zanskar, Cochin, Malabar or Four Poster beds. Both the Black Lotus Shaker and Cube designs are exclusive to Natural Bed Company
Ethnicraft Furniture in Walnut
Ethnicraft offers a wide range of styles and designs of walnut furniture, from stools to dressing tables to console units. All the Ethnicraft furniture is beautifully made with solid timber, unique designs, clean lines and a respect for the natural world. We love their unique style paired with our handmade bed bases, and there is something to suit any space.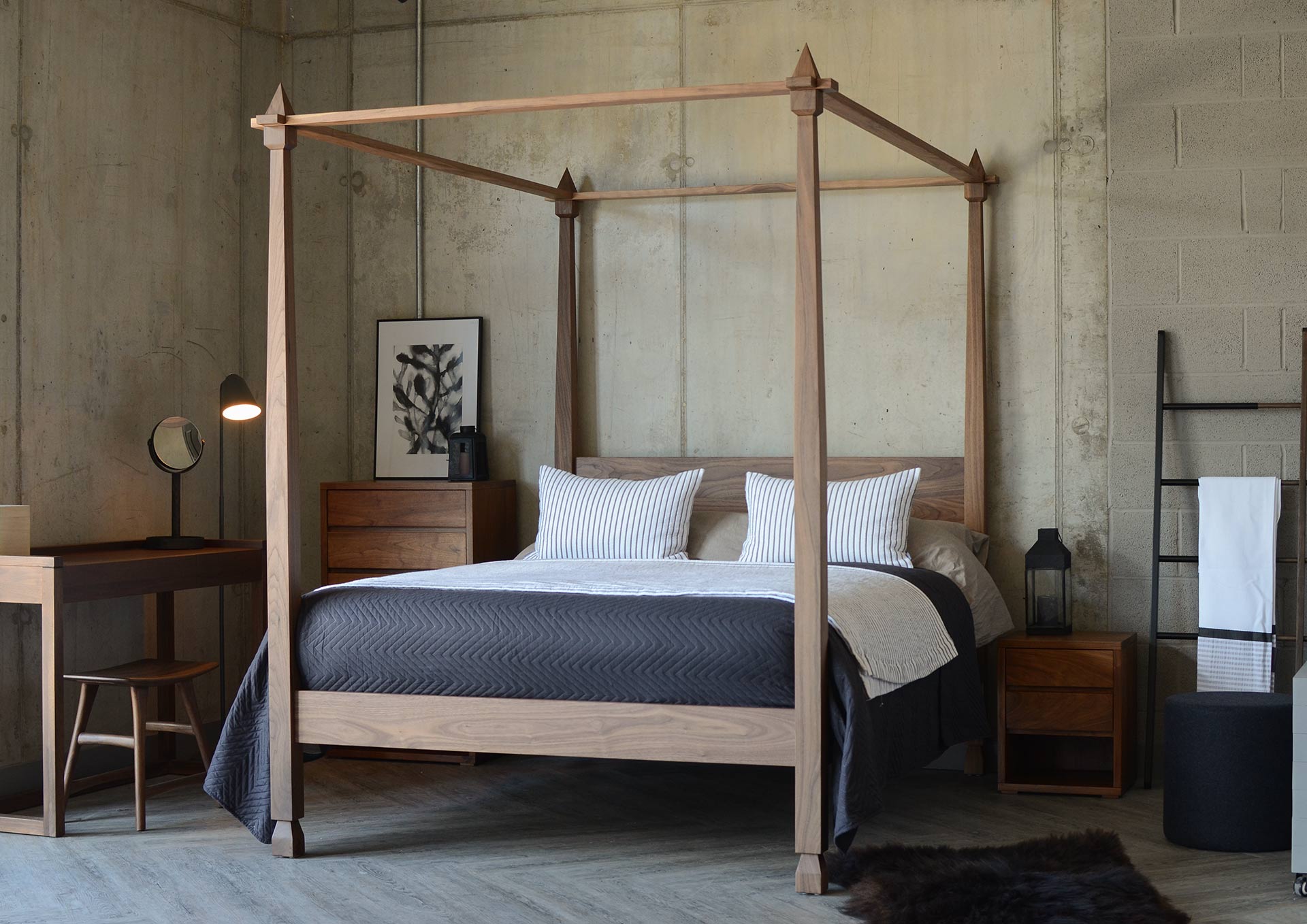 A favourite in-store is the walnut Osso stool – the Osso is a useful extra seat, perfect for a dressing table or to use as an occasional bedside table. The Osso can also be used with dining table or as a stylish accessory for the bathroom. Ethnicraft make modern walnut furniture is a couple of ranges: including the Nordic collection, Wave and Rise.
Bedside Tables in Walnut
Any of the tables made at our Sheffield workshops will be available in walnut (along with the rest of our hardwood collection: ash, beech, cherry, maple and oak). The Cube bedside table, made by Natural Bed Company, has a slim upper drawer and low, almost floor level shelf. It is available in three height options, so it will work with any of our beds. We also have tables designed to match specific bed designs – the Cochin table suits the Cochin bed, the Kyoto drawer table and shelf table both work with the Kyoto and Kumo beds.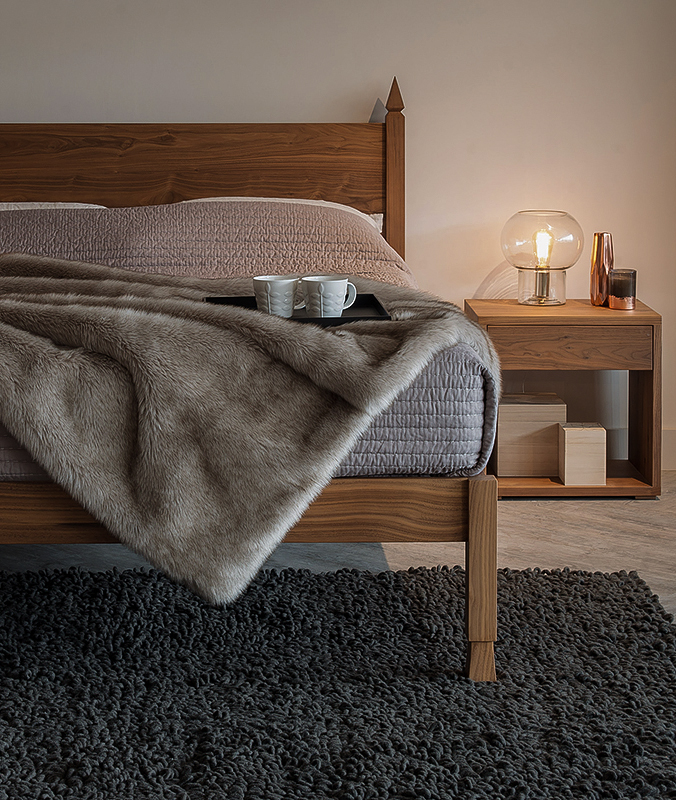 The Oregon bedside table is designed to suit the low Oregon platform bed, but it can work with a range of our lower beds. We have a range of bedside tables in walnut – from our own workshops as mentioned, but also from Ethnicraft and other suppliers. It's always worth checking our bedside tables pages for the latest additions.
Get The Look