Looking for an Ash bed design? Here you can find our exclusive collection of solid ash beds.
About our ash:

We make our beds from American ash which is slightly paler than English ash. Both types have an interesting grain with a strong figure. Ash is a light colour with a cream cast and has a contemporary look.
Over time the tone of the wood will increase in warmth and depth. As with any wood, there are variations in grain and tone: part of the charm of a natural product. To preserve the lighter, fresh colour and beauty of newly planed ash we use a natural look lacquer.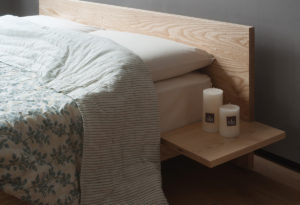 If you think it's important to buy timber from sustainable forests, rest assured! Our ash is sourced from well managed forests on the eastern coast of North America. Buying timber from managed forests ensures that new trees are planted and the cycle of planting, growth and harvest can continue.
If you are looking to match your ash bed with any of your current furniture please request a timber sample from us, but do note that wood samples should be taken as indicative of the wood and finish – it is not possible to guarantee an exact colour match.
Our full range of hand made bed designs are available in solid Ash. Want to see more of the Ash timber? Check out our blog post or take a look at our pinterest board of ash beds and accessories.
Sustainability:
Natural Bed Company wooden beds only use timber from sustainable sources and never use endangered tropical hardwoods. All our timber is from a legally certified source and purchased under EUTR (European Union Timber Regulation). Our pine is from Scandinavia and our hardwoods – ash, oak, maple, cherry, walnut and beech are from the USA or northern Europe. Buying timber from managed forests ensures that new trees are planted and the cycle of planting, growth and harvest can continue. We think it is important that the amazing natural resource of timber should be used to make furniture that will last.
Caring for your Furniture:
Unless otherwise specified, our beds are finished in a durable Natural look (low sheen) lacquer. This provides an easy to care for and durable finish that doesn't compromise the natural beauty of the wood grain.
Solid woods may expand and shrink slightly with differences in temperature and humidity. Take care not place your furniture next to radiators or anywhere subject to any excessive changes in temperature or moisture content. If you are using our bedside tables – we recommend that any beverages should be placed on mats and spillages should be wiped up immediately to prevent marking.
Cleaning:
To clean the wood finish, wipe with a slightly damp cloth and immediately buff with a dry cloth. Silicone based polishes should not be used on the wood too often as they build up and leave a sticky residue on the surface.
You may want to take a look here for further tips and ideas for cleaning your wooden furniture.
Examples of the Natural Bed Company's collection of ash beds: