At Natural Bed Company, low beds are some of our most popular designs and for good reason! Whether you're after a minimal look, a Japanese style or a luxurious loft bedroom, a low bed is a great design for many spaces.
Regardless of which low bed design you choose, they're all hand made to order in our Sheffield workshop. Our local skilled craftsmen only use sustainably sourced timber. This ensures the joy of making quality, solid timber furniture can continue for generations to come!
Let's take a look at a few of our low base designs…
Modern Low Bed Bases
A simple and clean option for those minimal spaces, these styles are also perfect for showing off the quality of the timber itself. Check our the Nevada or Sahara for that ultra low base with classic, clean looks. These low beds have the mattress sat flush on the frame so a great space savers in smaller bedrooms or for that crisp modern look!
Japanese Style Low Beds
Definitely our most popular option for low beds, Japanese style designs make a elegant statement piece in any bedroom. They are still fairly minimal but with the use of leg planks rather than traditional four legs, you get a special, floating look once dressed.
The lowest bed we make is the Kobe (at just 14cm tall!), the next tallest would be the Kumo (21.5cm tall) and the highest low bed we make is the Kyoto (26.5cm tall). The Kyoto has been a customer favourite for many years, it's a classic Natural Bed Company design and is also tall enough to fit under-bed drawers!
All of these options are available with or without a headboard if required.
If you're after something that shows of a little more of the base, the Ki is a great option to see a little more timber whilst still keeping it minimal. For more of a statement, the Kulu features a much larger headboard panel for a beautiful feature piece in your bedroom. And if you have a lot of floor space to spare, the Oregon and its wider skirting makes a big impact with a classic loft look!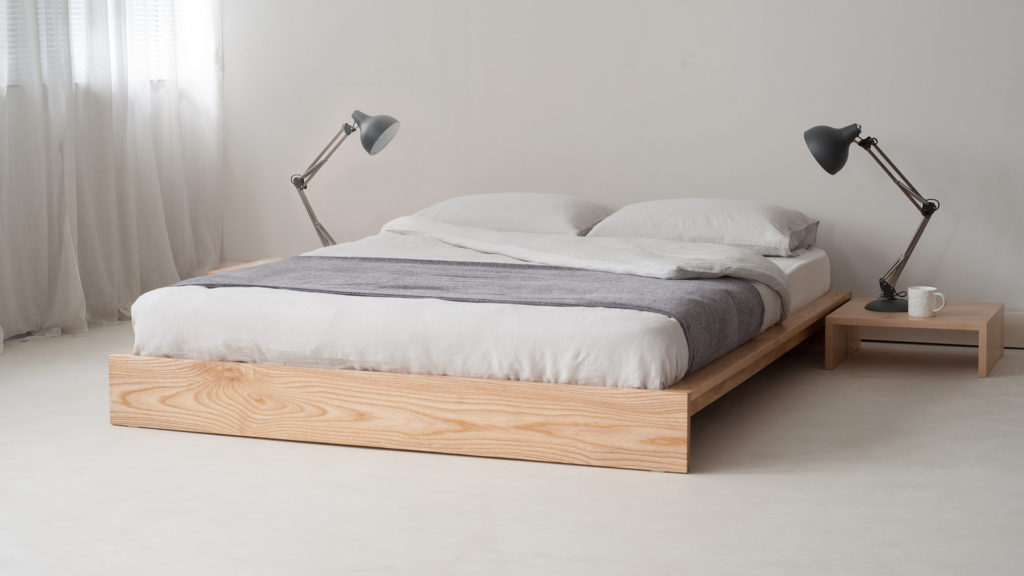 Unique Designs
If you need a low bed but are looking for something a bit extra, we have a few designs that are low but don't fit into the usual "modern" or "loft style" categories!
The most dramatic looking low bed we make is the Cube – it's four poster canopy adding elegance and drama for a real statement. This one certainly isn't for low loft bedrooms!
For something a little more subtle but equally timeless, check out the Pimlico or the Carnaby for a larger headboard. These beds are great examples of a usually tall, mid-century modern style, made low.
For a cosy feel, take a look at the Iona. Its soft upholstered headboard adds extra comfort and luxury!
I hope this blog has helped you find a low bed option that suits you and your space! You can see our full range of bed designs here.
We have a variety of low beds on display in our Sheffield showroom where you can see the quality craftsmanship and timber in person. And as always, if you have any further questions please do not hesitate to get in touch!