At Natural Bed Company, we make a variety of unique upholstered bed bases – from grand four posters, luxury hotel looks and minimal yet cosy styles. In this blog, I'll to guide you through the different fabrics on offer and the range upholstered bed designs. Along with various customisation options and FAQ's!
Hopefully, helping you to make your final choice…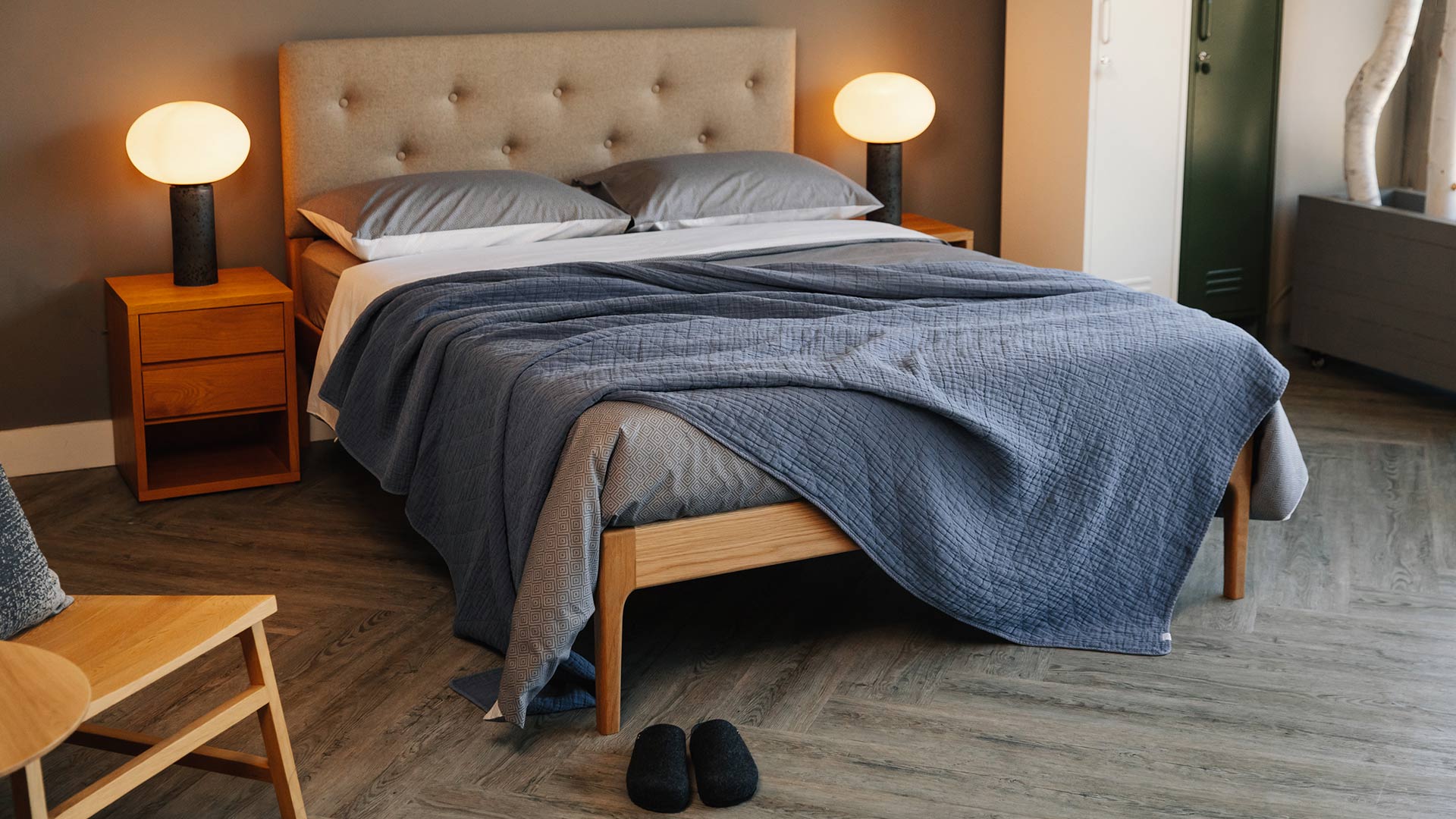 Fabrics for Upholstered Beds
With any of our upholstered bed frames, a variety of fabrics are available in two slightly different price bands. We have a small selection on each product page, but the full colour range can be used. Free swatches can be supplied for any of the fabric options – simply get in touch! We recommend looking at these alongside our timber options.
See the fabric line up below…
Parquet – The Parquet line from Abraham Moon & Sons is a pure wool fabric with a simple and subtle pattern. Made in the UK, this luxurious fabric is hardwearing and naturally fire retardant.
Amatheon – A wool blend fabric, the Amatheon range from Warwick has a more uniform felted look. With a slightly silkier feel than the pure wool, this is often a popular choice. Additionally, this is a versatile fabric which sits well in traditional or contemporary spaces.
Poole – Similar to the Amatheon fabric, the Poole line is also sourced from Warwick. This material has a subtle chevron pattern visible when close up and gives a slightly more textured look at a distance.
Vaquero – Our newest addition to our standard range is the Vaquero fabric from Warwick. A faux leather with a smooth and soft (almost suede like) finish with a water resistant element. We've paired this fabric with a simple seam detail to illustrate a contemporary feel. We can certainly use this fabric on a buttoned design too for a more classic look!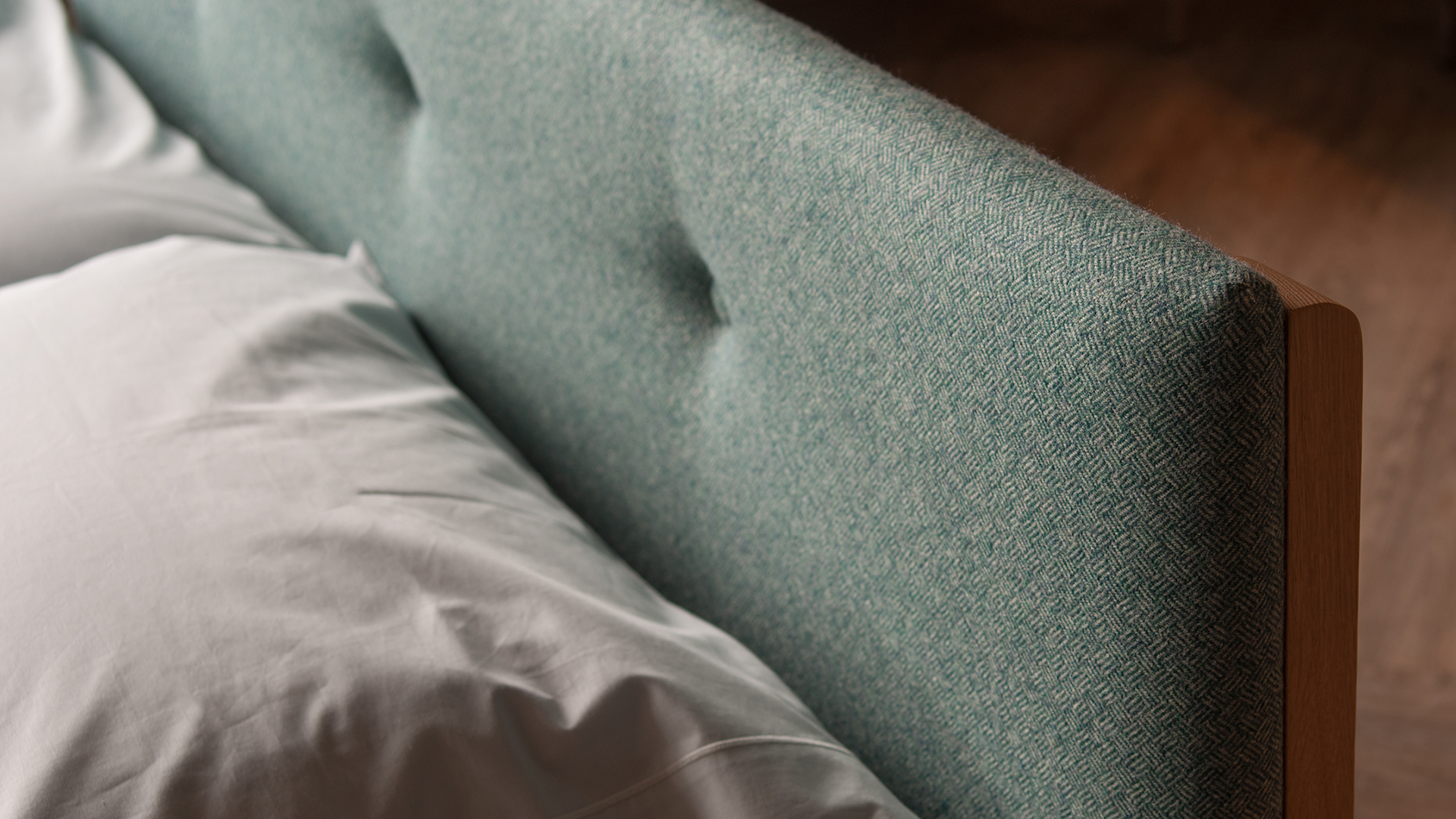 Customer's Own Material
We can often also use customers own material (COM) for our upholstered bed bases where required. A large sample (please contact us for details) would be required to pass on to our master upholsterer for approval. This is to ensure it will work well on the headboard design chosen. You would need to supply the fabric swatch in the same form as the end roll of fabric would arrive. (i.e. if FR treatment is required, we would ask that the sample also comes with this treatment as it may affect the structure, stretch and drape of the material).
If you wish to use a patterned fabric, please contact us to discuss. It is worth noting that any patterns would be slightly warped where the buttons indent. Also fabrics are often turned 90 degrees due to the standard roll widths in order to avoid the use of seams on the front of the headboard. For example, the upholsterer may need to use a design with vertical stripes horizontally.
Alternatively, seam/s can be added to avoid this, but the upholsterer may require extra fabric, depending on the bed design, and size and scale of the pattern on the fabric.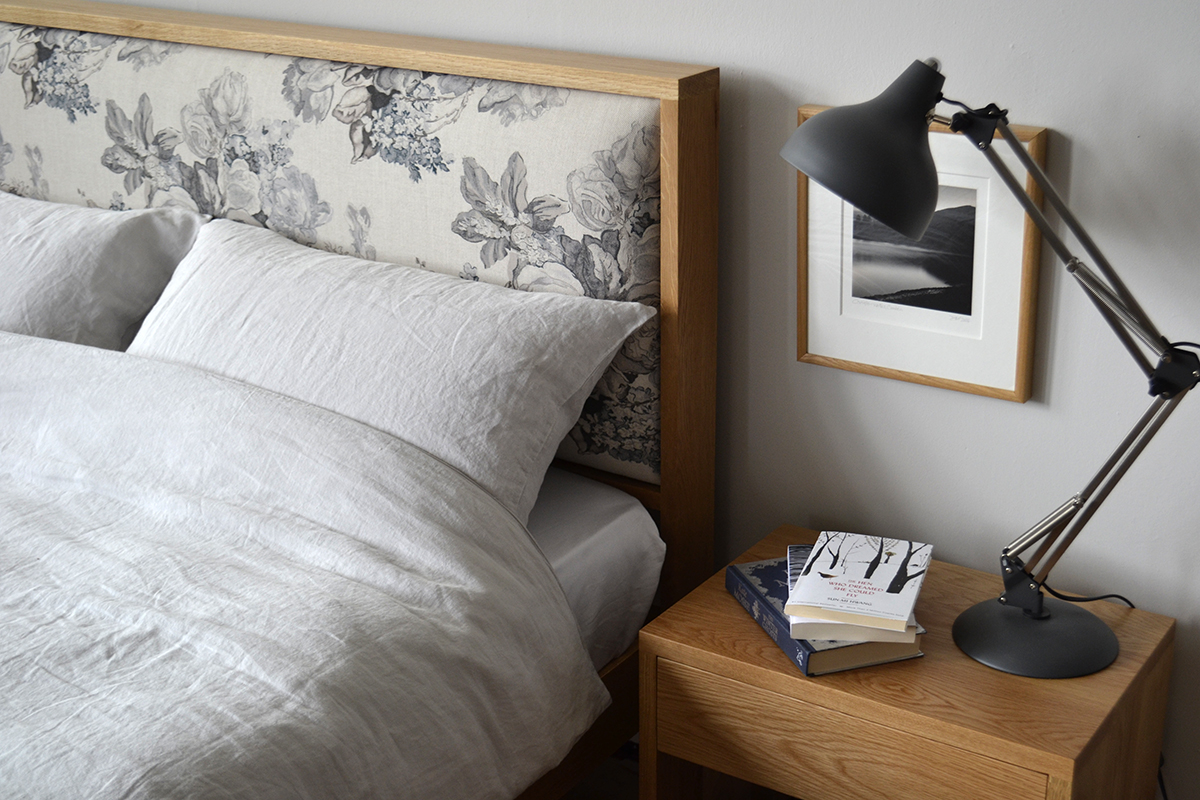 Of course, as all of our bed bases are hand made to order in our small Sheffield workshop, most of these designs can be slightly tailored to your needs or wants! So if you need one of these bases to be slightly taller/lower, a non standard size or with a bigger headboard – just ask and we'll let you know what is possible!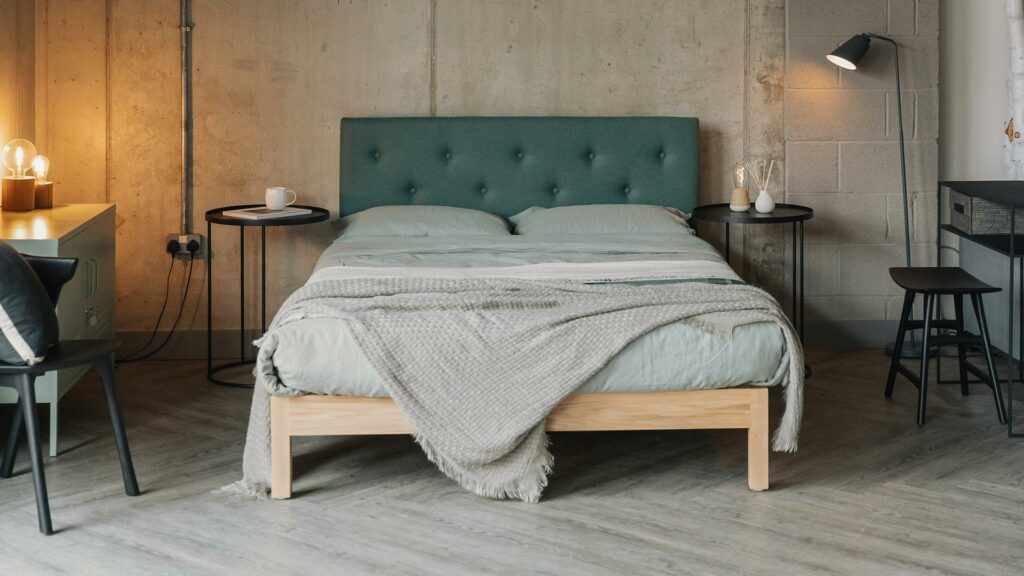 Arran Bed
Our Arran bed base was one of the first upholstered bed designs we made. A modern classic, this bed base is characterised by its buttoned and padded headboard and minimal frame. The mattress sits flush on the frame, combined with the slim sections of timber used, the Arran features one of the most compact footprints of our upholstered beds. Additionally, this bed's height and simple design means it pairs well with a variety of Bedside Tables, my favourite of which being the original Cube Table.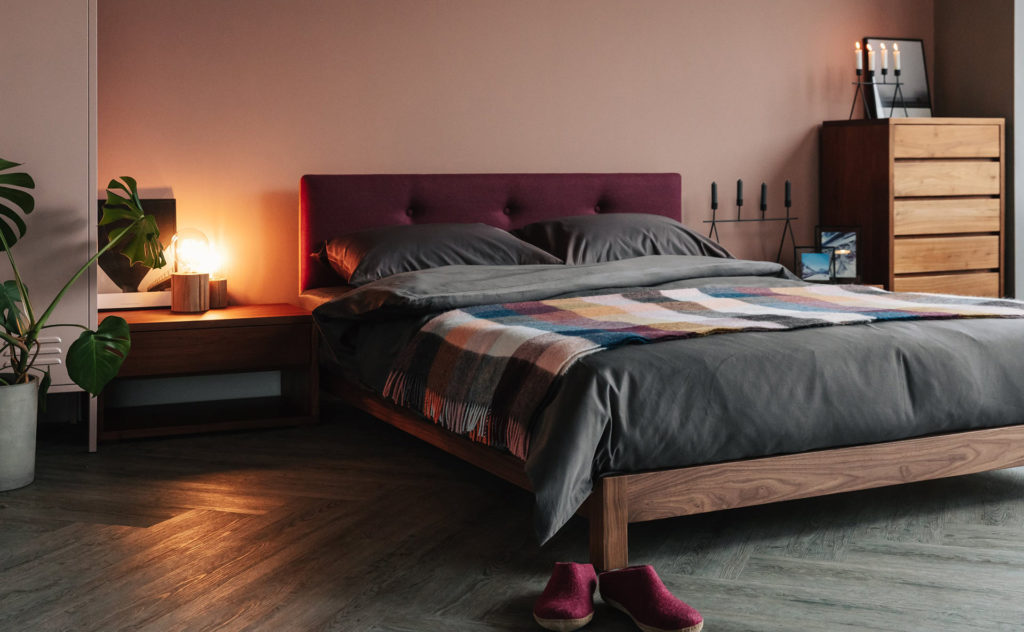 Iona Low Bed
The Iona is a sleek, low bed base accentuated by a cosy upholstered headboard. Minimal style with an extra dose of comfort. Similarly to the Arran, the Iona has a small footprint but combined with a lower frame and smaller headboard panel with a single row of buttons. It's the perfect choice for small spaces! Choose a low bedside table such as the Low Cube table or Ethnicraft Air Table. To make a small space feel bigger, go for a wall mounted unit with one or two drawers.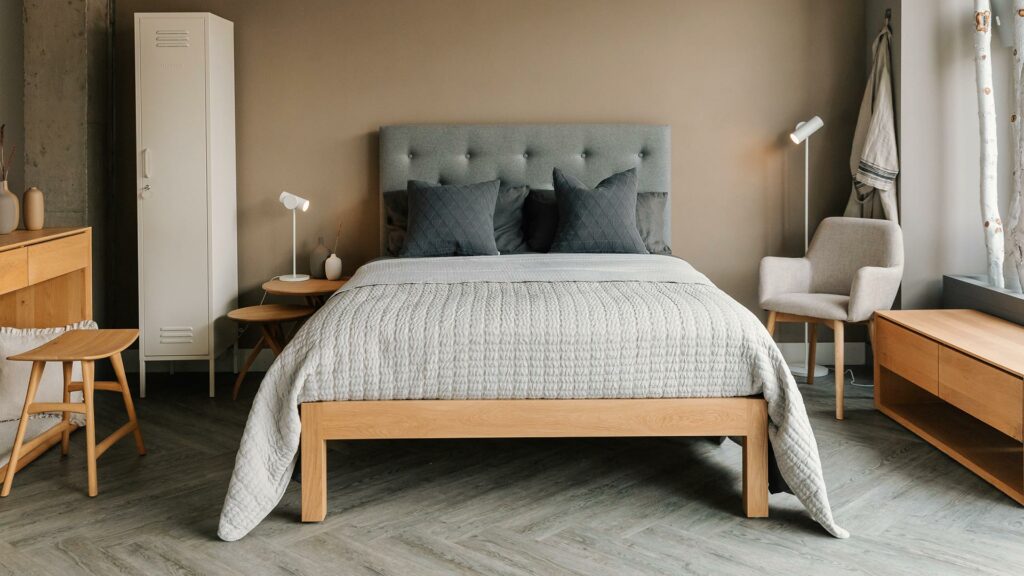 Skye Tall Bed
If you're looking for something with more of a statement – The Skye is a stylish, contemporary upholstered bed with an extra-tall buttoned and padded headboard offering additional comfort. The chunky solid wood frame is made with slightly thicker sections than the Arran/Iona but still has a compact foot-print – just like our Tibet bed.
Perfect for that luxe hotel look, the Skye pairs well with taller bedside tables such as the Tall Cube table or the Two Tier Nightstand. The tallest of our range, the Skye also boasts space for extra under-bed storage. Our Tibet sized Under-Bed Drawer being the perfect fit.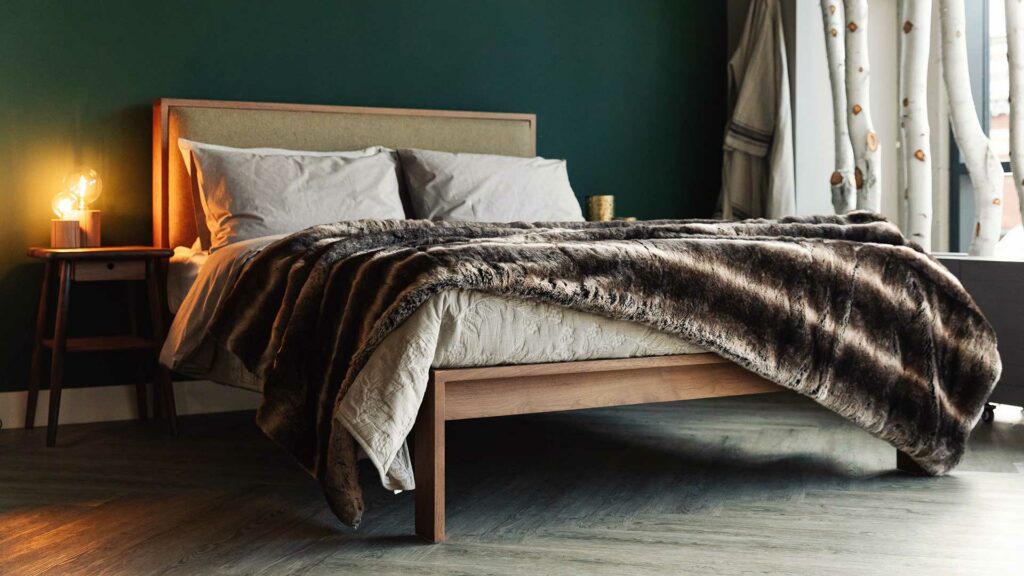 Shetland Bed
The Shetland is a stylish, modern bed with a simple, thick, padded headboard for extra comfort. The frame is made of deep, slender sections of solid timber for a refined, yet substantial, look.
My favourite feature of the Shetland is the timber frame surrounding the upholstered headboard panel. It gives you a glimpse of the contrast between the solid hardwood and soft upholstery.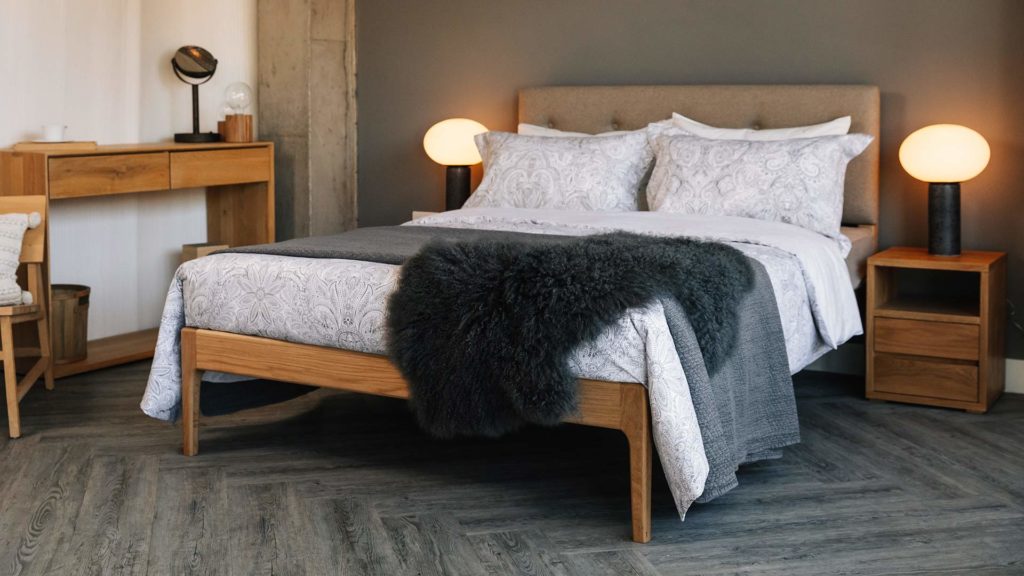 Bloomsbury Bed
The luxurious Bloomsbury bed base is a stylish, mid-century inspired bed with a buttoned, padded headboard. Alternatively, there is a version with the faux leather fabric that has a central seam detail instead of buttoning. The decorative double top stitched seam draws the eye to the textured fabric.
The Bloomsbury's main feature is the gently curved and tapered legs; the staple of our Camden collection.
This upholstered bed pairs perfectly with the Camden tables or the Ethnicraft Spindle bedside. You can finish with matching retro lamps for the ultimate mid-century modern look!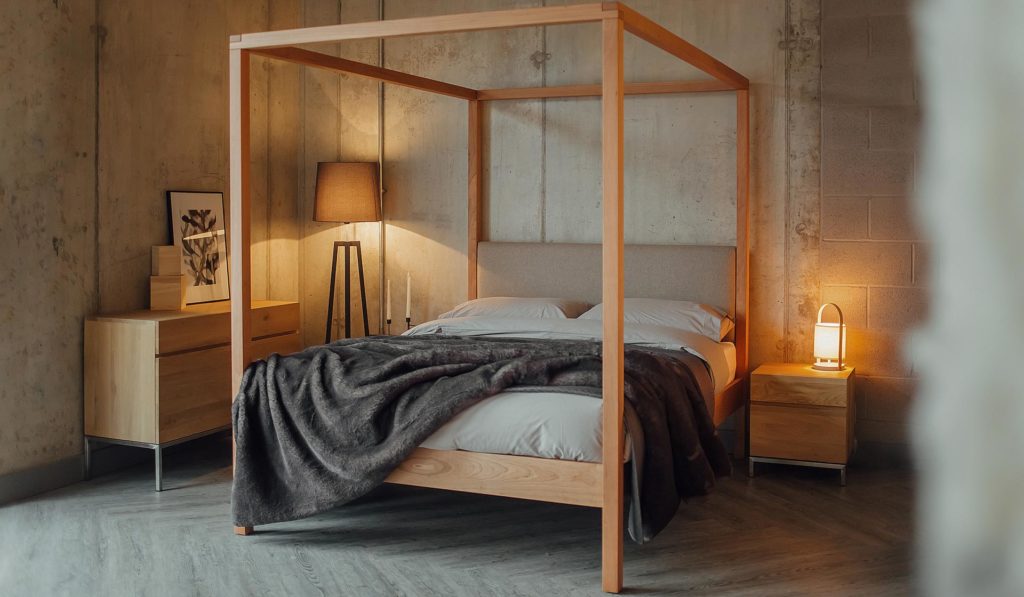 Highland Four Poster
Finally, the Highland is a perfect blend of modern and classic. Based on our original Orchid design, this bed has a solid four poster frame available in our full range of hardwoods. The frame is complimented by a cosy, smooth upholstered headboard panel.
I find this bed base great for large spaces to draw attention to the size of the room or to give an extra luxurious feel.
I would style this bed with a large bedspread or faux fur throw for a classic opulent look.
Can I use my own fabric?
Yes! As mentioned above, we're happy to look into this for you. As long as the texture of the fabric is approved by the upholsterer, we can use your provided material.
Can I adjust the bed design slightly?
Yep – depending on the bed design, small tweaks are usually possible! Having the bed made to a custom size, removing the buttons, or adjusting the size of the headboard are all common requests. See our Custom Bed Base blog for more info on what we can/can't do!
Can I add an upholstered headboard to another bed design?
Most of our upholstered bed designs are based on our solid wooden bed frames – but if there's another combination you would like to order, we can always check with our workshop manager.
Do you supply headboards on their own?
I'm afraid not, we only supply full bed bases rather than individual components.
Can I use a thick mattress?
Yes, however, please note that all of our bed bases are designed for a mattress around 20cm deep. Anything much deeper than this may slightly overhang on the end of the bed base if it cannot fully tuck under the cushioned headboard (which protrudes out further than the flat wooden headboards). We can always customise the bed base by raising the headboard panel up slightly, creating a larger mattress gap for your mattress to tuck into. Please do get in touch if you are unsure about the depth of your mattress on any of our bed designs.
Are they FR treated?
Yes, to be legally sold all upholstered bed bases must pass UK fire regulations. This may require some FR backing on the fabric depending on the material. If you are looking to avoid this, we would recommend using pure wool as this is naturally fire retardant. Alternatively, a wool inter liner can be supplied by our upholsterer for an additional fee.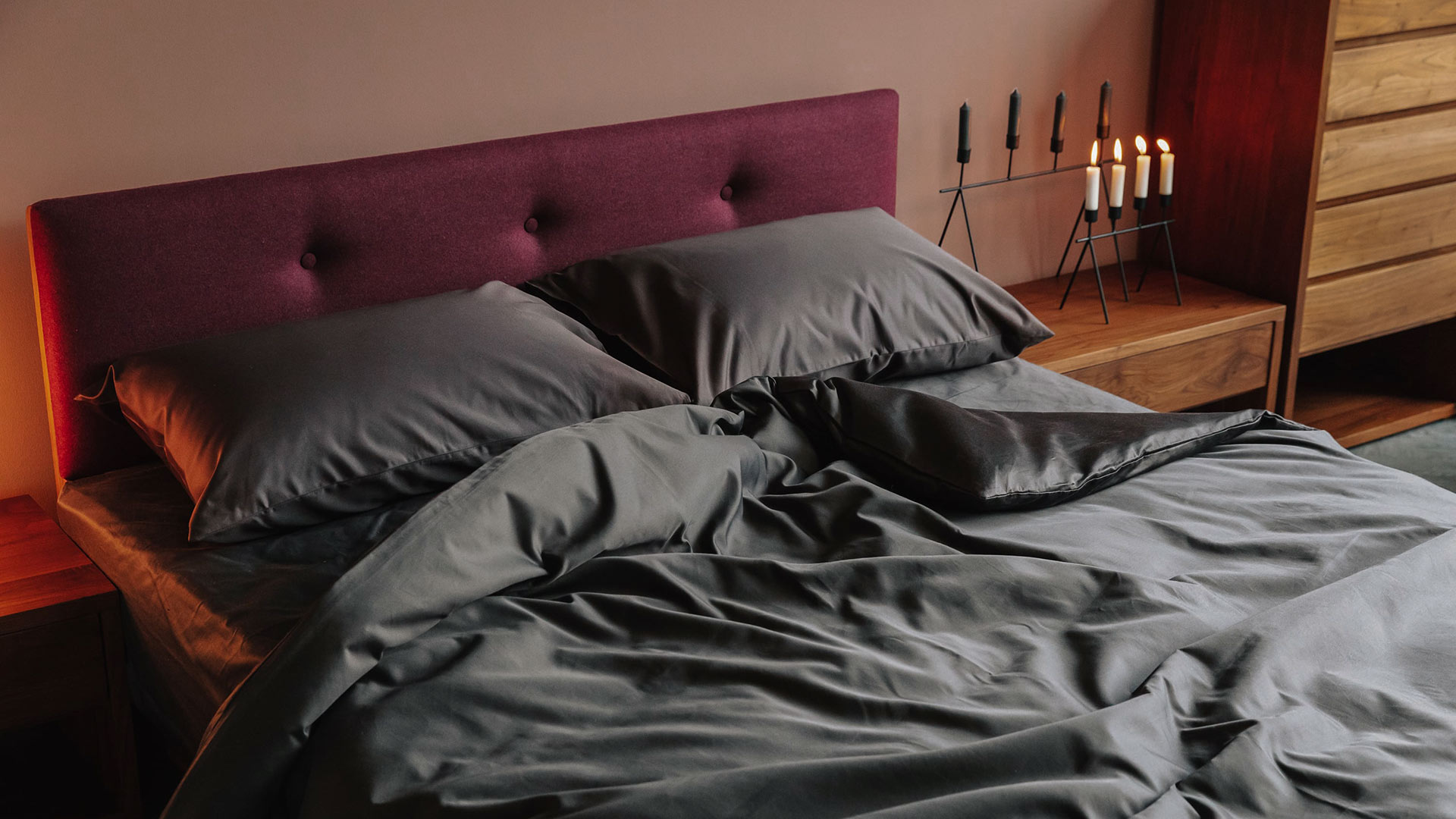 As always, all of our bed bases are handmade to order to the upmost quality with sustainably sourced timber as well as luxury fabrics. Additionally, we collaborate with a skilled local upholsterer with many years of experience in this field.
A range of bed bases can be seen in person in our Sheffield showroom. You can also contact our sales team on 0114 272 1984 or [email protected] if you have any further questions!
For more inspiration please take a look at our Pinterest Board: Upholstered Beds.